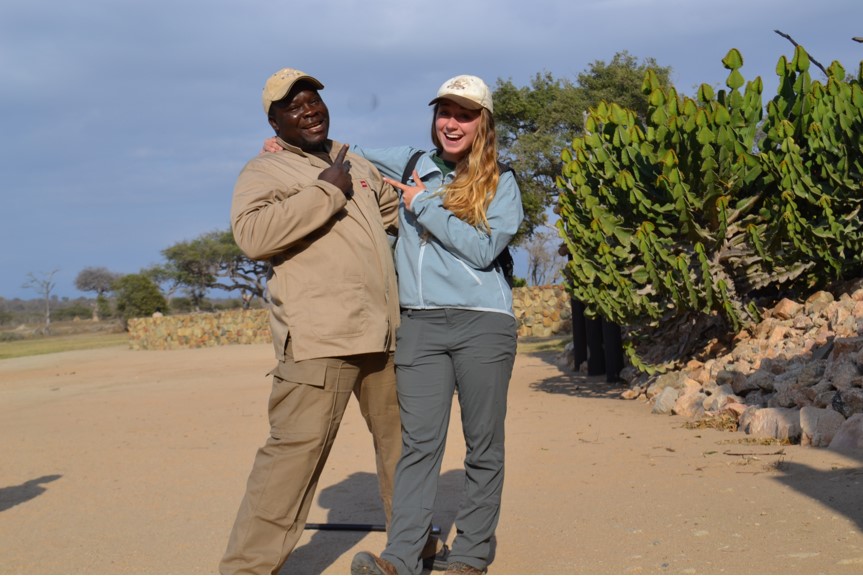 Chloe Grotto is the elephant researcher at Camp Jabulani, but spend more than five minutes with her and you realise there is so much more to her than lab coats and clipboards.
I first encountered Chloe at the launch for the new Camp Jabulani elephant experience in the Kapama Private Game Reserve of South Africa.
Here, the Chicago, Illinois native spoke animatedly about one of the less glamorous aspects of life in the wild. She even went so far as to refer to herself as resident "poopologist", but she did so in a manner so alive with passion that you couldn't help but pay attention – to her message and to her, the individual. Through her fascination with the African wild, its animals and yes, even their bathroom habits, you can't help but find your own love for safari life, for real, raw nature, reignited. We had to find out more.
Meet Chloe in our 10 Questions below and follow her adventures at Camp Jabulani on Instagram. For more information about the lodge, click here and follow their Instagram tales for a glimpse from the field.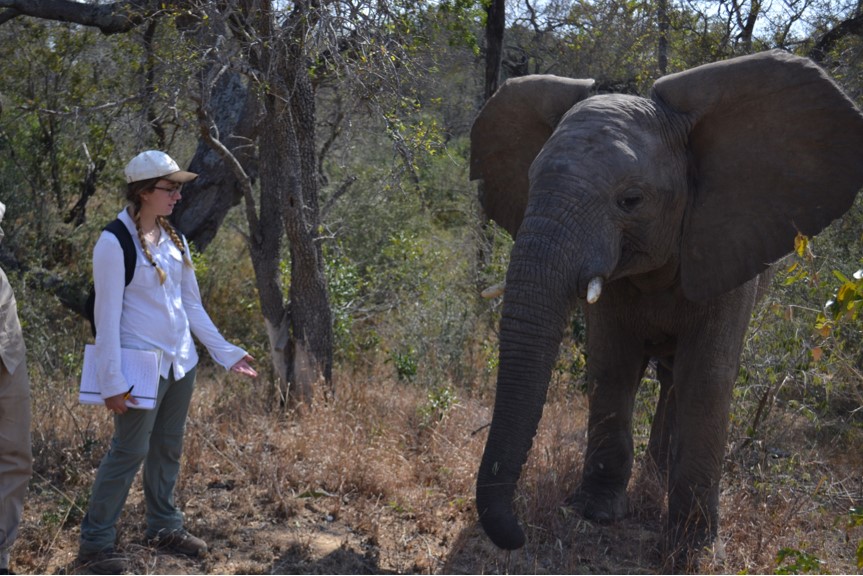 10 Questions with Chloe Grotto of Camp Jabulani
1. 5 things working at Camp Jabulani has taught you about yourself, life and love?
1. I am a lot braver than I ever imagined I could be. Walking with these amazing giants every day and running face to face into lions regularly will bring out that fight or flight response in a person quickly!
2. I still hate bugs even though they are virtually everywhere in the bush. Especially red romans, yuck!
3. Appreciate the little things in life, like the sun setting, a laugh with a friend, a call from your mom and dad… those small things make a world of difference.
4. Friends are family. Being 1,000's of miles away from home with a huge ocean separating me from my sisters and parents is daunting to say the least. I never could have made it this far and been so happy living in the bush if it hadn't been for my little family I made here at the lodge. I owe them everything.
5. Africa time is a real thing! Everything that needs to be arranged, will be, after some time…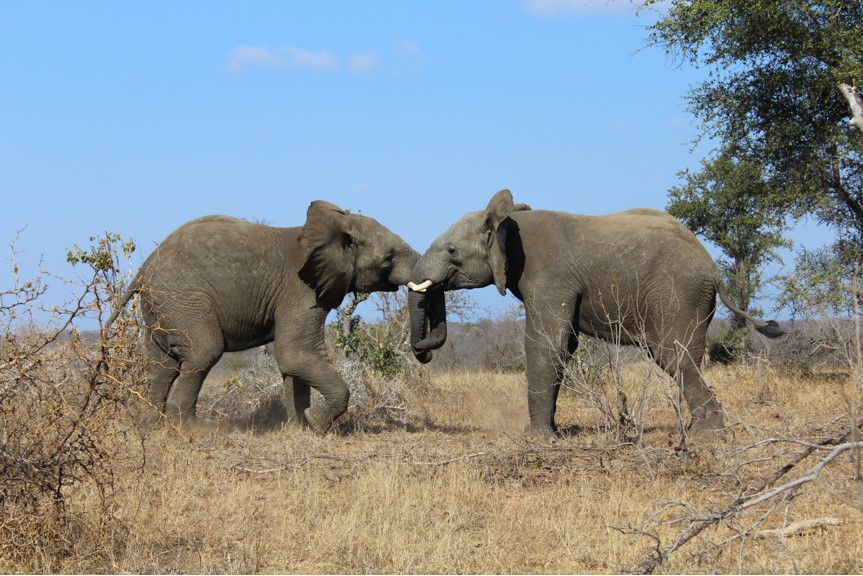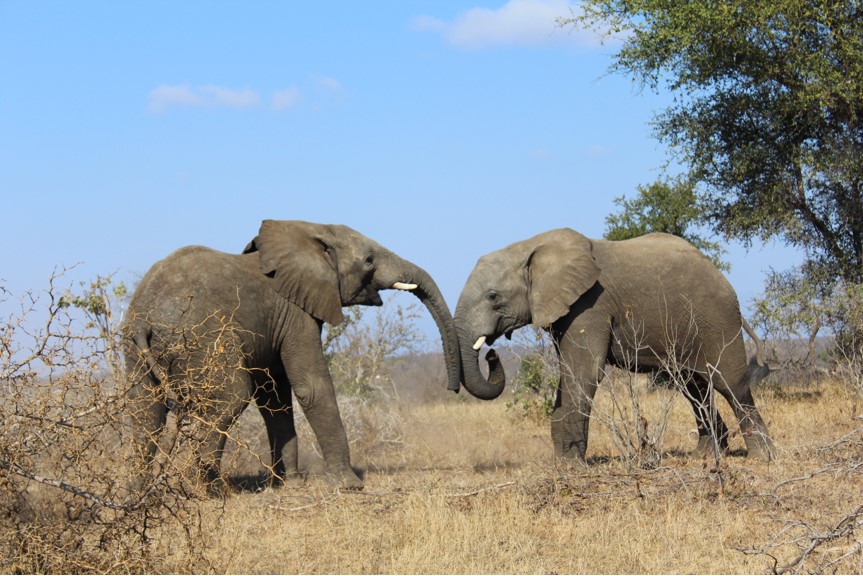 2. What is your role at Camp Jabulani and how did your path lead you to the lodge?
I am the elephant researcher at Camp Jabulani and I am conducting my master's thesis project with our herd of elephants. I originally wanted to become a veterinarian! Ever since I was a little girl I loved animals and thought the only way I could help them was by becoming a veterinarian. I was even a vegetarian for 13 years because I refused to eat my "future patients". I had an internship one summer with an equine veterinarian and had to put down an old mare who was suffering from a degenerative bone disease. I was so heartbroken after putting that horse down that I realized that my heart just wasn't in it to become a veterinarian. Shortly after that experience, I graduated from my university and landed an internship at Disney World's Animal Kingdom as their endocrinologist intern. There I learned how to tell if an animal was pregnant, sick, coming into heat and even could examine their stress levels all from a poop sample! I was amazed at how much I could help so many animals without even coming into contact with them. I realized that non-invasive monitoring was a better way for me to help animals and I slowly began to fall in love with the study of hormones.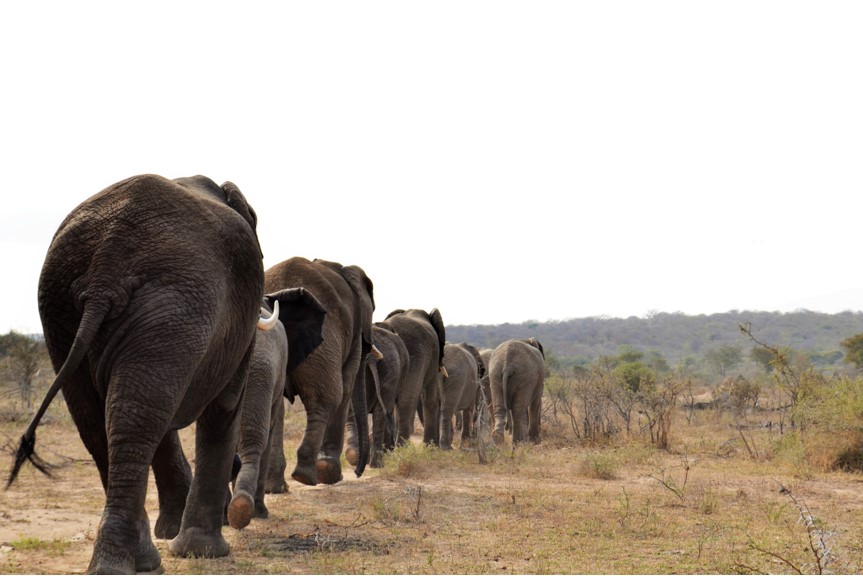 3. I couldn't help but notice your profile name on Instagram. I was a massive Wild Thornberrys fan as a kid. Can I assume the same of you, Chloe "Eliza" Thornberry? I guess in a way you too have the ability to speak with animals – with your work with elephants at Camp Jabulani. Where does this passion and talent come from… an encounter with an African shaman like Eliza or another encounter of sorts?
I loved watching the Wild Thornberry's growing up, it was by far my favourite show. This show in many ways shaped my passion to save animals and study wildlife. The closest I have come to an African Shaman encounter, like Eliza had in the show, was meeting my now good friend Simba, an elephant keeper, here at Camp Jabulani. He is the medicine man amongst the group and constantly shows me different plants in the bush that can be used to treat varying ailments.
4. What do you love most about living in the bush and in particular at Camp Jabulani?
My next door neighbours are the elephants! Their stables are literally next to my home, so sometimes my alarm clock is them trumpeting as they wake up. Besides having the coolest neighbours around, getting to see African wildlife every day by just walking outside my house is an amazing experience.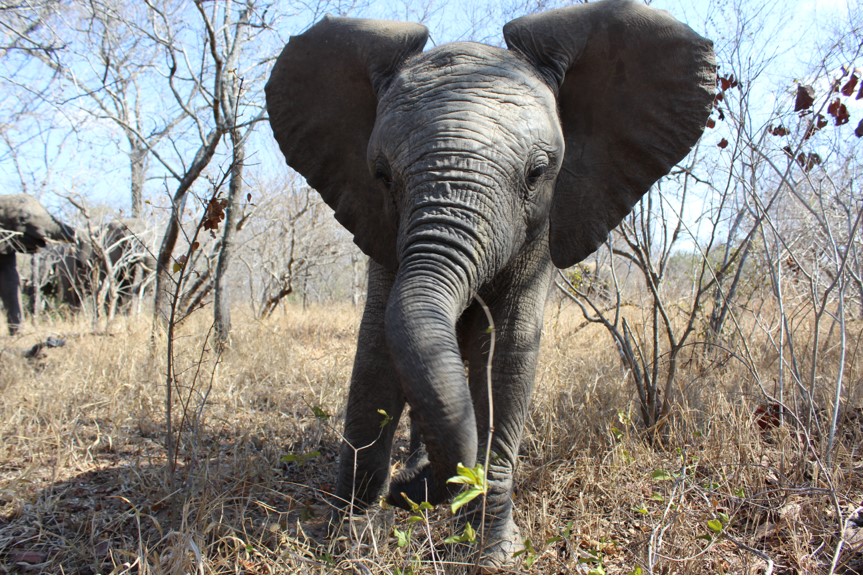 5. The main thing to remember when living in a wilderness reserve like Kapama Private Game Reserve?
To be patient by far! Remember, you are living in the middle of the bush, that means when the electricity goes out or the water pump breaks it is going to take some time for someone to make it out here to fix it.
6. A never forget moment from your time at Camp Jabulani?
One of my favourite moments at Camp Jabulani was with a very special and well-known elephant, Jabulani. I had been conducting my research for about two months in the bush when I came down with a bad bug and had to stay home for several days. When I returned to the bush, the keepers greeted me with hugs and told me how much they missed me. As we sat around the watering hole joking with one another, something moving in the distance caught my eye. Jabulani had stopped drinking from the watering hole and was heading straight towards us quickly.
Before I knew it, Jabulani was standing almost on top of me! As I looked up, his eyes met mine and he began to slowly lift his trunk up to my face. I looked on in awe and whispered to the keepers, "What do I do?" They told me to gently grab his trunk and blow into it. I did what they said and Jabulani moved his trunk down my face and gave me one last look before he turned around to head back to the watering hole. The magical moment had happened in seconds but it felt like a lifetime.
When I asked the keepers what had happened they explained to me that Jabulani didn't understand where I had disappeared to the past few days when I was sick. He had been looking for me because he missed me… our special moment we shared was Jabulani's way of checking on me to make sure I was alright again. I don't believe I will ever experience a more magical moment than that in my life again!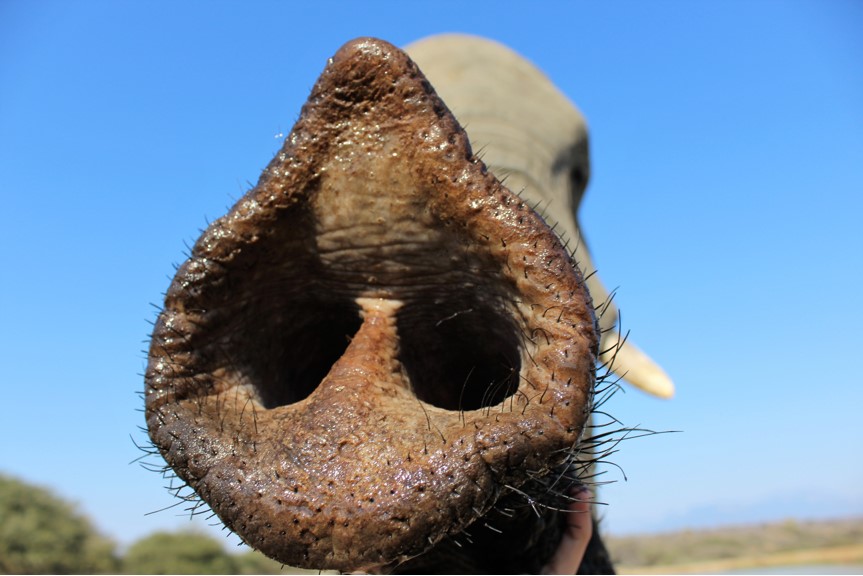 7. The best way to start and end a day here?
The best way to start out the morning is with a piping hot cup of instant Enrista coffee watching the sun rise over the bushveld horizon. My favourite way to end the day is watching the elephants sleepily head off to their stables for the night as the sun sets and wait up just long enough to see the sky explode with stars.
---
---
8. The best way to spend a day off?
Going on a staff game drive! You never know what you are going to see so it always feels like a new adventure.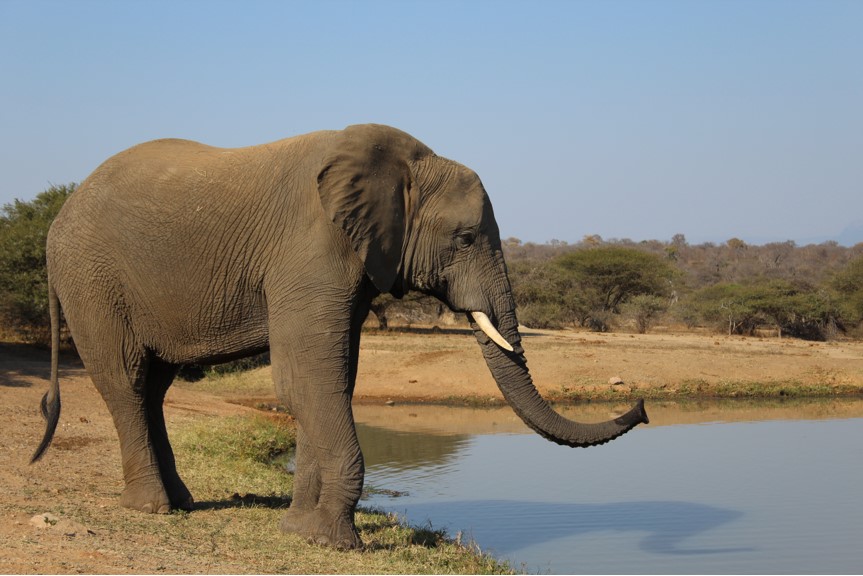 9. What has surprised you most about your time at Camp Jabulani and in South Africa?
South Africans are so friendly and outgoing! I wasn't expecting to meet so many kind hearted, wonderful people. I was surprised at how quickly I fell in love with not only this country but with the Camp Jabulani lodge as well. The people who work here are beyond amazing, the elephants have been life changing for me and getting to share my passion and research with guests has been such a fulfilling experience.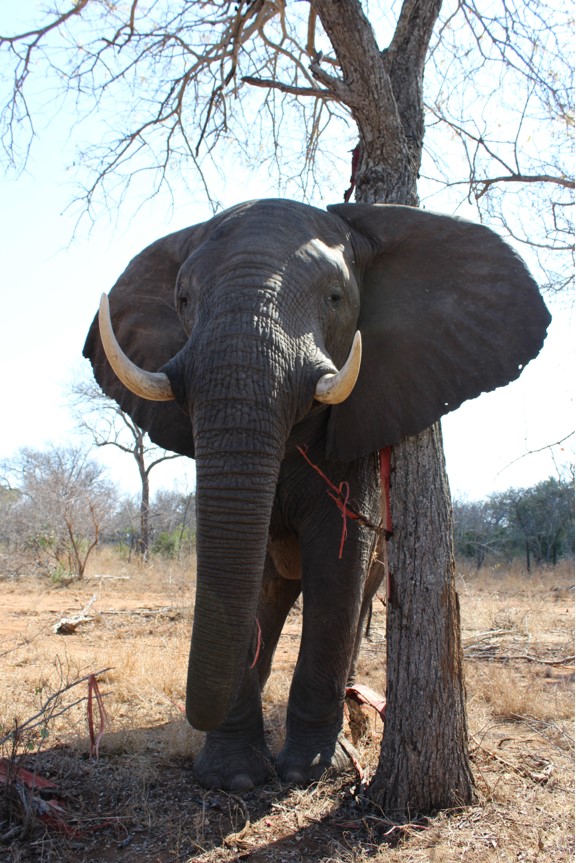 10. The best adventure so far has been… and the next adventure will be…?
My favourite adventure so far has been the time I got to see a pangolin. We were on a staff game drive and we got the opportunity of a lifetime to see the most highly trafficked animal in Africa, if not the world. They are such beautiful, gentle animals and I truly gained a new respect and admiration for them after getting to see one in person.
The next adventure I'm looking forward to is getting to explore more of this beautiful country and the countries close by. I would love to continue learning more about South Africa's history and heritage as well as seeing as many places as I can. Adventure is out there!
---
Read more about Chloe in Camp Jabulani's blog, Introducing our elephant researcher, Chloe Grotto.