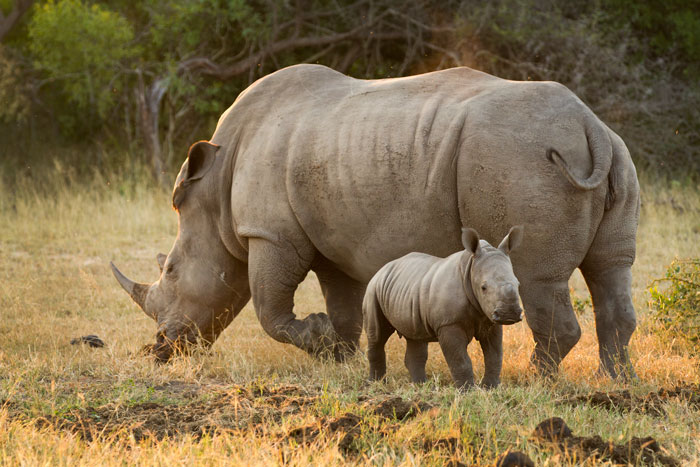 ---
People have often rebuked the phrase "fighting for peace", pointing out its irony and making us reconsider the ways we go about achieving the ends we hope for. Perhaps it's a term best suited for marketing slogans or for those of us without the powers of pacifists like Ghandi and Mother Theresa. But there is space for every kind of voice, each helping to play a part.
In the Vietnam War, protest was pivotal in its demise, but so were soft folksy acoustic rock ballads. In Apartheid, action was just as essential for its fall, but so was the unifying and educated leadership and inspiration of individuals like Nelson Mandela. A man who represented both sides – equanimity and volatility, peace and war.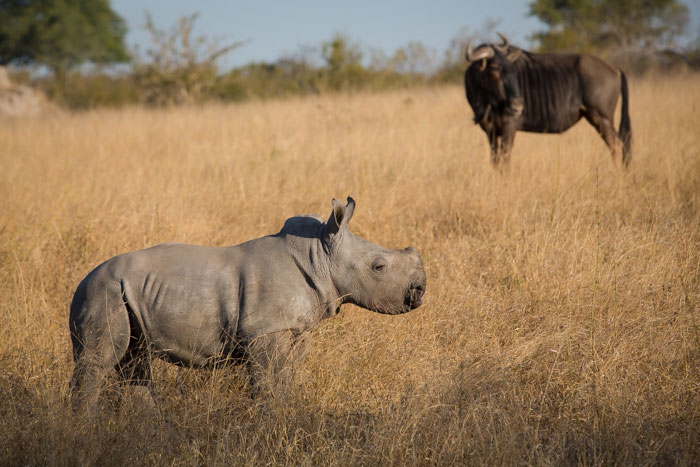 Images above: James Tyrrell | Londolozi
Similarly, there are two ways to handle what is being called the war against Africa's rhinoceros – let's say its name in full, it might be one of the last few times we still can while this great being is around. The war that is rhino poaching.
1. Fight. Action. Initiatives like Rhinos without Borders and the anti-poaching units at work in the reserves of our African lodges – Camp Jabulani and the Hoedspruit Endangered Species Centre, the Great Plains Conservation with Zarafa Camp, Mara Plains and Ol Donyo, Londolozi and Morukuru with its Operation Pheonix.
2. Leadership and inspiration. Just look to the people behind these initiatives… people who have experienced rhino poaching and its effects on the ground in Africa, people like Lente and Adine Roode of Camp Jabulani and Dereck and Beverly Joubert of Great Plains Conservation, to name two.
There is space for every kind of voice…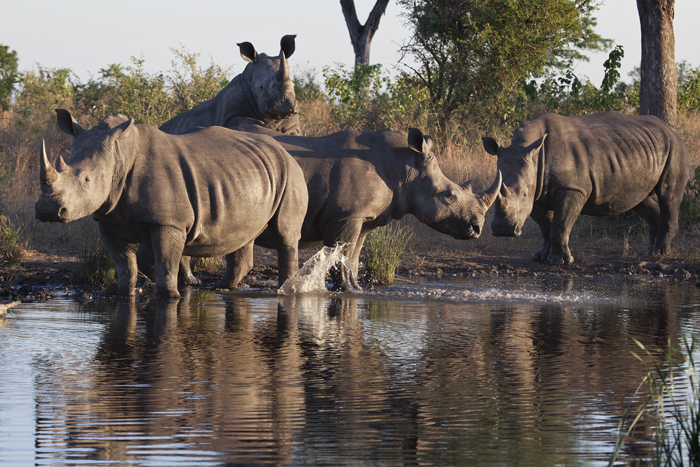 Above: Londolozi
As far as our voice is concerned, we hope to help by donating to the initiatives guided by these pioneers above and to share them with you, through the power of the digital universe. But we also hope to add some inspiration of our own… by way of reminding people why we are fighting for this creature to begin with. What is it about the rhinoceros that mesmerises us so?
A simple sighting of a rhino up close is really all the reminder you need. Londolozi is one such place where private anti-poaching patrols have been very effective in helping to protect the region's rhinos. On safari at the reserve earlier this year, the wild presented us with a sighting that has stuck with me ever since. I wasn't planning on seeing anything. Naively. So I took "the bad camera". But since they say the best camera is the one you have with you, I thought I'd share the moment I captured with you here, to serve as…
A reminder of the majesty of the rhino
---
Fighters and Inspirers and all thing nice…
starting with New Lessons from Londolozi
"Seeing the rhinos together reminded me that the bush is always speaking to us… Despite my many years at Londolozi, I still learn something new every single day," says Bennet Mantonsi, the Londolozi Tracker who caught this incredible footage of a male rhino courting and mating with a female.
Read more in Kate Collins' "New Lessons and Mating Rhinos: How the Bush Surprises us Everyday".
---
Rhinos Without Borders
If you haven't been following the adventures of Rhinos Without Borders, read about it and the first stage of what is considered to be the world's largest rhino airlift in "First Rhinos in Massive African Airlift Released in Botswana".
Propelled by the Great Plains Conservation with the support of several partners, it is a mission to move 100 rhinos from South Africa to Botswana in order to save them from poaching and develop a new breeding nucleus. It is a project of hope for the rhinos of southern Africa. Find out more about in this Q&A with Dereck Joubert of the Great Plains Conservation or dowload a summary here.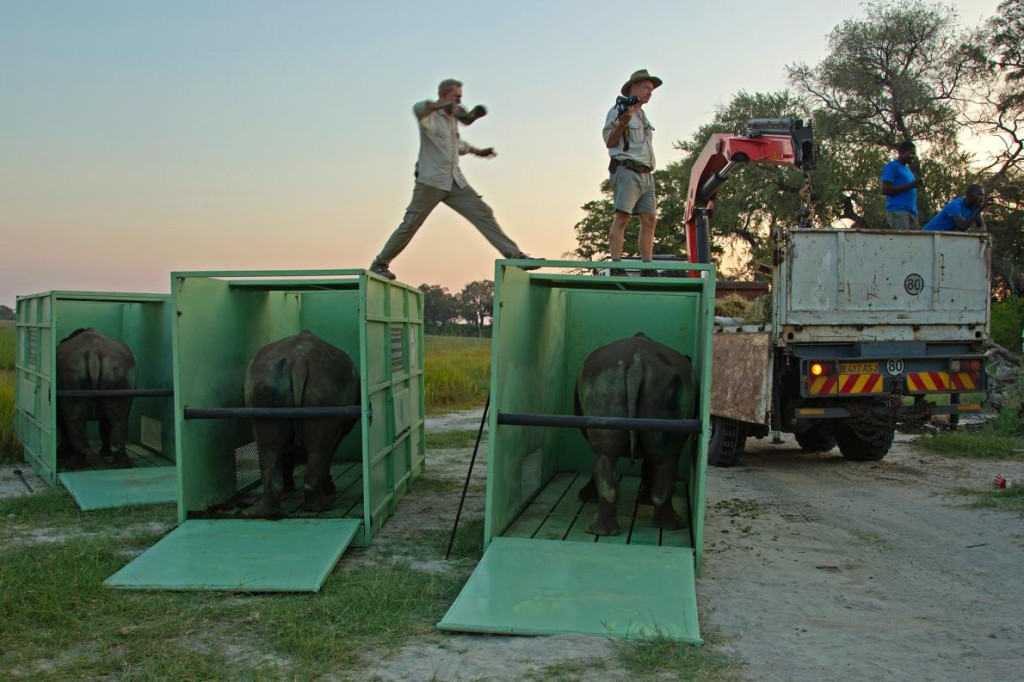 Rhinos await release in a park in northern Botswana after being transported from a crowded park in South Africa. Image: Beverly Joubert. Read more about Dereck Joubert in our blog, The Dignity of Dereck Joubert – 10 Questions.
---
A glimpse into the life of a rhino. And his lamb.
Founded by the Roode Family of Camp Jabulani, the Hoedspruit Endangered Species Centre has partnered with Africam to launch a new initiative called 'Eyes on Rhinos'. After two poached, now-rehabilitated rhinos (Lion's Den and Dingle Dell) arrived on their doorstep, followed by two orphaned baby rhinos, Gertjie and Matimba, more recently, the team urgently had to establish a rhino sanctuary at the centre to care for them. Enter the new Rescued Rhinos @ HESC.
Meet Gertjie
also known as little "G", below, as he explores the outside world after arriving at the centre:
---
---
Discover more about the new initiative and how to help online and experience the live view Africam enables. Being able to watch over these rhinos at night as they sleep has deprived us of our own slumber… let us know about your experience. Alternatively, meet them face to face for a true understanding of the sublimity of the rhino and discover more about Lente and Adine Roode (sublime in their own right) in our blog, The Passion of Compassion at Camp Jabulani.
 Whether you're a fighter or an inspirer…
in the war against rhino poaching, the accounts of the harm done to Africa's rhinoceros make it hard to simply do nothing… No different to the Vietnam War, no different to Apartheid, the tales and images no different to those that came out of both. As the muses, we'll take the cue to leave you with some inspiration from Camp Jabulani, through the lens of Black Bean Productions:
'Eyes on Rhino' – A short film for Hoedspruit Endangered Species Centre from Black Bean Productions on Vimeo.