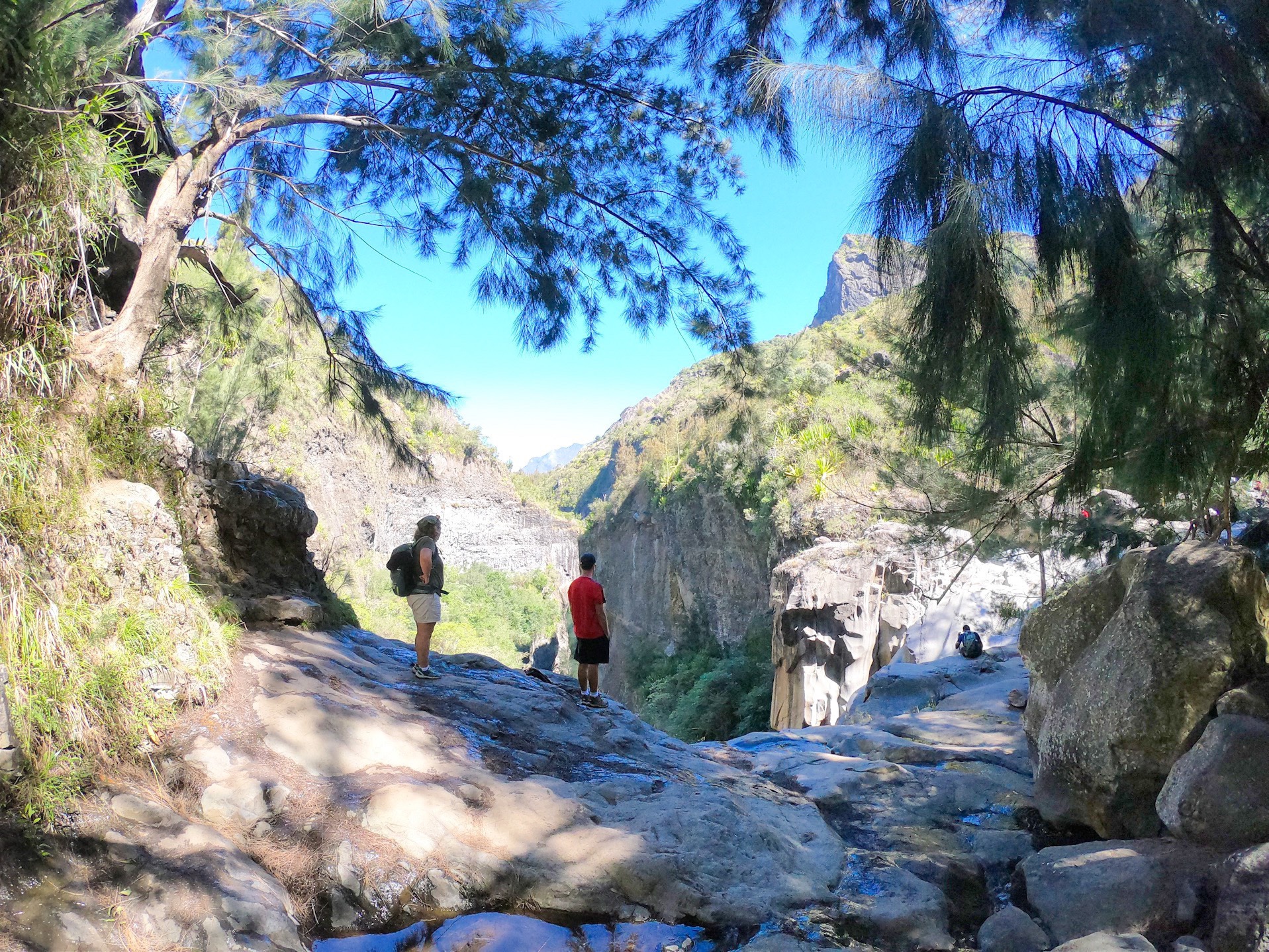 This was not your usual tumbling cascade; there was gunpowder in its force. The water burst out into the air, over the steep rock face and into the great canyon at Cascade du Bras Rouge in Cirque de Cilaos, Reunion.
We were in volcano land. Cirque de Cilaos, a forested, rugged caldera, was formed, like all calderas, by the collapse of a volcano into itself, creating a large volcanic crater.
Mountain men in mountain boots shimmied around the edges of the waterfall, testing their mountain luck. Waiting perhaps for wings to grow and carry them down through the cold spray and misty rainbow.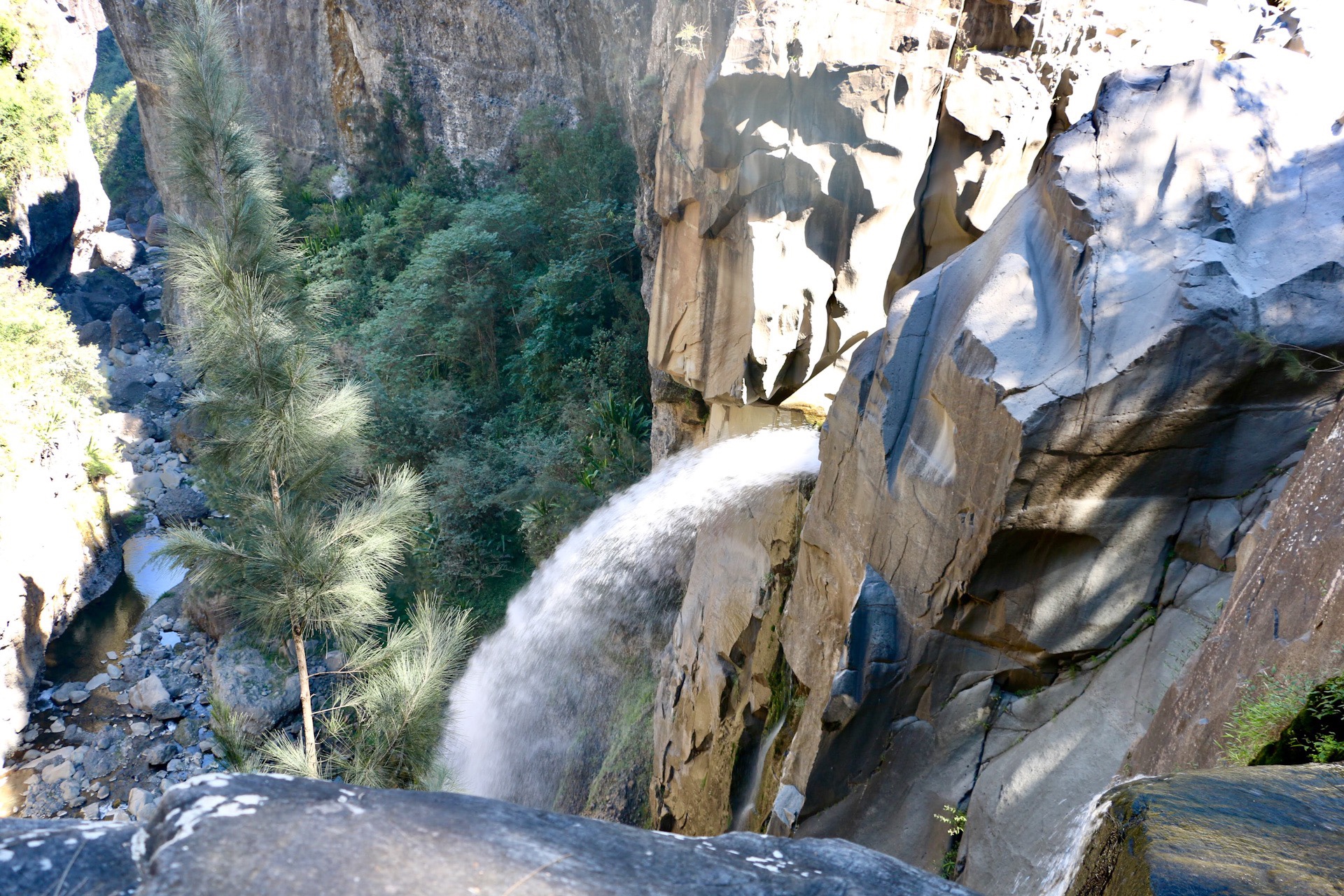 Frédéric, GM of Blue Margouillat in Reunion, mountain guide for the day, didn't look at all surprised. I'd been watching his own boots move over the rocks and it was clear that they knew the steps to this dance well, had dared to tread beyond the limits before.
This is what mountains do. They taunt us, tempt us, and eventually persuade us to push past comfort and the known.
On our drive to Cilaos from the airport, the signs of the mountains, their crags and valleys and peaks, revealed themselves. Around the 400 narrow bends, we couldn't see the oncoming cars, cyclists or buses, but a strong hoot and that mountain luck let us slip past unscathed.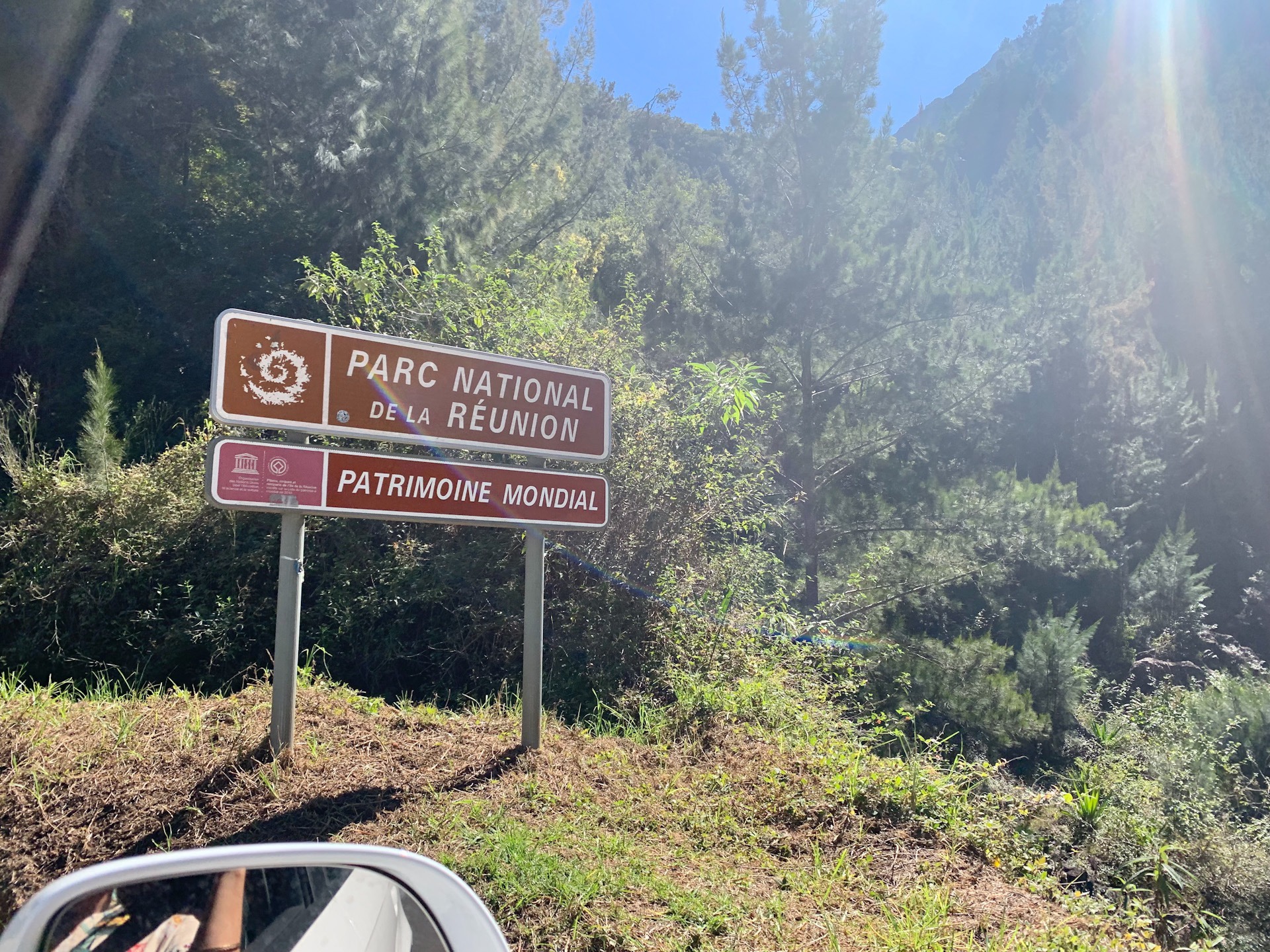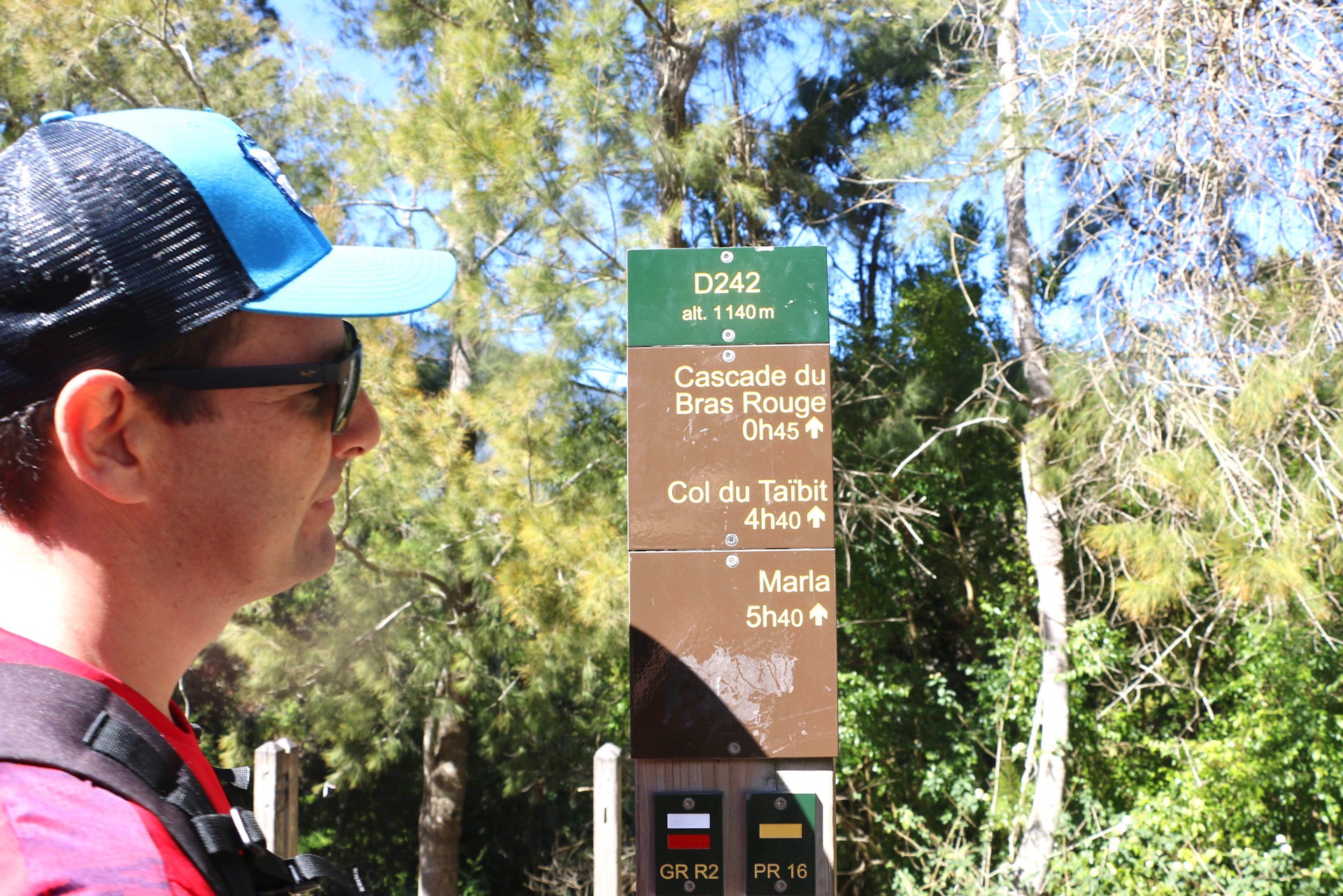 Towering above Cirque de Cilaos is the craggy Piton des Neiges, a dormant volcano and the island's highest peak. On the other side of the island sits Piton de Furnace, a volcano that erupts at least once each year. I found myself, as we continued along our trail, stopping now and again to listen for a hint of a fiery rumbling beneath our feet. But the earth was quiet that day.
The volcano had erupted a few days before I'd arrived. Once I was on the plane to the next destination, it would erupt again. This had happened to me once before, and yet, I kept an ear to the earth. Just in case.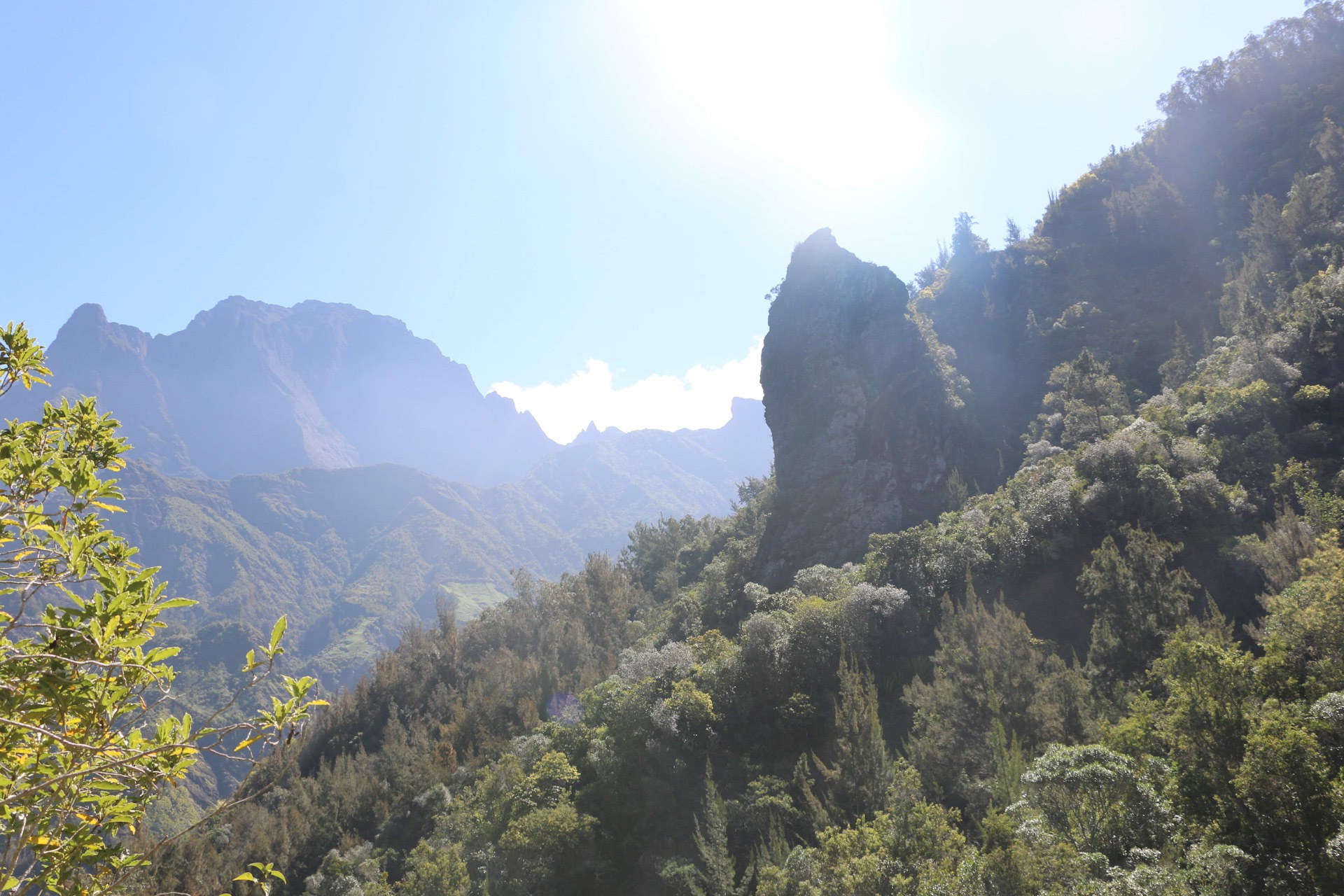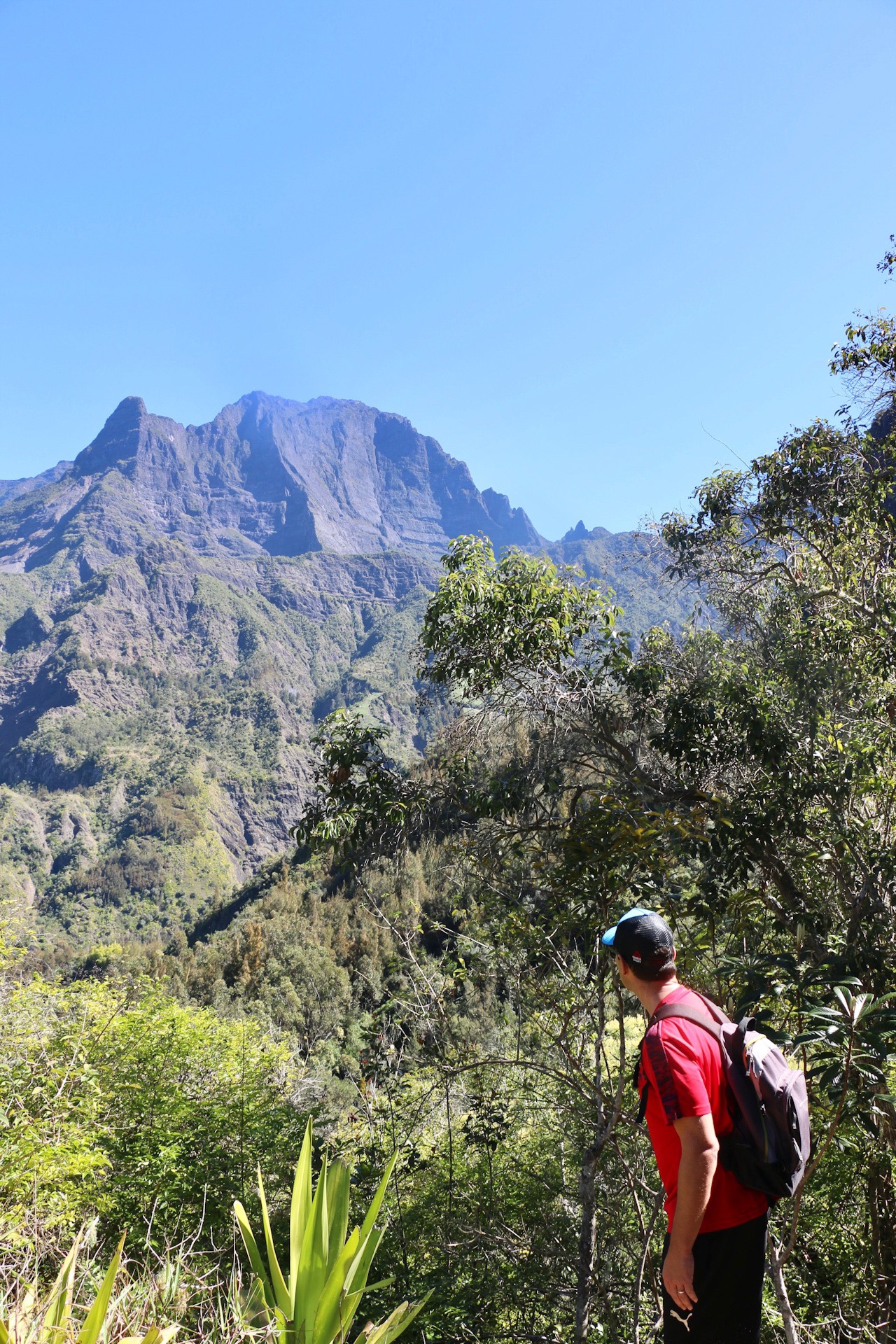 We had started gently, with a hike of 90 minutes in total. The next few days our trails would get longer and more complex. But still, we needed to stop, take a breather, savour the baguettes and flan we had purchased in the town of Cilaos, and gaze at that cascade.
It's here, in the valley of Bras Rouge, that people go canyoning when the water level is high. Right over the edge of the steep cascade, adventurers don't just gaze, but abseil down. For now, baguettes would do.
We had to watch the mountain men and women and their river-hopping, stone-skipping children playing upstream. I had to sink my hands into the cold water, splash my face, wash the airport off and initiate myself into the mountains.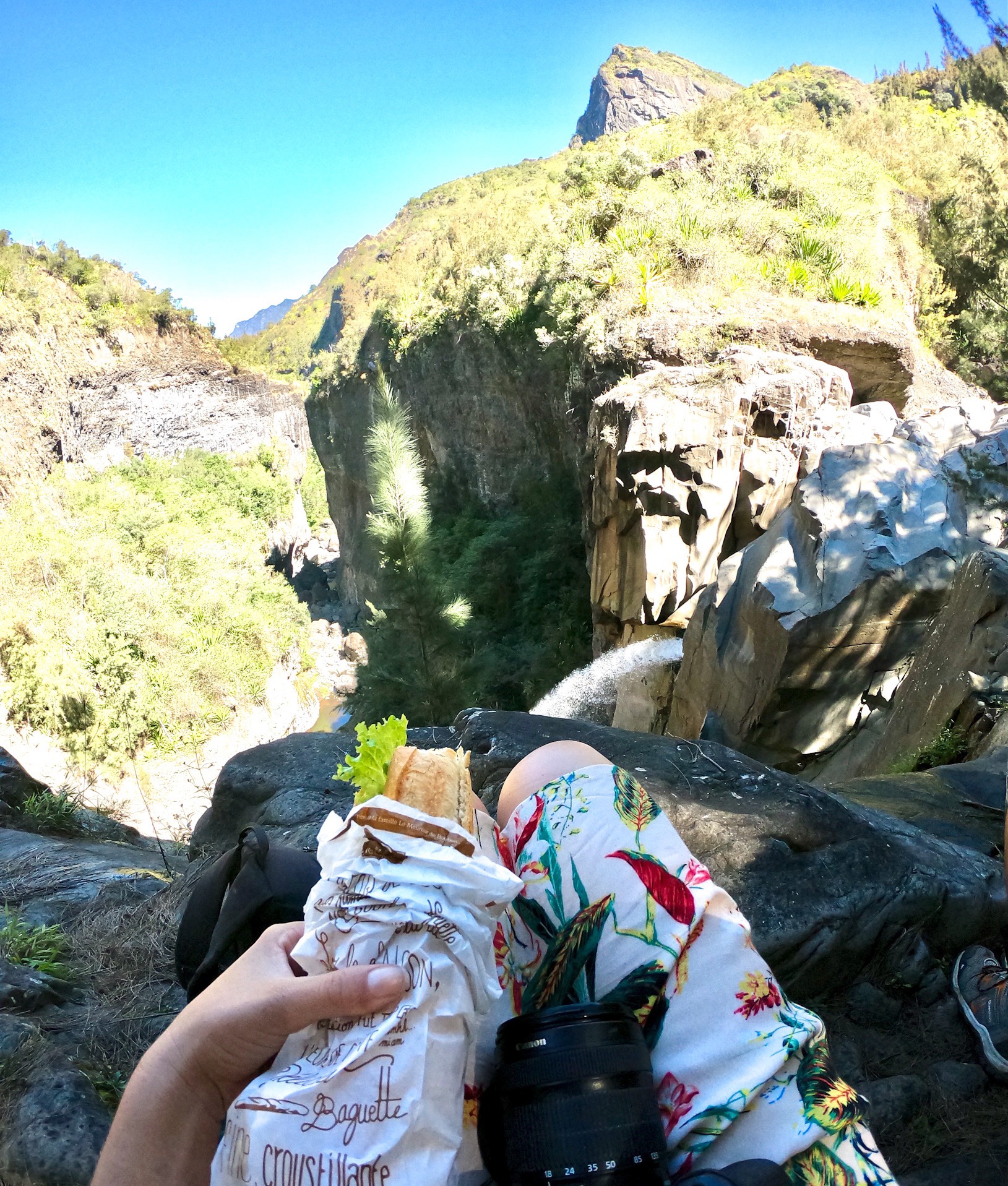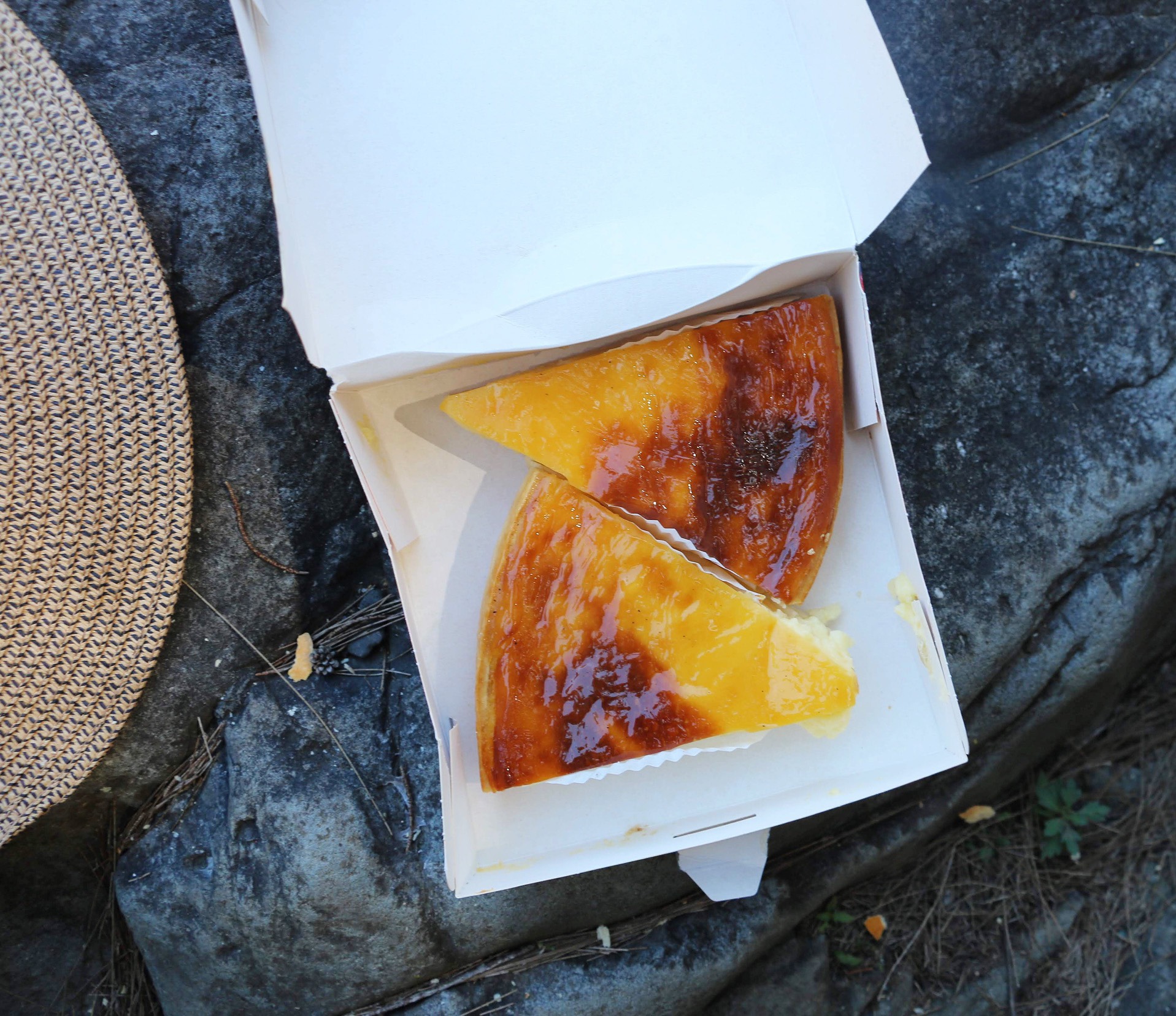 We would do and see many other things while in Reunion – helicopter flips, black beach walks, roadside sunsets, seaside lunches, wine and cheese sampling under the night sky, lava geysers, patisseries and fresh produce markets. But it was the mountains that stood out.
Literally, yes: standing high above the comings and goings of island life. But in our minds as well. Because mountains always change something in us. They bring us back to ourselves. They frustrate, they challenge. They calm, they charm.
The mountain path led and Frederic and I followed. Wherever it wanted to take us, it was in charge. Deep into the remote bends and crevices of this inimitable island in the Indian Ocean, and deep into ourselves.
There are more than 1000 kilometres of hiking trails around Reunion's cirques and the surrounding regions. There weren't enough days to explore them all, but step by step, we'd try.
Follow our blog for more mountain inspiration from Reunion coming soon.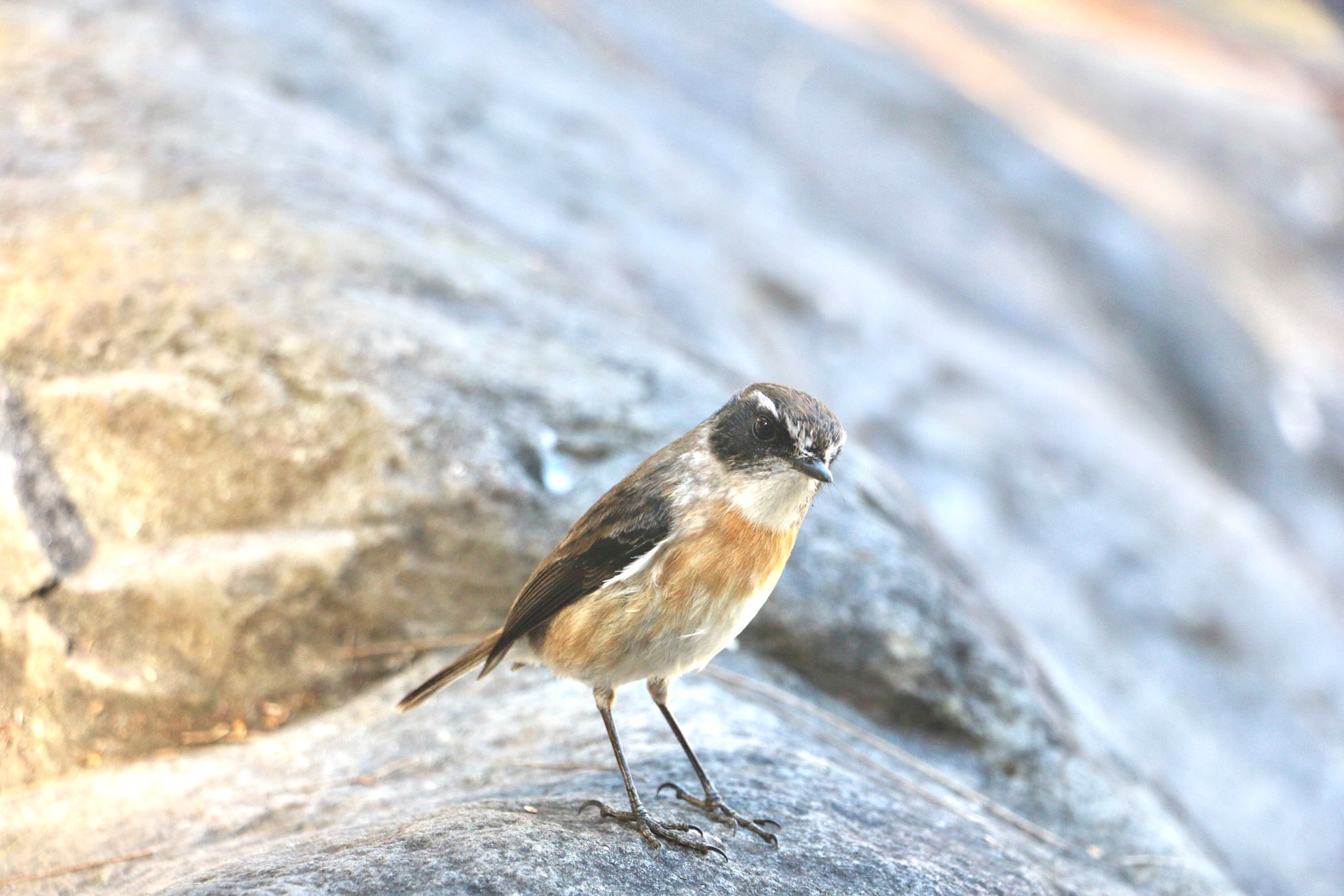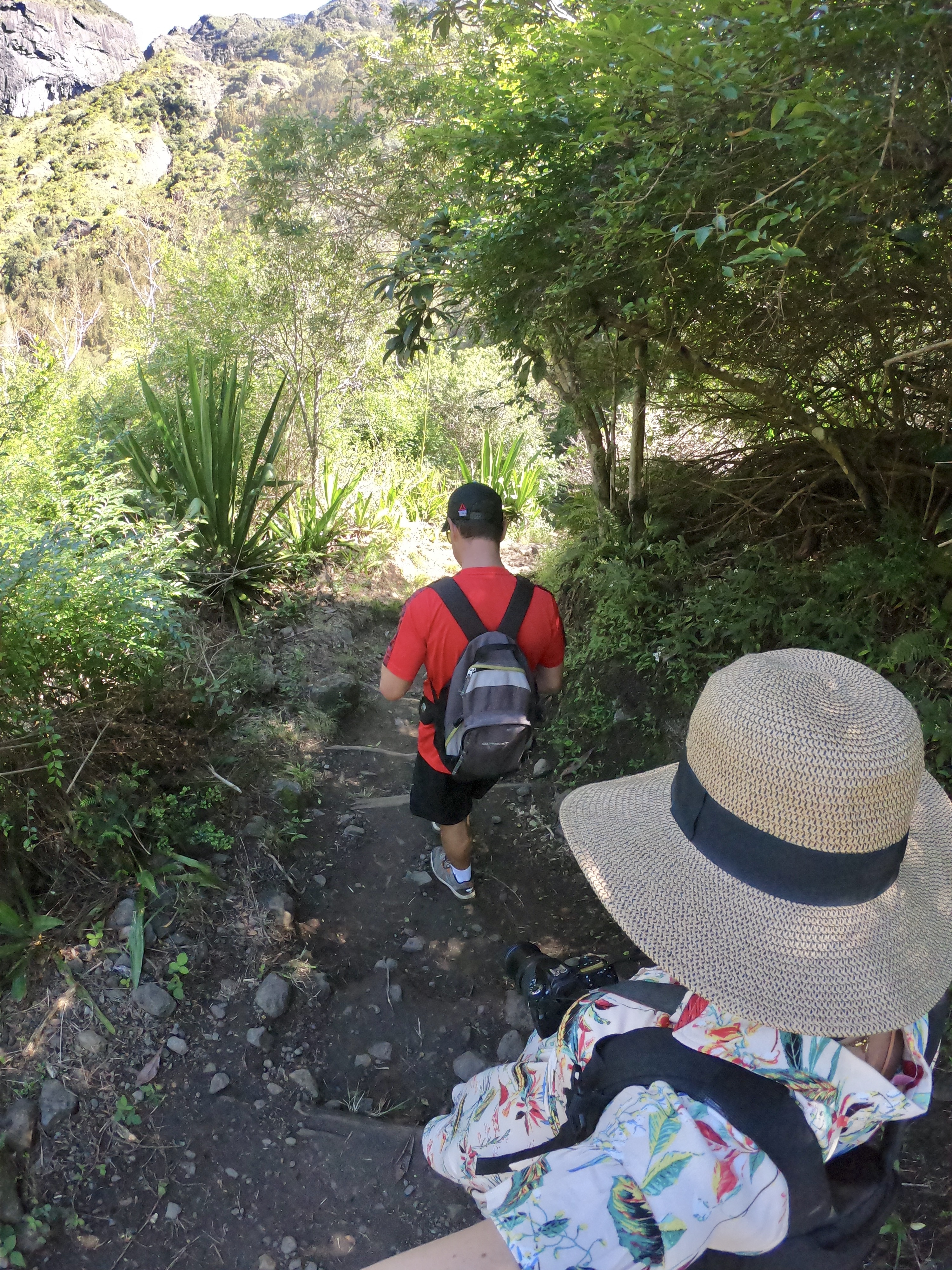 Read more about Reunion Island and Blue Margouillat in our blogs:
A Foodie on the French Island of Reunion
Réunion ~ One of the Most Unusual Island Paradises on Earth
Chasing volcanoes on Reunion Island
---