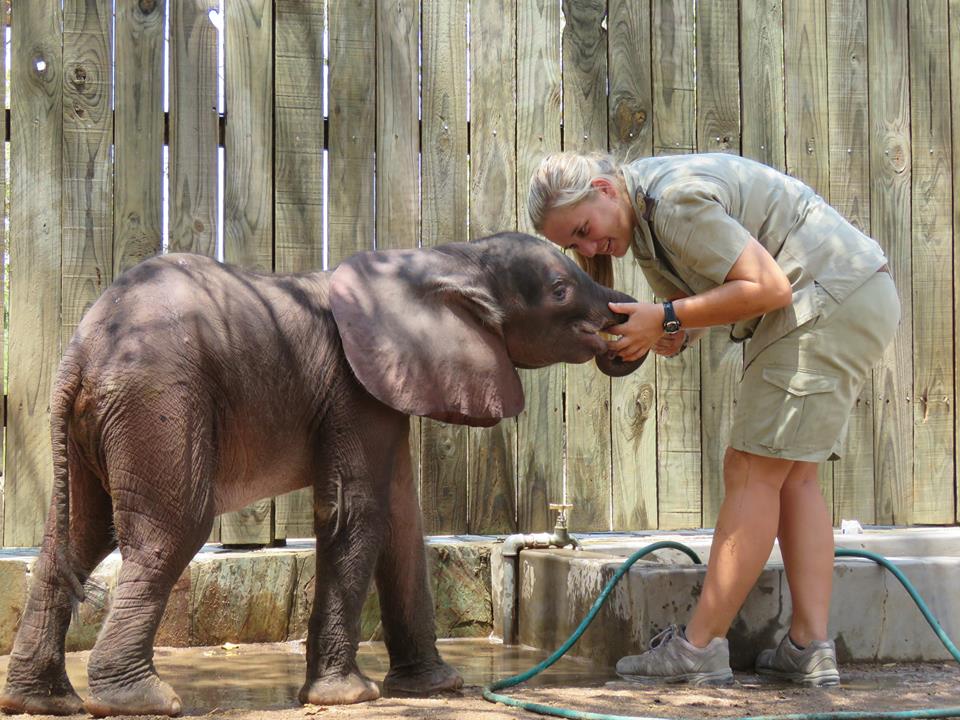 Above: "Linri telling the little water prince that his wish is her command."| All images from Elephants Alive
---
Since early last month, we have been actively following the story of little Amanzi, the latest elephant orphan to find its way into the care of the incredible team at the Hoedspruit Endangered Species Centre (HESC) – a centre founded by the owner of Camp Jabulani, Lente Roode.
During our visit to the centre last year, we spent time with Lammie, the lamb often seen playing with the other animals, as well as the rhinos and cheetahs that have found a new home and a second chance at life here in the Limpopo Province of South Africa, a short drive from Camp Jabulani in the Kapama Private Game Reserve.
Amanzi found his way to the centre through the help of Elephants Alive, a non-profit organisation whose work with elephants includes tracking and studying their population dynamics and habitat use.
---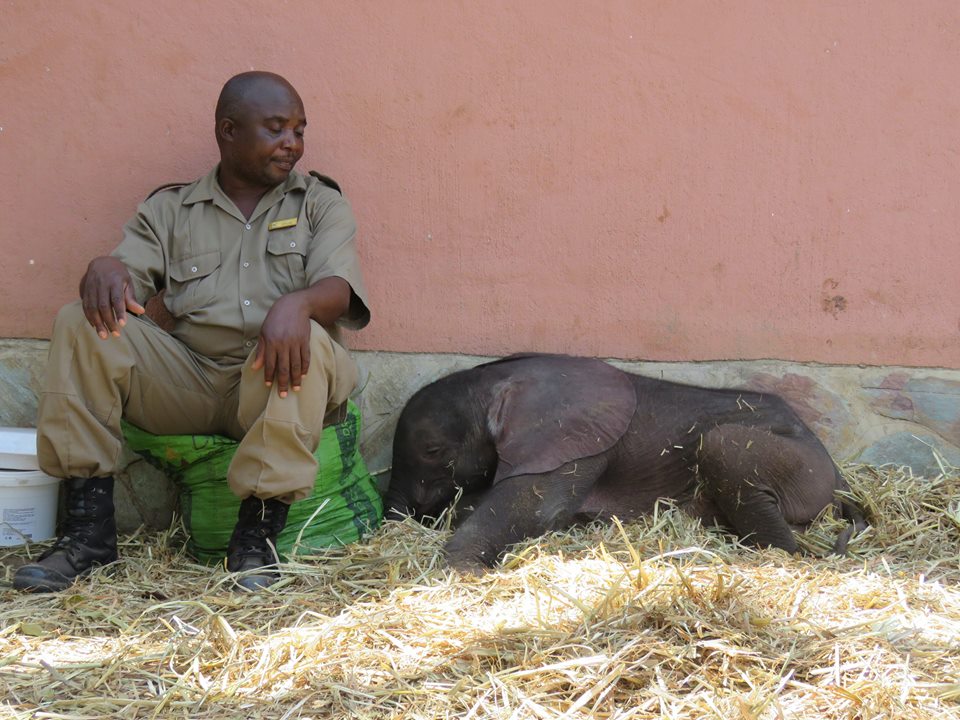 The Story of Amanzi
---
Mike Kendrick, for the Conservation Action Trust, recounts the moment on Tuesday, 16 February 2016, when an elephant calf was rescued from a dam at Phalaborwa Copper, Limpopo:
"A couple of people from Electrical Services at Phalaborwa Copper, Limpopo had reported the stranded calf to the Wildlife Supervisor, Johann McDonald. Inspection of the dam revealed numerous scuff marks from elephants trying to bend down to rescue the calf were still visible. Johann thought that the elephants left the area around 5h00-6h00 when human activity around the mine usually begins to increase. Elephants form such strong family and maternal bonds that one can only imagine how distressed the baby, its mother and the herd must have been. Johann and his team got the baby out of the water and loaded him onto the back of a pick-up truck to try and reintroduce him to the breeding herds which were still in the vicinity. Twice they tried reintroducing him with the first herd's matriarch pushing him off his feet. It was now around midday and the little calf began looking weak and in need of re-hydration. In quick response to the emergency call, the Elephants Alive team met Johann and the calf at the gate of Phalaborwa Copper." 
[Visit Mike Kendrik's website for more images of the rescue.]
---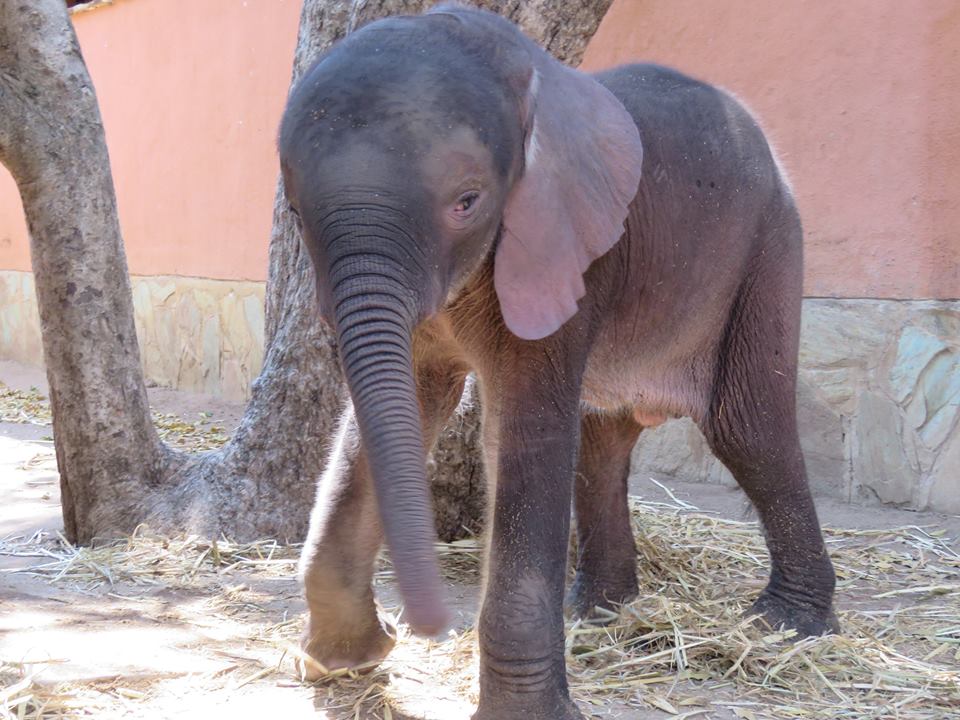 ---
"Brothers Johan Bezuidenhout and Quenton du Plessis were the rescuers, who deserve a unanimous and global round of applause! There is such kindness in people," said HESC.
---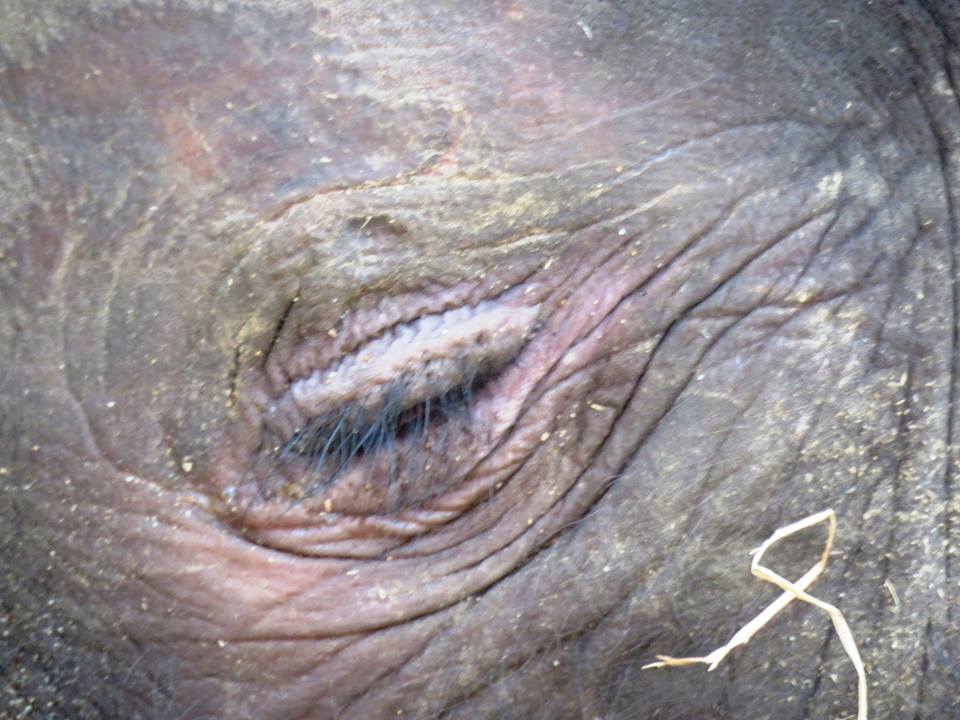 ---
On 22 February, Elephants Alive confirmed…
"He is getting the best veterinary care but as the experts have all warned, you have to take it day by day. With your prayers we hold the faith that little Amanzi will not only become another success story but like the 'Water' which is his name in Zulu, become a symbol of hope. Yes, a positive conservation story of solidarity, compassion and care as the conservation world is in need of this. We also believe that he has the potential to become a national symbol of hope for our land which is currently caught in the grips of a very bad drought. Water is life and hope. Like Amanzi, we all depend on drops of mercy to keep us going. Amanzi went for his first extended walk in the bush with Stavors yesterday as the previous day's blazing sky was covered in blankets of mercy. It was a beautiful day."
---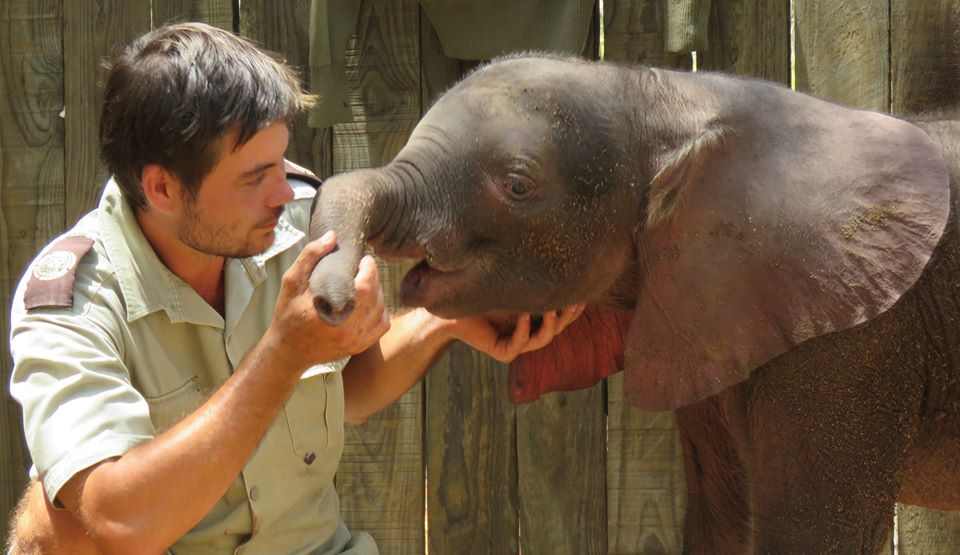 ---
Watch the video of young Amanzi spending quality time with none other than Mother-sheep, Lammie, posted by Hoedspruit Endangered Species Centre on Saturday, February 27, 2016: 
---

---
Sadly recent updates show that the little man not faring as well as hoped…
"Amanzi is trying his best to be a fighter. He is losing more fluids than what he is gaining them as he doesn't want to accept the bottle at times. Dr. Peter Rodgers still has him on a drip. Despite his weakened state, his spirits pick up when he sees water. Please hold him in your thoughts as we struggle to keep him going. We will provide an update after our visit tomorrow.
"Please note that he is never alone. He has a caregiver constantly with him over a 24 hour period. Caregivers rotate their shifts every 12 hours so that he doesn't get too attached to any one person. Elephant calves are known to suffer from depression if any one person has to leave for an extended period of time. Amanzi also has his sheep companion.
"We would like to thank Palaborwa Copper for immediately addressing the potential danger that their sumps hold for elephants during this drought. A grid has been placed over the pump next to the raw water pump station to prevent any other neonates, like Amanzi, from falling inside."
---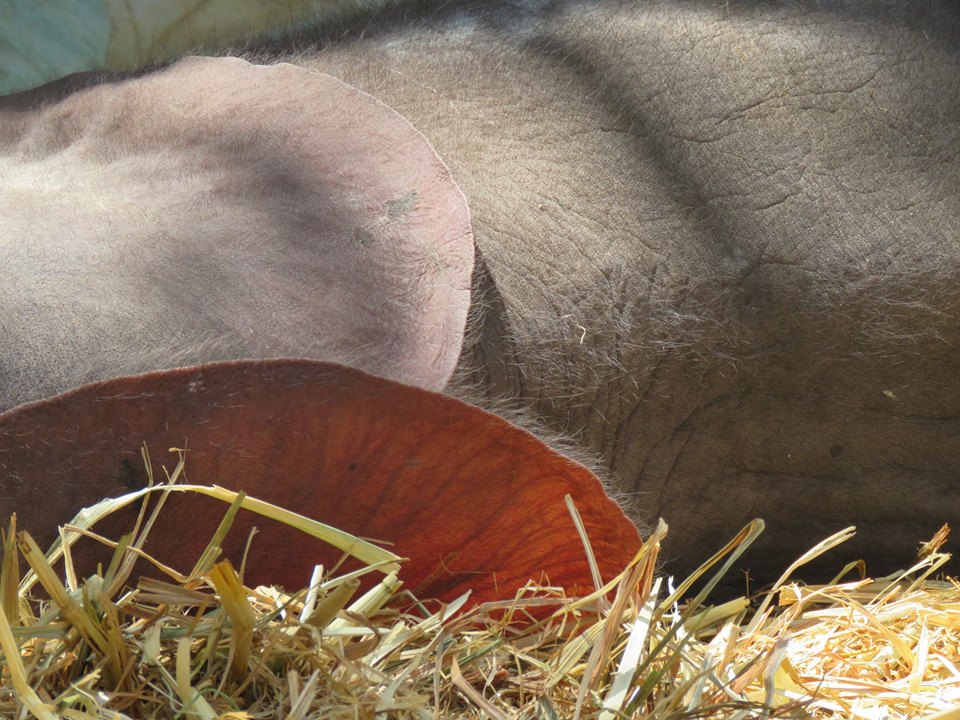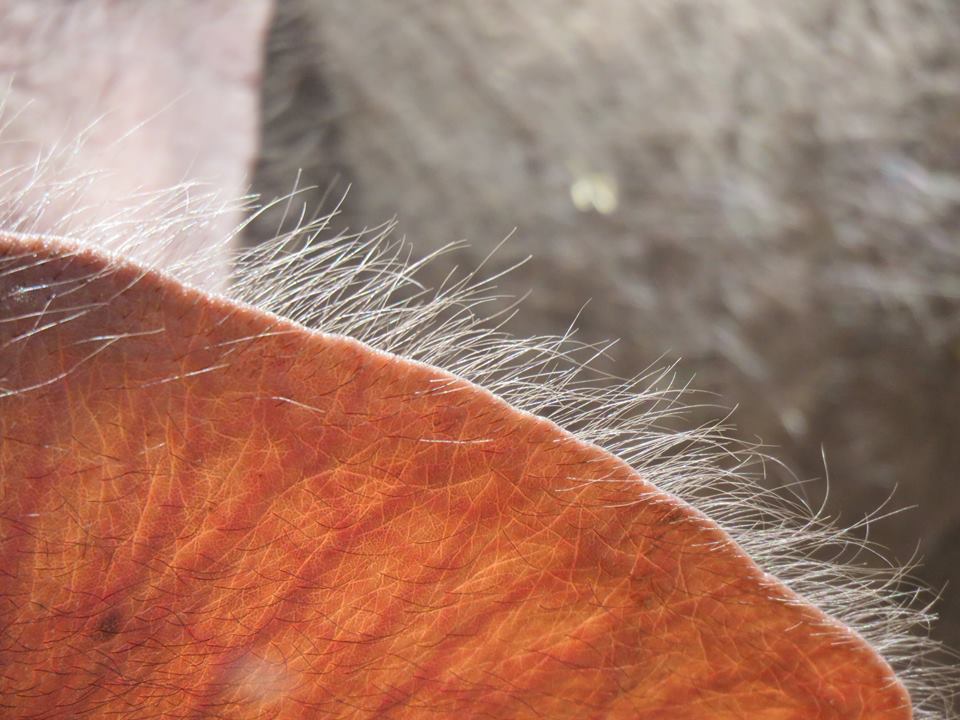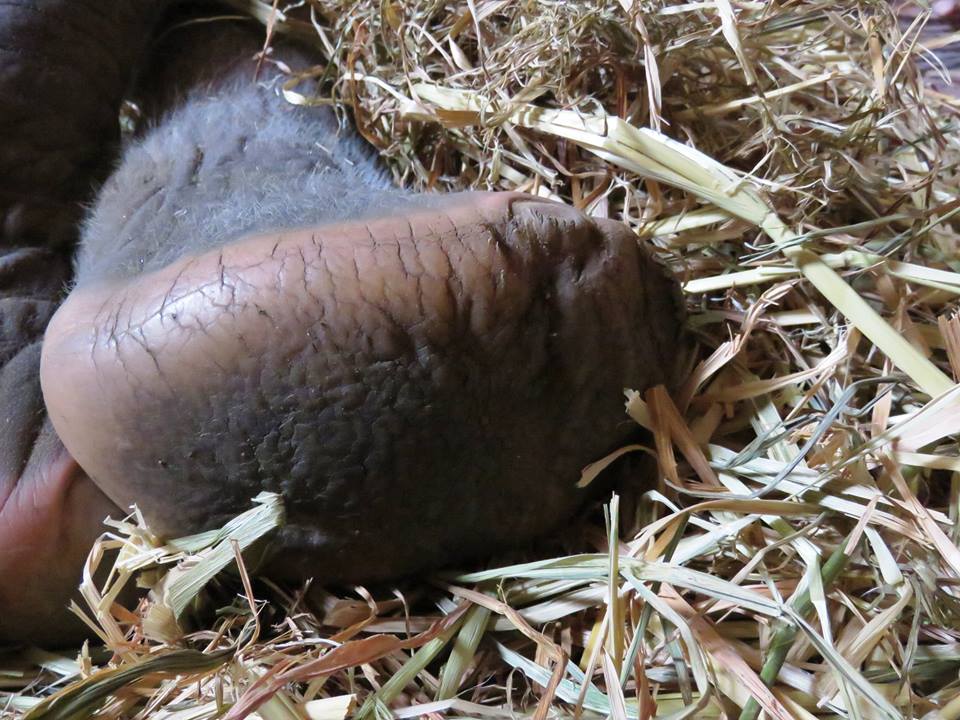 ---
"This is a bittersweet time for us at HESC, as we remember only too well when another tiny baby elephant arrived at the centre over 10 years ago. His story was almost identical to this one. He thankfully pulled through to become a magnificent and healthy animal, and is the namesake of the Camp Jabulani elephant herd. His name is Jabulani."
How you can help…
HESC cares for several cases like Amanzi's and really relies on the goodness of donors to support the needs of the animals that come through their doors. Stay abreast of updates from their work by following their Facebook Page or donate to:
Discover more about elephants and their love of water, as inspired by our water prince Amanzi, in our blog, The Call of the African Waterhole.