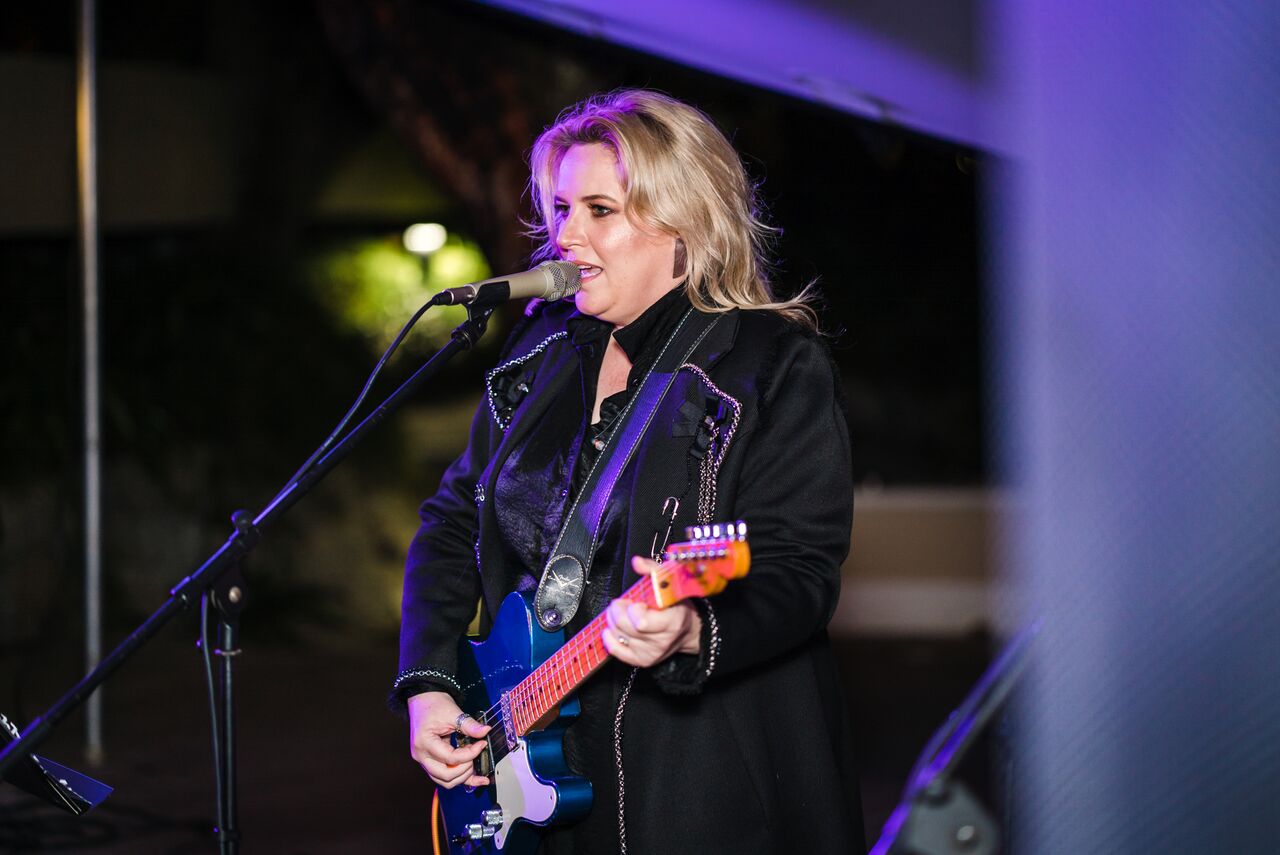 She stands in front of us in the colours of rock 'n roll. South Africa's original rock chick, people call her. Black coat, black shirt and black jeans. Brown boots. Endless cords wind round and round the stage at her feet, like the roots of a tree, connecting it all, Karen to her bassist and pianist, the front of the tent over the terrace at Ellerman House to the back, performer to audience.
Musician, Jon Savage introduces her: "a human with such fire, passion, courage and …"
"Integrity," someone from the crowd shouts out.
"She has fought her way to get to her position today," Jon says. "Please welcome, the star, the icon, the incredible legend… Karen Zoid!"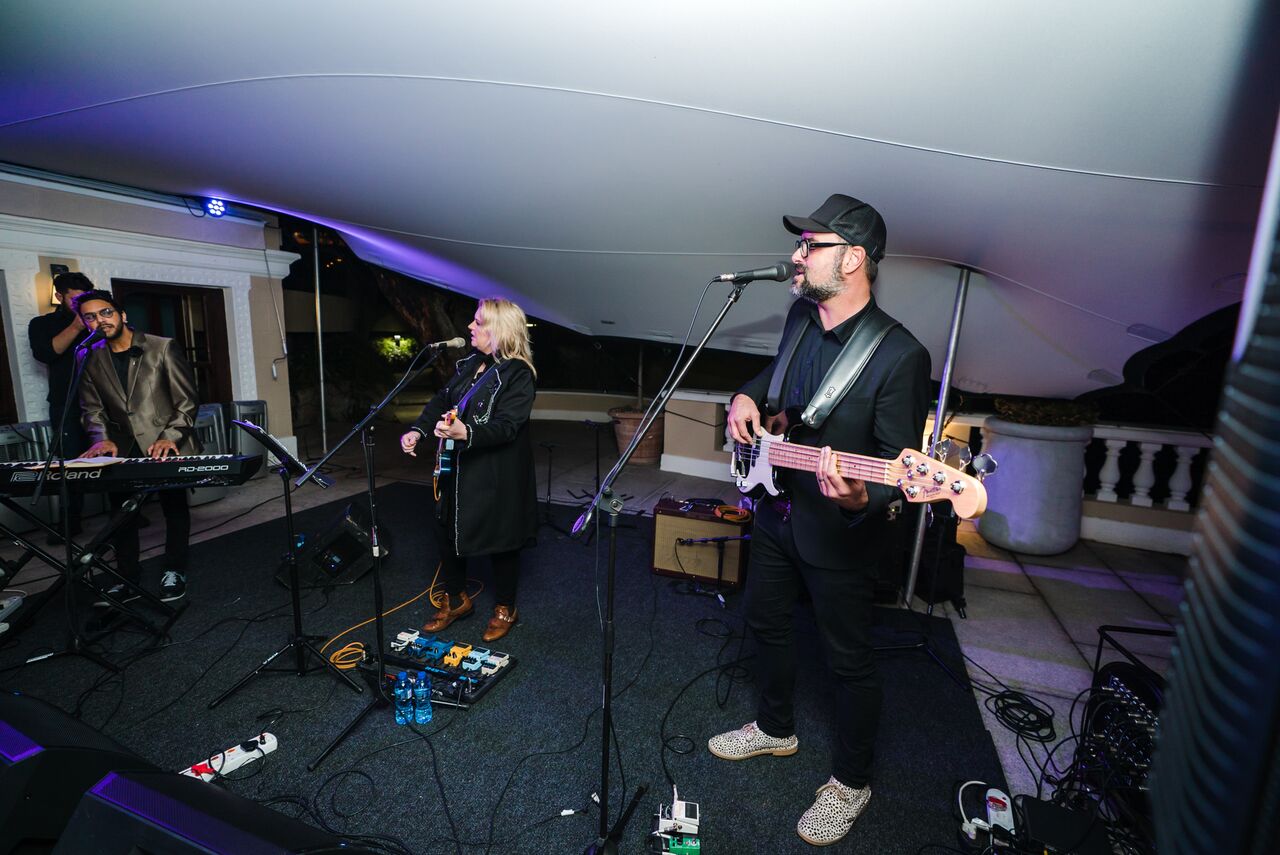 Since releasing her first solo album, Poles Apart in 2002, Karen has become an icon in the South African rock music scene. She's known for her fierce individuality, her "take me as I am" attitude ("Dis my lewe en dis my look"), her ability to speak her mind ("I'm an extrovert. I can keep talking all night"), and her lyrics that range from the light and witty to the deep and soulful.
She has shared the stage with international acts like John Mayer, Annie Lennox, Metallica, Simple Plan, Hothouse Flowers, Seal and UB40.
On stage with her tonight is bassist, Schalk van der Merwe, "Mr Cool in the band, a friend and hero," Karen calls him, and pianist, Kyle Petersen.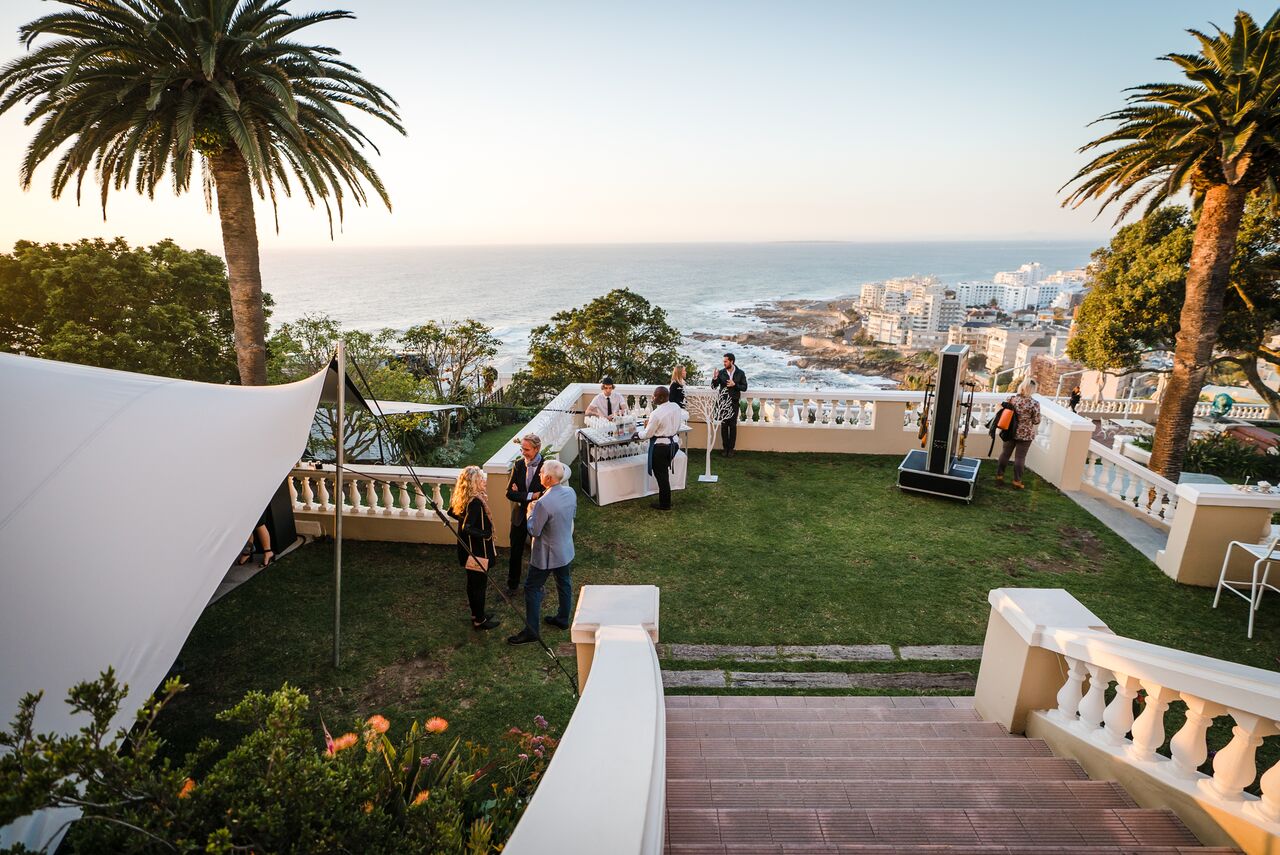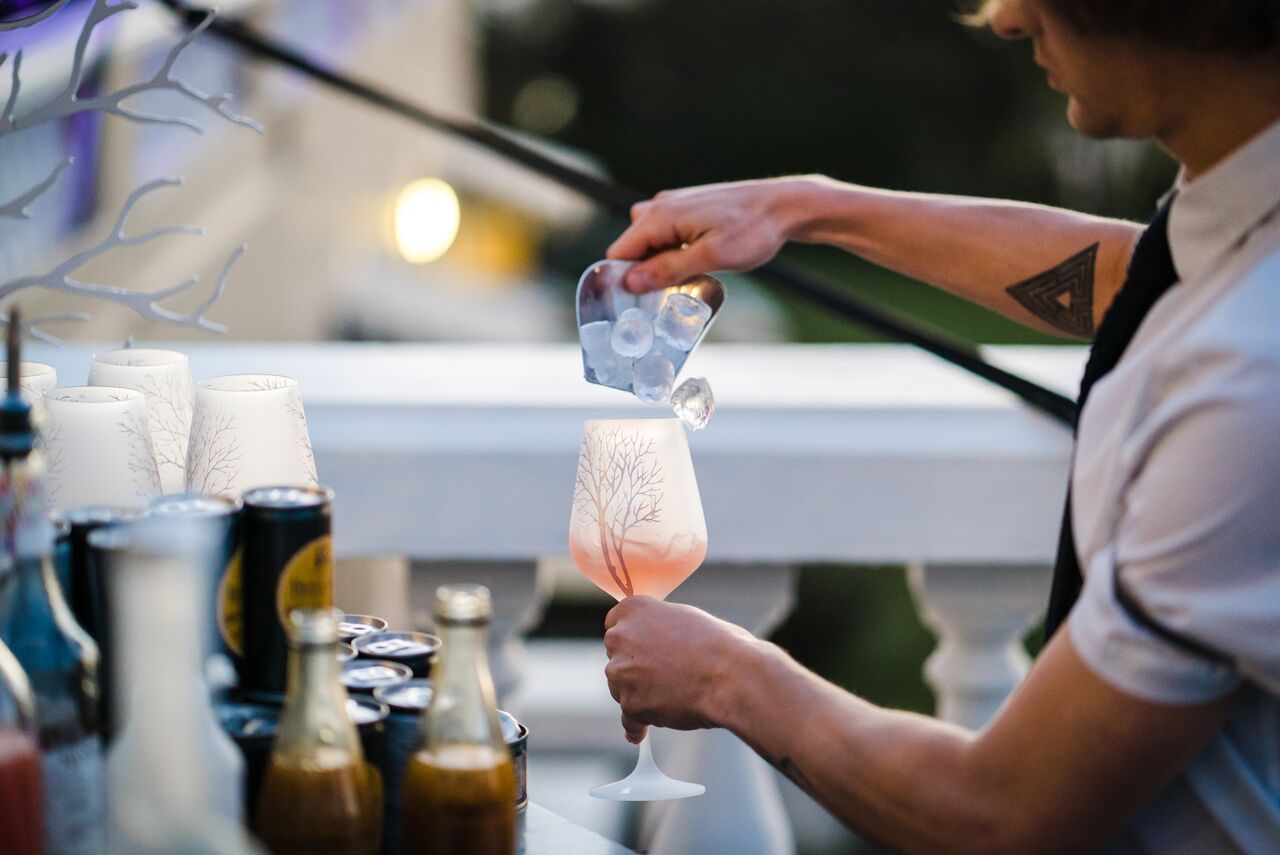 The music begins…
You're beautiful, you know it's true
I could go black, I could go blue
You're beautiful, there are no lies
Only the river, only the sky
She moves from song to song, from one "for all the housewives and dads who take their kids to school" to one called, Big Mouth, written for a drummer she once worked with ("drummers are all weird, women love them, they're always leaving stuff behind and they sit throughout the whole show. This drummer I had loved complaining, so I wrote this song for him as a joke.")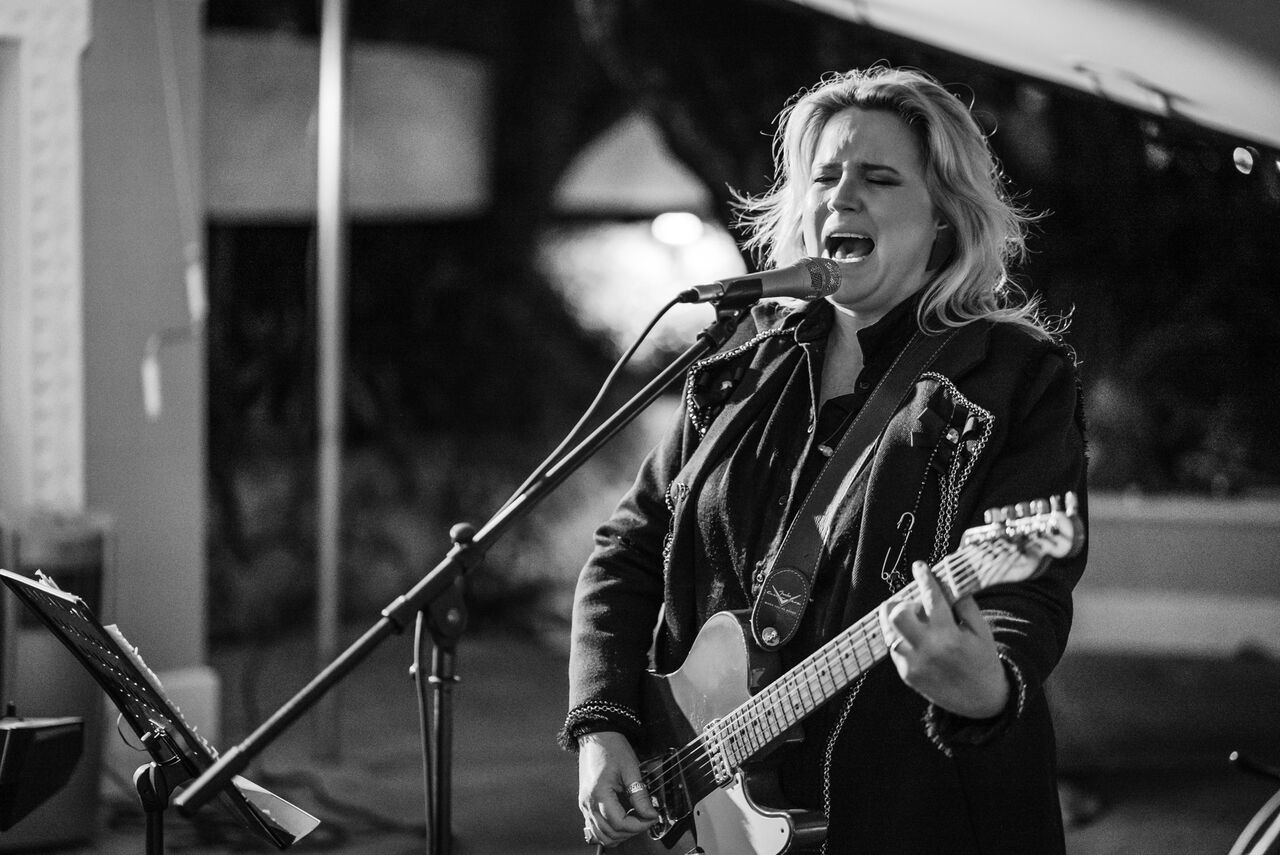 Before the next song, Karen stops to tune the guitar. She says the cold has gotten to the strings, but I can hardly feel the chill in the air – not from between the lights and wine and swaying bodies.
"Paul Harris, the owner of Ellerman House, told me that he's a Rolling Stones fan, so this one is for him," she says, leading us into a cover of a Stones' classic, sung by Keith Richards.
Wild horses couldn't drag me away
Wild, wild horses, we'll ride them some day
The song reveals the beautiful tone to Karen's voice – its rich range and diversity – and you realise what it is that has made her stand out in the rock world. It's also the kind of song that arrests time, has you gazing off into space, pondering everything or nothing at all.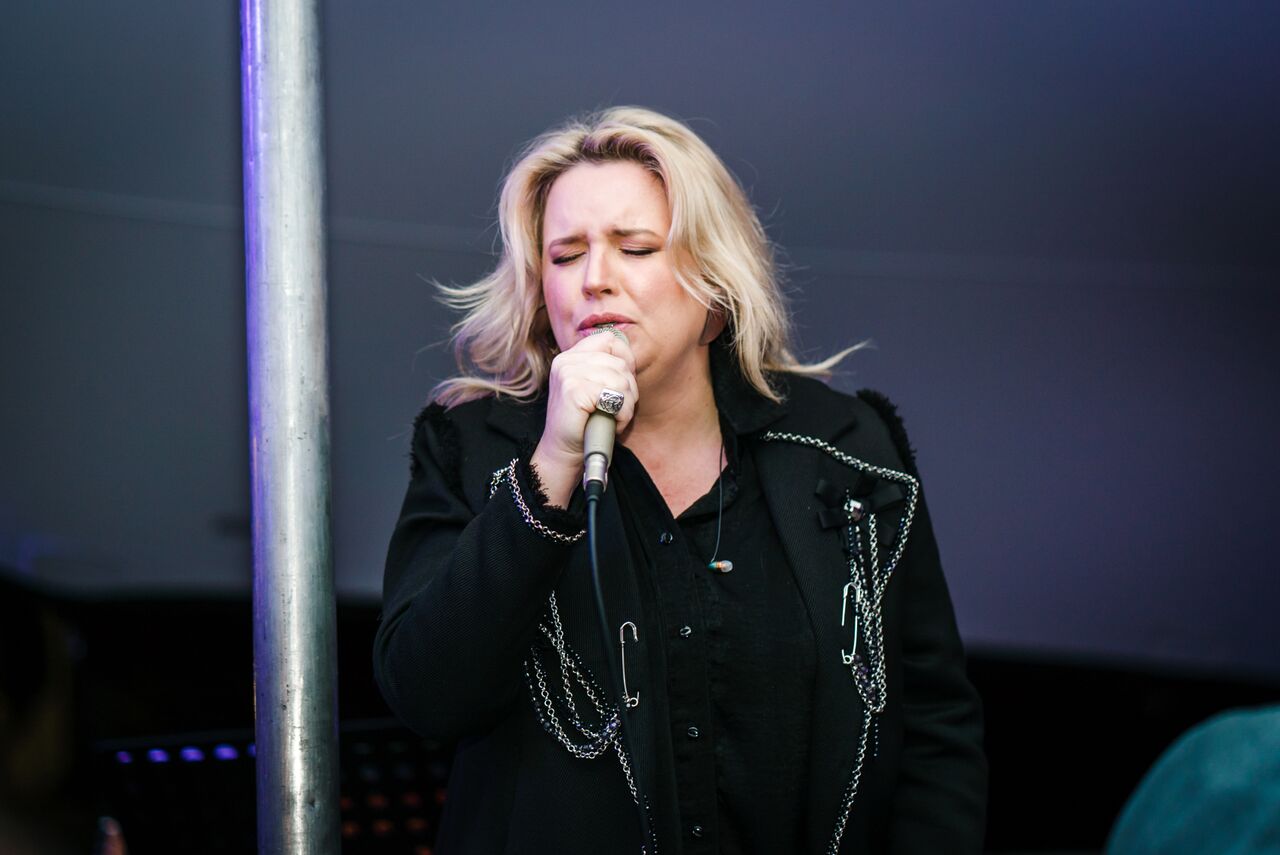 Karen's eyes close and I sense her losing herself to the tune too, drifting down the tunnel with us. I wonder where she goes to – behind closed eyes – and then she opens them again and she's back in the room with us. The spell is broken and I see the furniture of her home on stage again.
Before singing what she calls an ode to Cape Town in the winter, Karen explains that it's her favourite season here in the Cape: "there are fewer tourists, and I write more and feel more creative and inspired in the cold."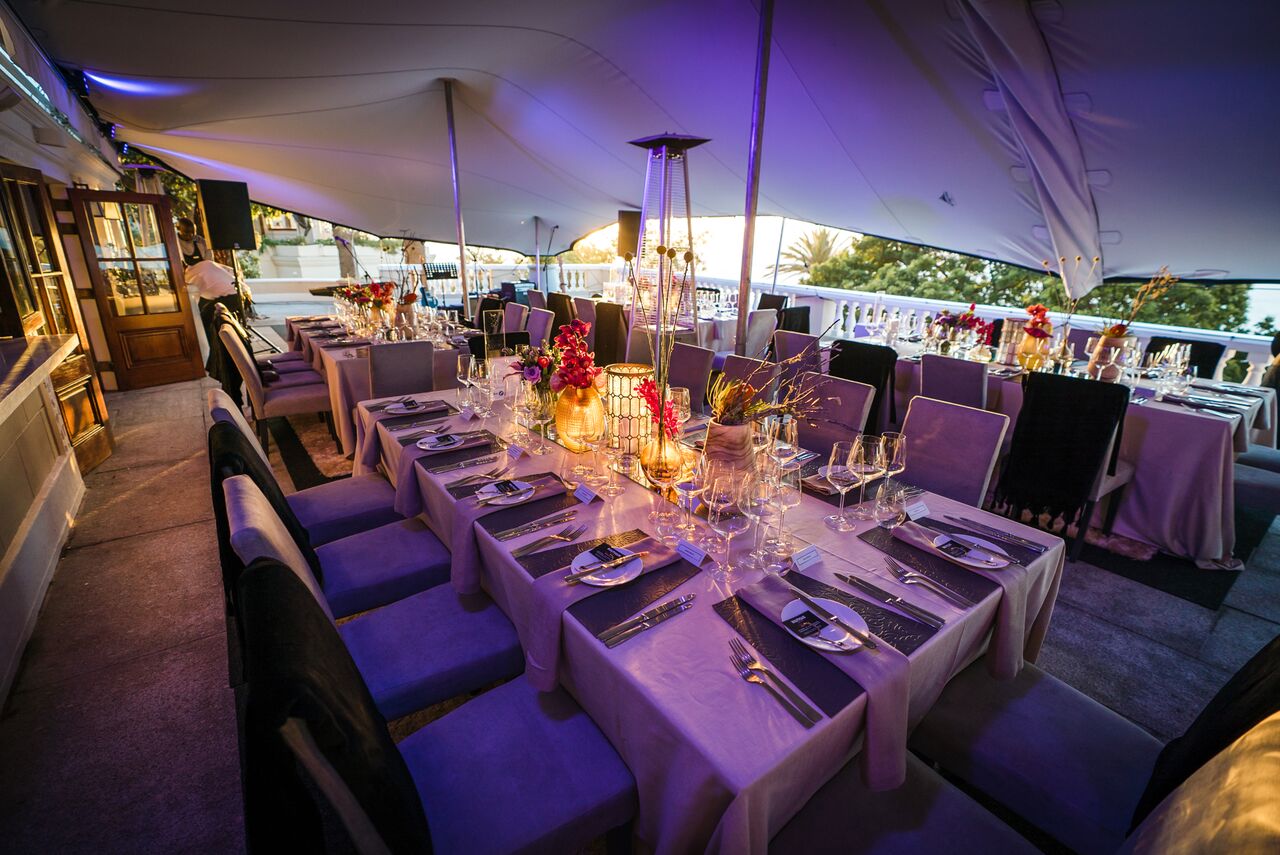 Then there are those well-known lyrics…
And I looked at you
And you looked to me
And I thought to myself
I'll get stuck in a small room with you
Any day, any day…
Followed by a song for her son, ("If I go, when I go," she says, "please tell my son this song is for him and play him the track…") and Toe Vind Ek Jou, about which she says, "I wrote this with Francois van Coke, of Fokofpolisiekar," the well-known South African rock band. "It's a love song. I think it did so well because we didn't try too hard, it was simply Francois writing to one person, his wife, and it was honest, from the heart."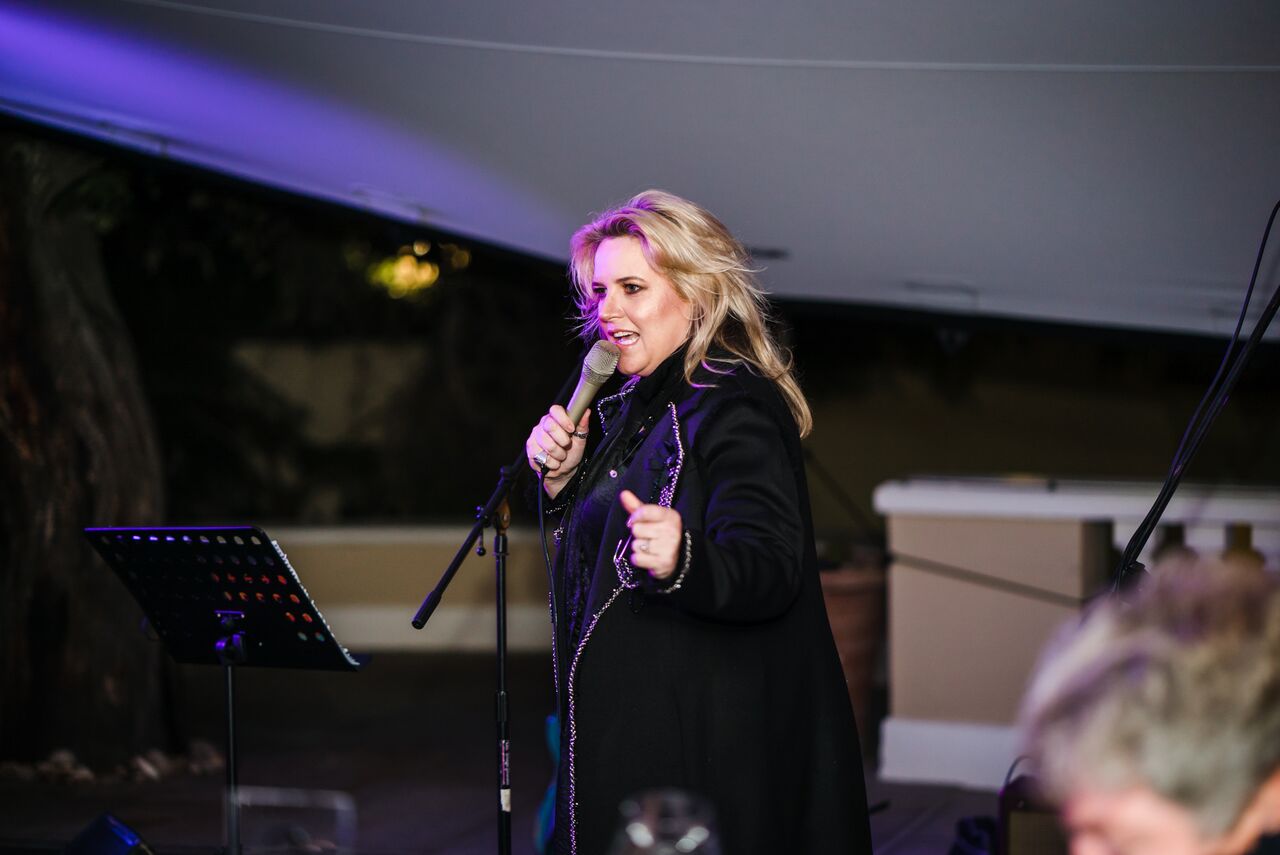 The philosopher in Karen reveals itself here and there; she admits she sees a bit of herself in Socrates.
"In Alain du Botton's constellations of philosophy, he talks about Socrates – this guy who drank too much, couldn't read or write but had strong ideas about things, and he let his wife do anything she liked, and people didn't like that and they wanted to kill him. But until the day he died, he was at peace with the fact that the world was a mess, different to him, and that people didn't like him. He didn't write any of his ideas down – it was Plato who came around after him and did that. But Socrates held onto his ideas and ideals even when everyone was against him and he was willing to die for them. And as musicians, we always end up in places most people don't and you need to remember to hold onto your inner power as you move through this messed up world. Like Socrates. We musicians are just a bunch of philosophers, conveying our feelings and ideas to the world."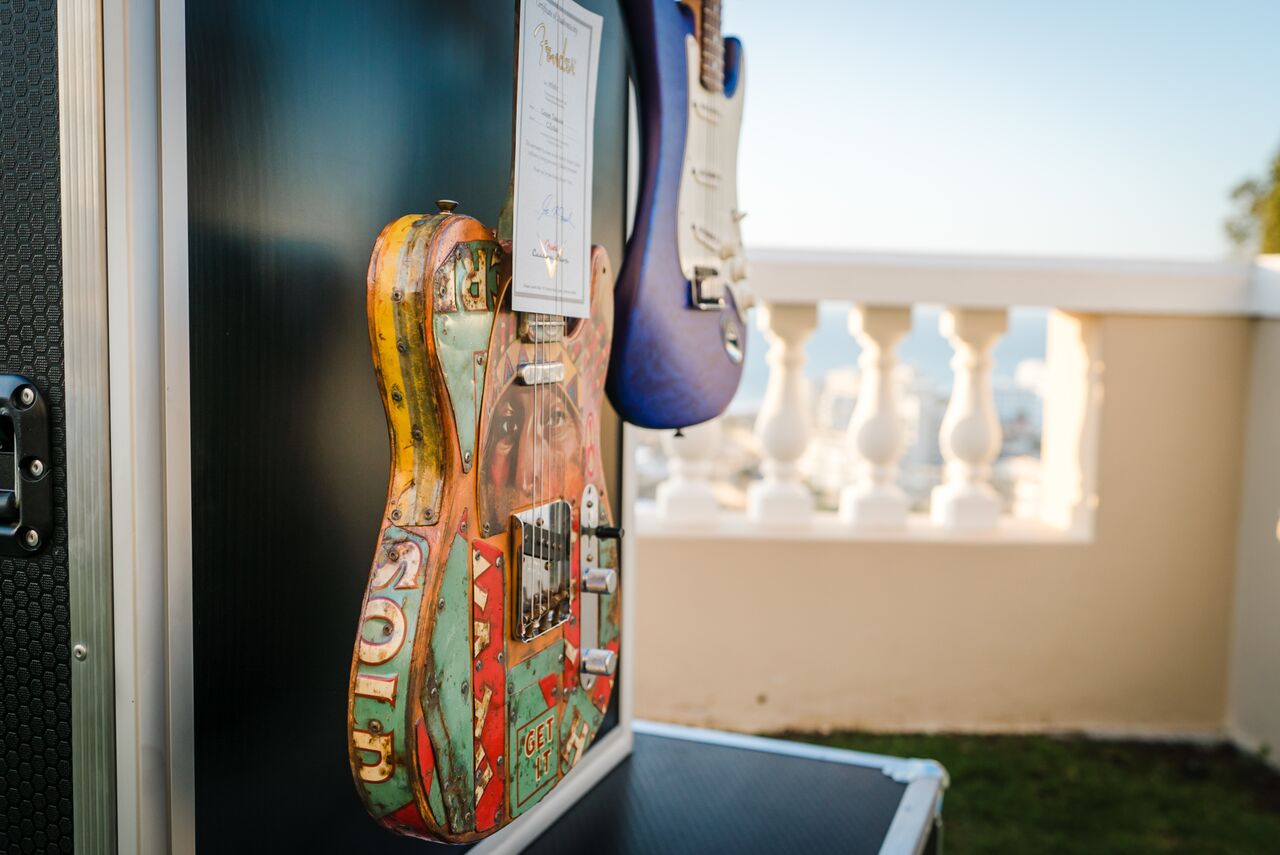 On that note, Karen chants…
I'm about to go insane
On this lonely aeroplane
Everybody looks the same
On a lonely aeroplane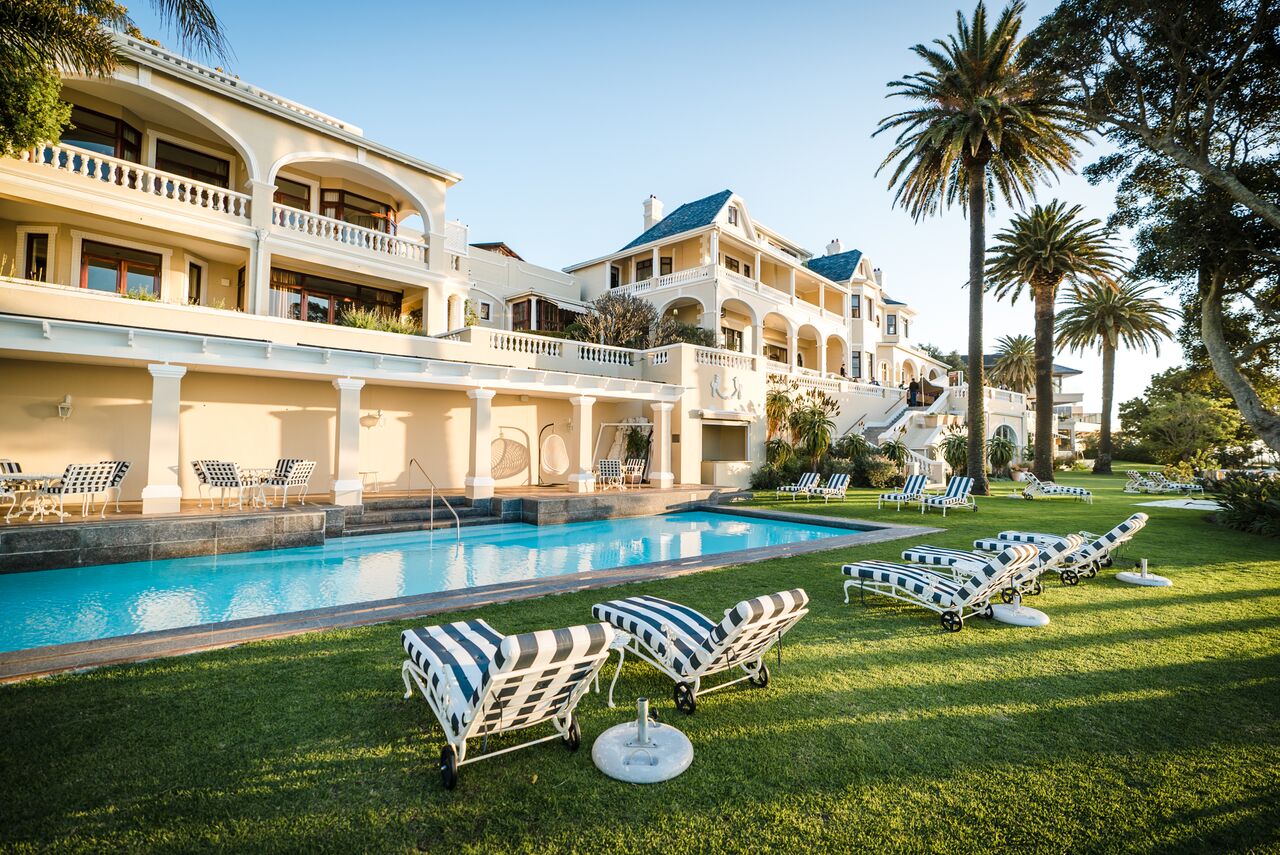 The band plays a mash-up of song lyrics ("You can go your own way… Take me to the water… I got soul but I'm not a soldier…") and finishes with Great Heart, by a man Karen calls "the essence of what a South African should be."
Mr Johnny Clegg.
Before she sings, she adds, "Thank you, Ellerman House, thank you for your support of South African music and art," reminding us of where we are, and what we're here to celebrate: not merely the songs of a country, but the stories of a continent. "Your life is a story like the wind, your life is a story like the wind," Johnny and Savuka sang….
The world is full of strange behaviour
Every man has to be his own saviour
I know I can make it on my own if I try
But I'm searching for a Great Heart to stand me by
Underneath the African sky
A Great Heart to stand me by…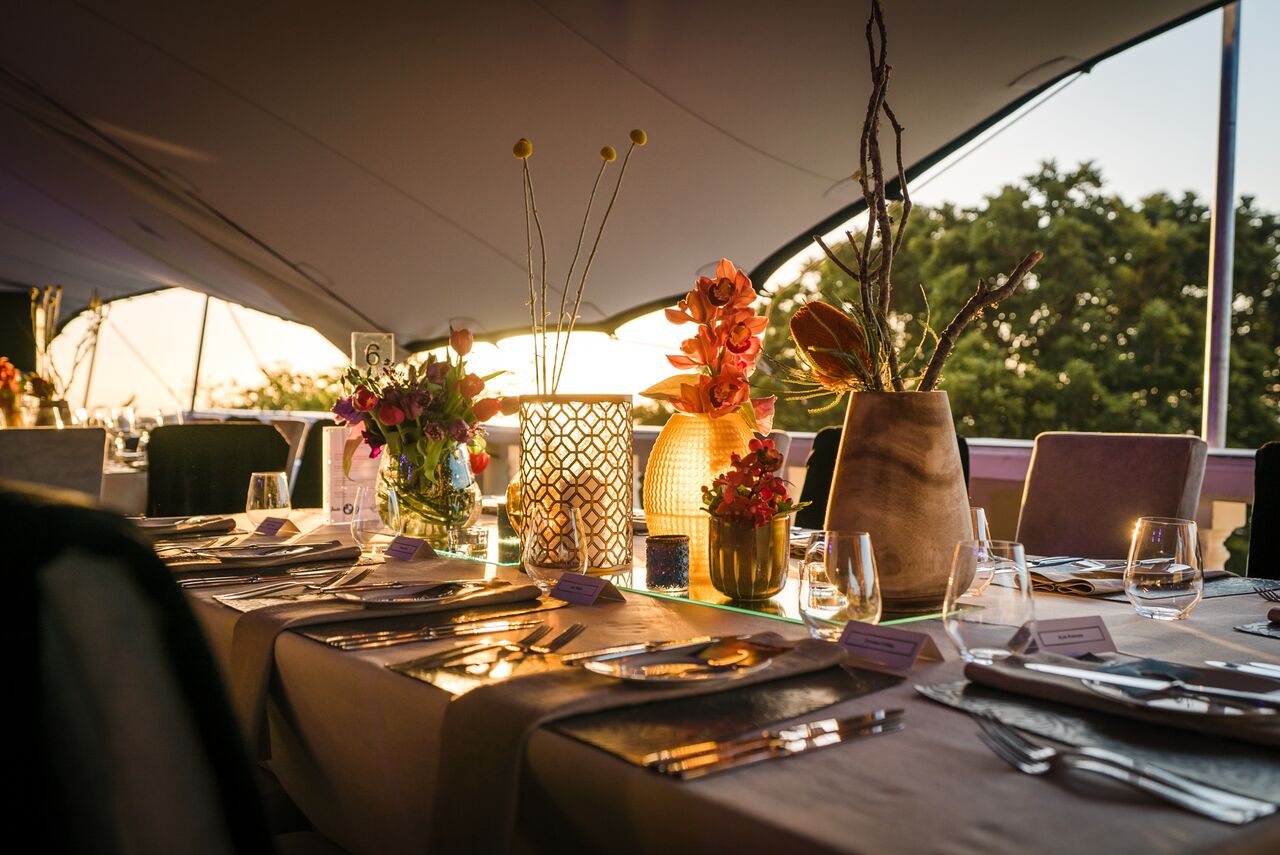 Thank you to Ellerman House and their Head Chef, Grant Daniels, in collaboration with Peter Tempelhoff, Exec Chef at The Cellars-Hohenort, for the delicious cuisine and wine. The Ellerman Sessions are made all the more special with their partners, BMW, Bvlgari and Moët & Chandon joining in.
Take a look at future Ellerman Sessions here.