In the book, The Artist's Way: A Spiritual Path To Higher Creativity, Julia Cameron guides us on the path to artisthood. The idea of "The Artist" goes beyond the concept of a man with a paintbrush, a woman before an easel. It is any person who expresses creativity – in whichever way they choose. It is also a person of great courage. For the artist's way is not an easy one. Particularly not for the artist in (and of) the wild.
Cameron explains the predicament well in her book – read an excerpt below – but it is the unique being who continues in spite of the difficulties that we are most interested in. Someone like photographer, and co-founder of the Great Plains Conservation, Beverly Joubert, who goes lens-first into the wild, dangerous spaces of Africa, along with husband, Dereck Joubert, to shed light on the beauty, the joy and the creativity of nature itself.
In honour of Women's Month this August, Beverly honours us with a closer look at her own path as an artist – one that led to her being featured alongside other incredible female artists in National Geographic's 'Women of Vision: National Geographic Photographers on Assignment' exhibition. Discover more in our 10 Questions below.
---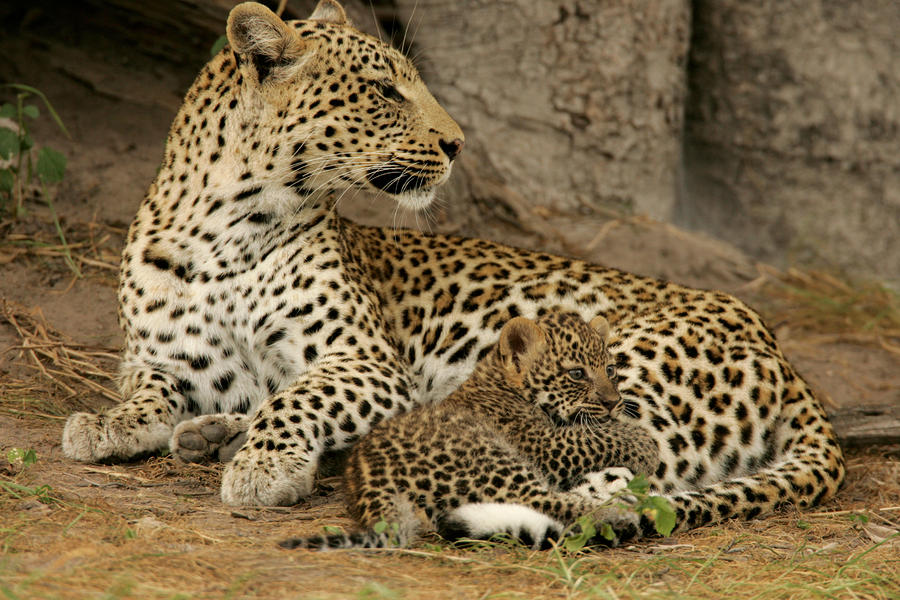 ---
"Most of us are not raised to actively encounter our destiny. We may not know that we have one. As children, we are seldom told we have a place in life that is uniquely ours alone. Instead, we are encouraged to believe that our life should somehow fulfill the expectations of others, that we will (or should) find our satisfactions as they have found theirs. Rather than being taught to ask ourselves who we are, we are schooled to ask others. We are, in effect, trained to listen to others' versions of ourselves. We are brought up in our life as told to us by someone else! When we survey our lives, seeking to fulfill our creativity, we often see we had a dream that went glimmering because we believed, and those around us believed, that the dream was beyond our reach. Many of us would have been, or at least might have been, done, tried something, if… If we had known who we really were."
― Julia Cameron
---

---
10 Questions with Beverly Joubert
---
1. Five
 important things to remember when living in the wilderness?
1) Always be aware of your surroundings. You can walk into dangerous things if you are not aware, even in camp.
2) Always think ahead; where will the food come from in a week? The water, firewood, batteries, raincoats… It's not all about living in the moment.
3) Live in the moment!
4) Only be in the wilderness with someone you love. Spending time with people you don't like is dangerous and a waste of time.
5) 99% of the time it's not the lions or elephants that get you, it's stupidity. If an animal attacks you, it is more than likely it is something that you have done. Rarely will animals attack if unprovoked.
---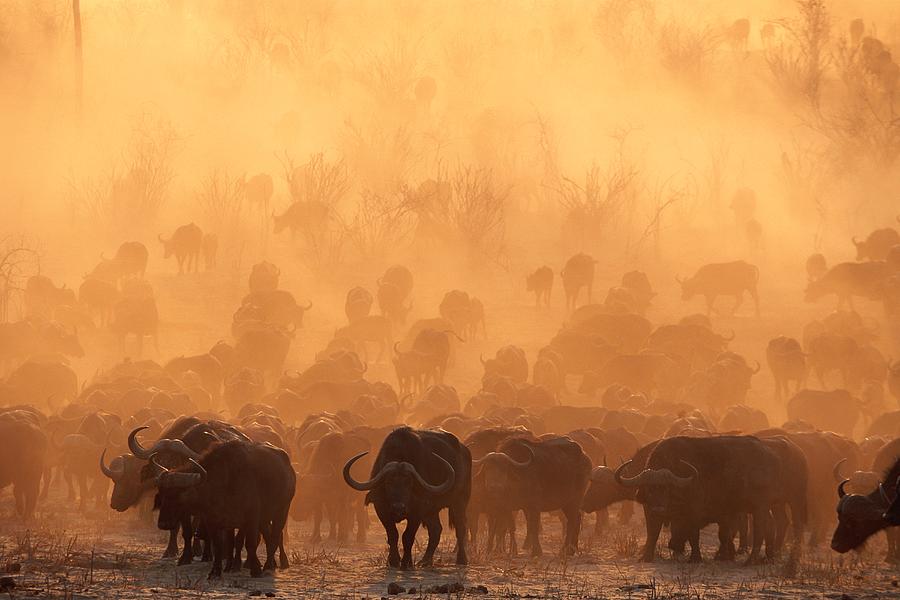 ---
2. Five 
things being a photographer has taught you about yourself, life and love?
1) Enjoy taking pictures. If you miss a great one, don't ruin your day worrying about what you didn't get, or what you messed up. This has taught me to live life without regrets.
2) Think about every shot, or you will mess up more than one frame. You will mess up the whole batch if you aren't thinking. This has taught me to be precise. Messing up in life makes me unhappy but I know that when I focus and really consider a shot, I can achieve great things. 
3) Get the easy shots first, then work it again, and again, for the unusual. The lesson has been to do the homework, get it right and then get better at it. Marriage is like that; I've gotten better at it over time.
4) Don't get stuck doing the same kind of shots your whole life. Take risks with your photographic style and experiment. There is a danger that you try something that you like the results of, and then you keep doing versions of that one style or image. Re-invent. Going to the same vacation spot, year on end would drive me crazy. Be an explorer, be alive and challenge yourself. Sometimes the experiments don't work out, but when they do, it is often all the more special. 
5) Soak it up. Being a photographer makes me look around and search for the beauty in everything.  
---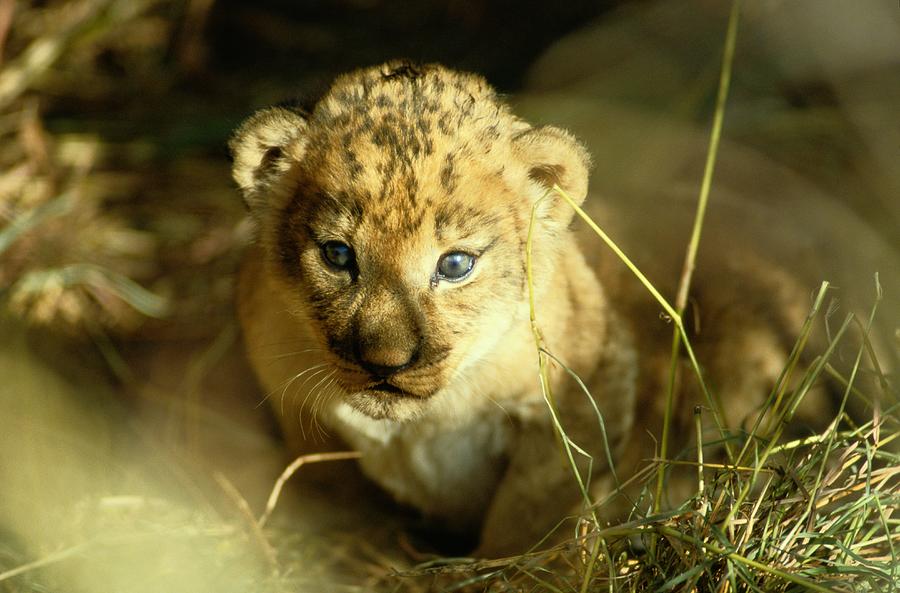 Above: A two-week-old blue-eyed lion cub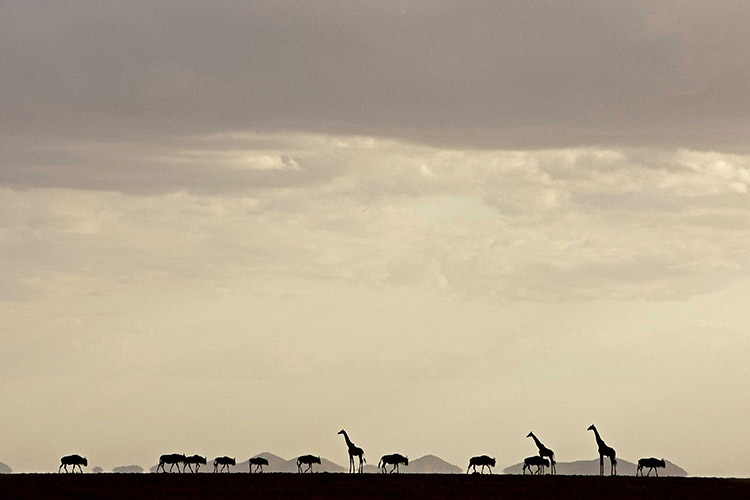 Above: Giraffes and blue wildebeests, Kenya
---
3.
How did you get involved in photography and conservation – what drove you and continues to drive you?
I got involved as a kid as I was always wanting to take pictures. I became the family record-keeper through the photographs I captured. Later, when I met Dereck, I discovered he was also a photographer, and when he turned to filmmaking, I took over his stills cameras as well as recording all of the sound for the films we made together. Through this I developed a niche for myself – our husband and wife filmmaking team. I am driven by storytelling through the lens, and specifically stories that will save wildlife today. Hopefully, before I become too old to hold a camera, the extinction of species will be universally solved and I will then take pictures of that success and celebrate it through my work. 
---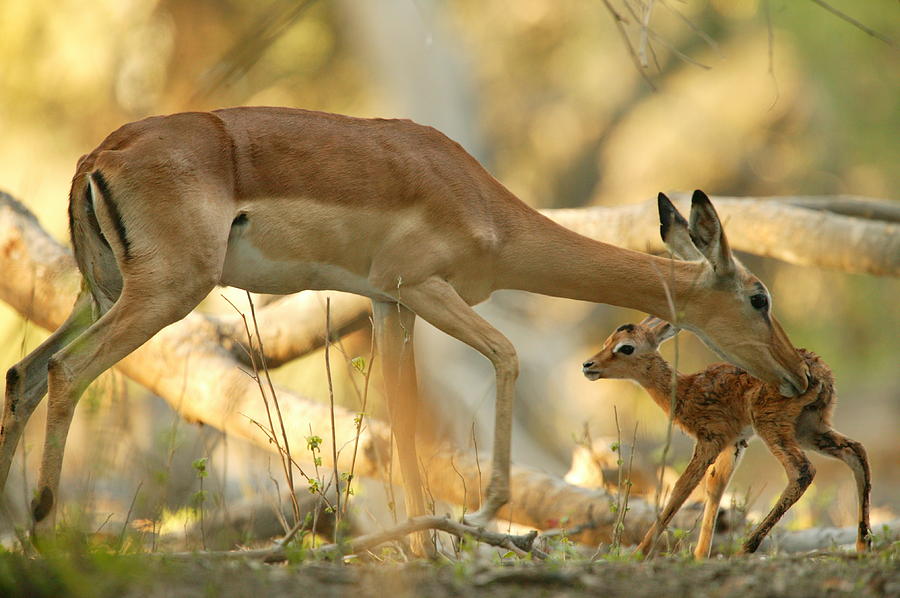 Above: A mother antelope grooming her baby
---
4.
Favourite part about living in the bush and your wilderness home in Botswana?
Being alone with Dereck, being remote, living our daily life without pressures of needing to interact with people, with e-mails, with petty stuff. When we are out there it's a challenge to live, a challenge to capture something unique, but also a personal and intellectual challenge to be a part of two people surviving together in the bush. It takes a real adjustment for many people to make the collective decisions over the selfish ones. And yet, we both embrace these challenges and it draws us closer together. Removed from the modern world, we can reconnect with nature which is a hunger or need you sometimes don't even realise is there until you experience it. It is food for the soul and that reconnection with the wilderness and all its living wonders brings me peace, happiness and inspiration.
---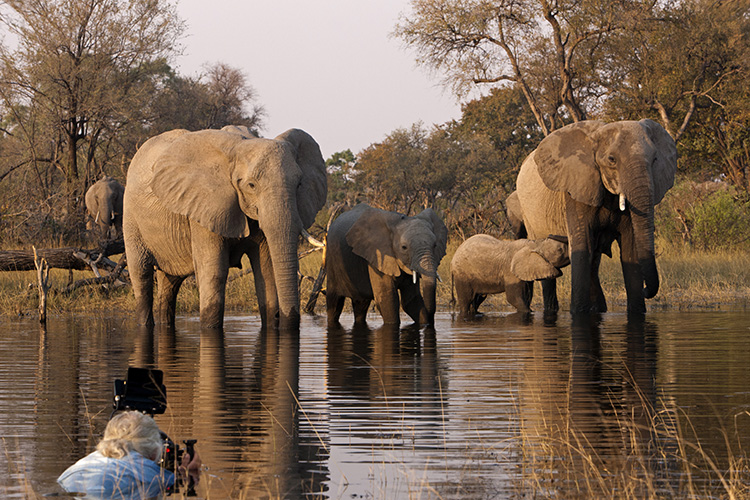 ---
5. Getting your
 camera up close to wild animals must have led to a few daunting close calls. What races through your mind in those moments? Are you more fight, fright or flight?
We really try not to interfere with wildlife and be in the animals' faces. It is not our style and runs against our beliefs. We have a non-interference policy which we have developed over our 30 years in the field and we stick to it. What races through my mind? Probably how to get out of the problem, fast. Sometimes I may be in survival mode and want to run but we try and judge each and every situation and read the body language of the animals. Sometimes standing still is the safest thing to do, even if your mind tells you otherwise. I have more adrenaline spikes than Dereck does, so it's good to be calm and then you can think clearly, even in times of danger. I have definitely developed a deeper understanding and love for wildlife. Protecting animals and giving them total respect is first and foremost in everything I do. When you have this mindset you are less likely to find yourself in dangerous situations.
---

---
6. Scariest moment encountered in the wilderness? And most memorable?
Scariest – maybe running into poachers and having shots come over our heads. We then gave chase out of anger and out of a desire to catch and confront them, but I'm glad we did not catch up with them as they were armed and dangerous. And most memorable? Saving a baby elephant who was stuck in the mud. We worked at rescuing him for hours while his mother attacked us, but finally we got him out and suddenly the mother relaxed and came to us almost as if to say, "Thank you". Our policy is to never interfere unless it is a man-made situation.
---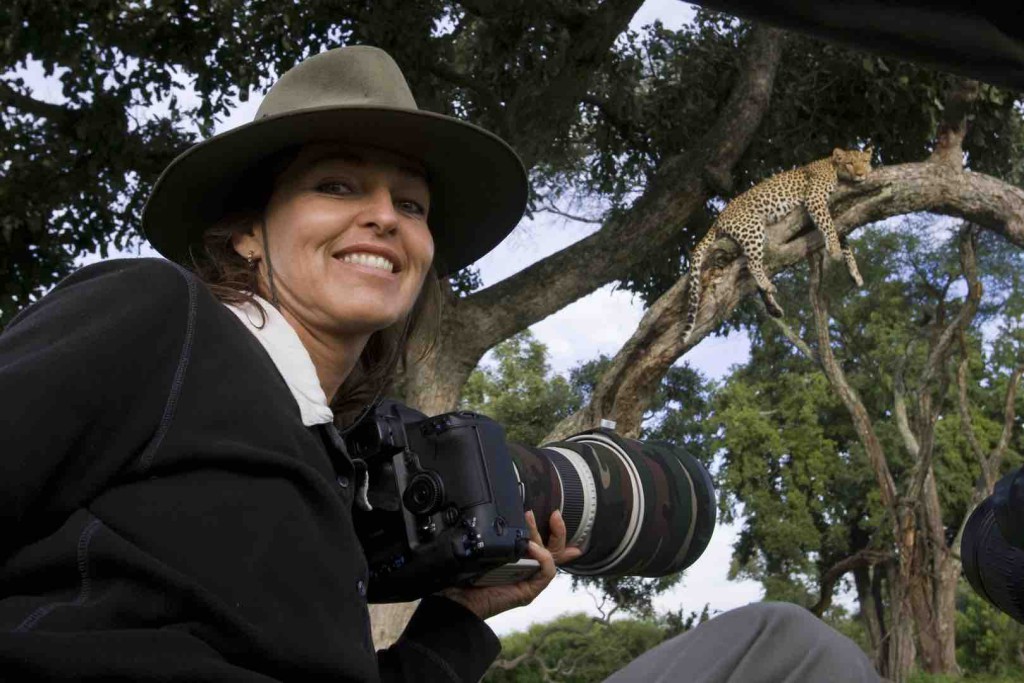 ---
7.
How has your relationship with the African wild and her creatures changed over the years?
I think I was innocent and wide-eyed 30 years ago; Africa was a scary place for me at that point. I, like many, thought that it was dangerous, even threatening. Fortunately I had Dereck with me so there was always a rational and comforting voice nearby and we would explore the unknown together. People who leave civilization for the wilderness should always do it in pairs. It is also a good test of a relationship! Today I am totally comfortable (perhaps too much so sometimes), around lions in particular. Is the fear factor still there? No. One has to be careful not to let that healthy grasp of fear disappear. History is littered with the early deaths of those who lost fear.
---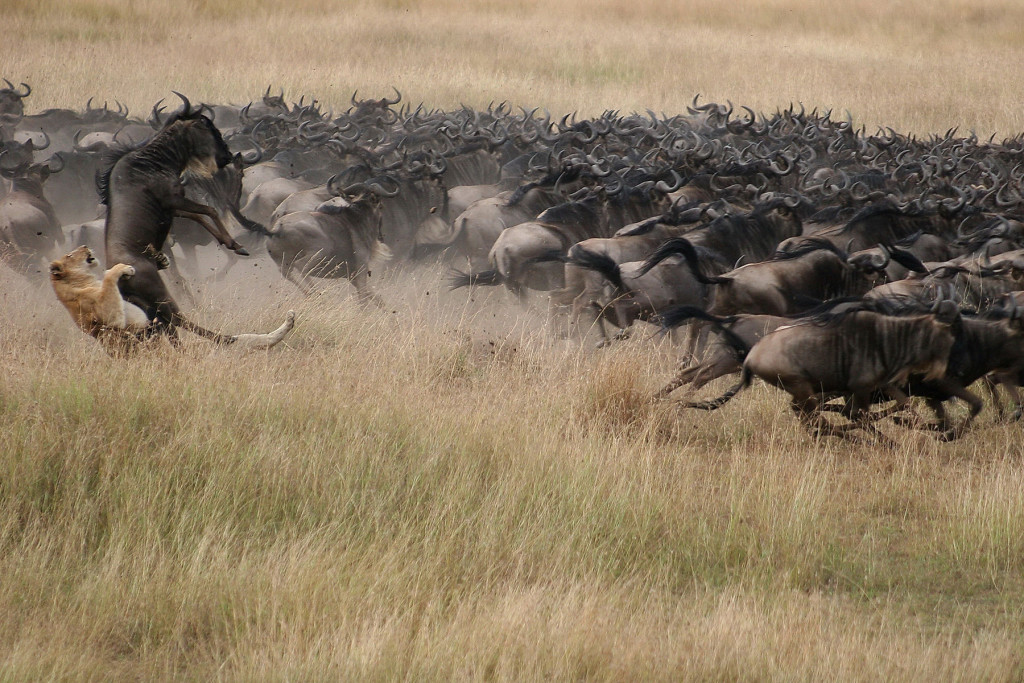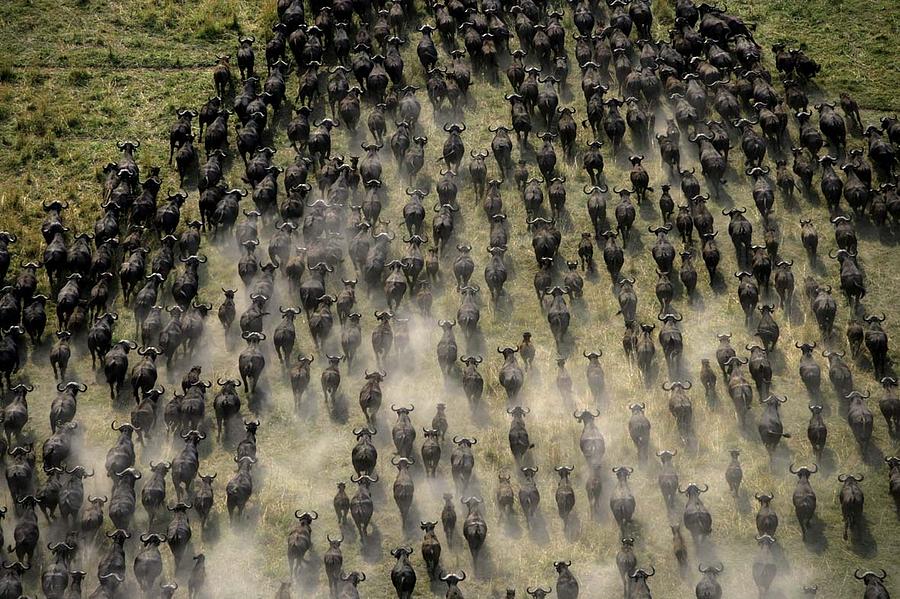 Above: A herd of migrating African buffalo, Mara Plains, Kenya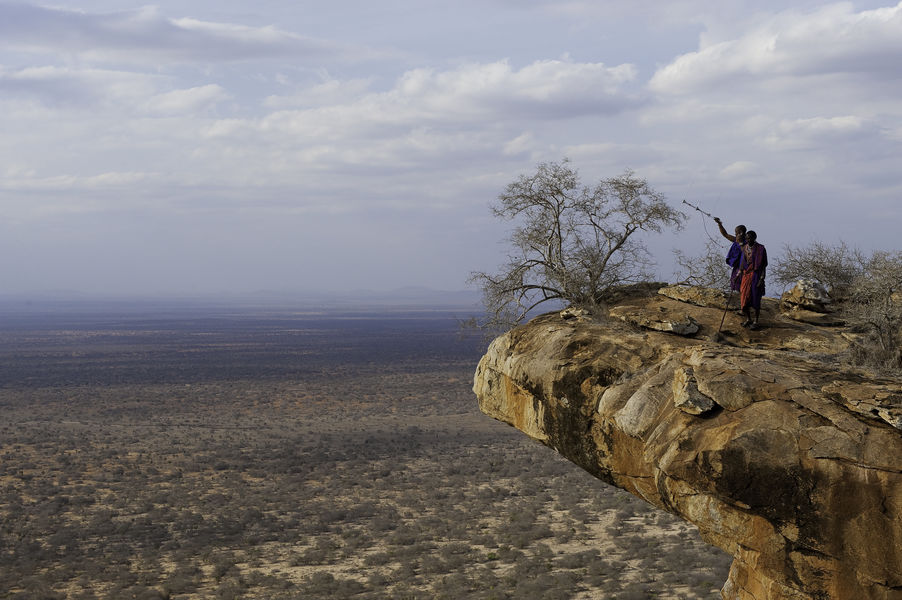 ---
8.
There is a beautiful quote by Lord Byron that goes, "There is a pleasure in the pathless woods, There is a rapture on the lonely shore, There is society, where none intrudes, By the deep sea, and music in its roar: I love not man the less, but Nature more." 
How do you find alternating between the stillness and isolation of the pathless woods and the hubbub of crowded cities, airports and conference halls?
It is very stressful for me to leave the bush, especially if I know I have to perform in some way, for example if there is an important talk to prepare or live interview to give. I like to be prepared. Dereck prefers to wing it. I am also more susceptible to other people's energies, so I get tired, exhausted after a bombardment of senses, noise, talking, not getting the food I prefer, late nights, closed spaces, air conditioners. I do prefer Byron's lonely shores. I tend to do what I can to take it with me. So I always travel with some of my special food, or things I like from our real lives in the wilderness, partly for health and comfort but also as a reminder of who I am.  
---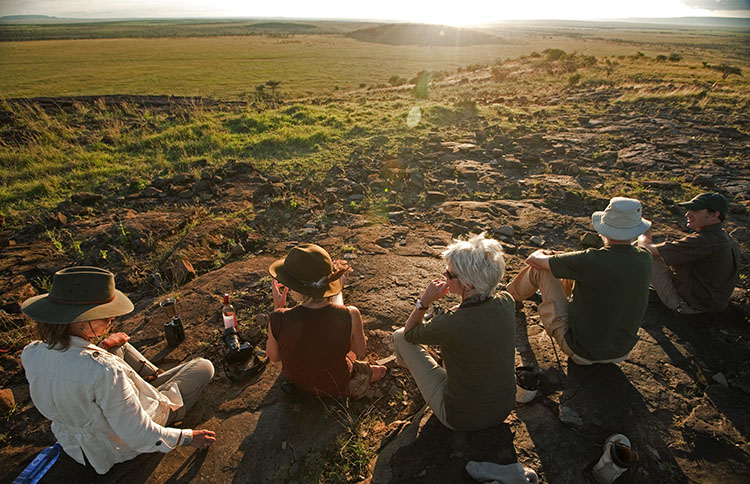 ---
9. 
Favourite time of day in the bush and how do you to tend to start such days in the wilderness? Up at dawn to film or slow coffee and rusks on the deck? 
We are up early, 4-5 am if we are working on a project. The light is better then and the air is crisp. Often by 9 am it is stifling hot and so we tend to use the early and late hours to better effect. We prefer a cup of herbal tea while enjoying nature's soundtrack in the soft dawn light and the stirrings of the wildlife that is so active in the cool morning air. We don't need or use coffee at all by the way, it's a false stimulant and the dawn in Africa is stimulation enough for me.
---
The photographic safari – featuring Beverly and husband Dereck Joubert.
---
10. 
The best adventure so far has been…
a life lived with all the big cats we had the privilege to get to know, from individual lions to the incredible experiences with Legadema while making "Eye of the Leopard" and then "Living with Big Cats", and now our latest experience on the Selinda spillway, filming elephants for the new film, "Soul of the Elephant". These adventures were all magical and euphoric in every way .
And the next adventure will be

…
filled with as much passion and commitment as the last 30 years of our filmmaking and conservation work has been. For each and every project we take on, we look to be the voice for wild animals and wild iconic places. These adventures are wild and bold, focused on saving certain threatened species and doing what we can to change the world for the better.
---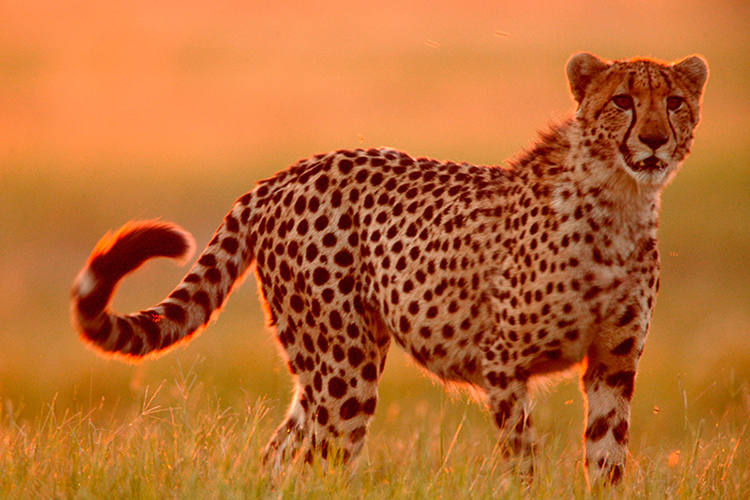 ---
Discover more about the Beverly and Dereck Jouberts' Big Cats Initiative and Rhinos Without Borders – to name but two of their conservation efforts – and experience the Africa of Beverly's photos for yourself – at the Great Plains Conservation's Zarafa Camp in Botswana and Mara Plains and Ol Donyo in Kenya.