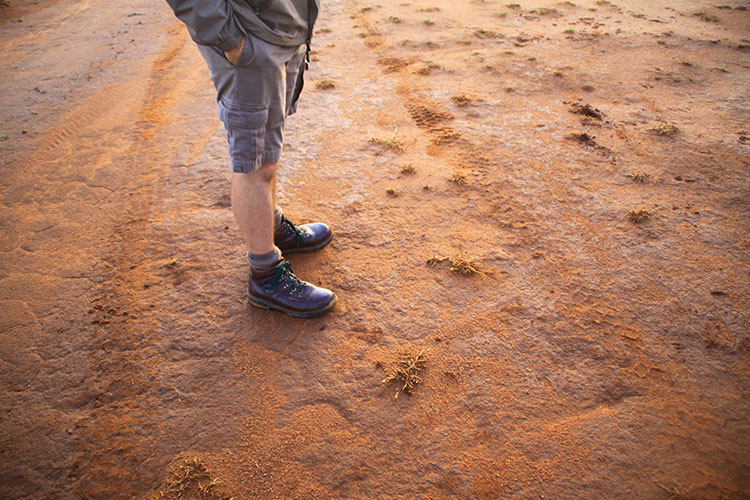 The Wild Man. Considered a rarity in modern life, he walks free and fierce across the plains of the nature reserves of Africa. The Wild Man is most at home in these corners of wilderness where the sound of silence reigns, in competition with only the sporadic cries of nature's other natives. The Wild Man doesn't need or desire introduction… The Wild Man just is. He exists as he chooses, travels the path of the animal tracks.
My first introduction to this rare speciman was through the lesser-known Elizabeth Gilbert book, The Last American Man, about the rogue naturalist, Eustace Conway, a man "not making a living," but rather, "just living." A man with a wisdom that can only be acquired from a life spent in the wilderness.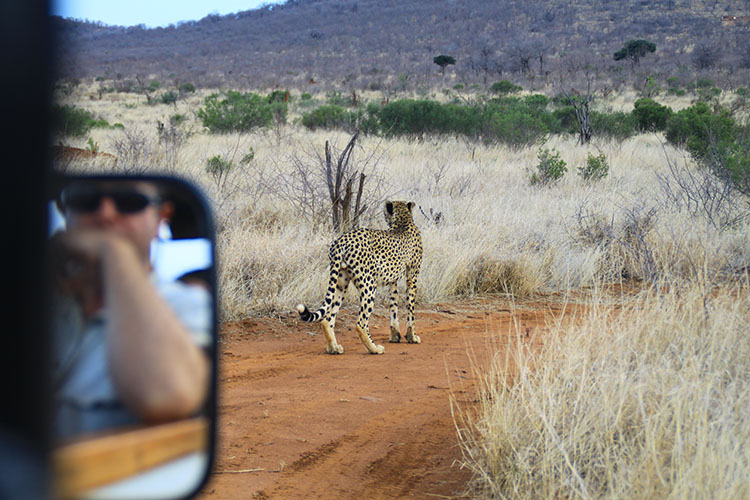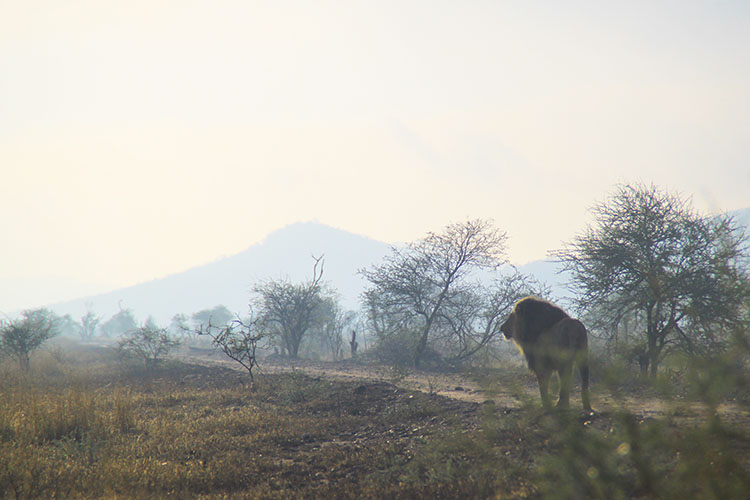 What wisdom, you ask? In Eustace's words… "The most extraordinary gift you've been given is your own humanity, which is about consciousness, so honor that consciousness. Revere your senses; don't degrade them with drugs, with depression, with willful oblivion. Try to notice something new everyday… Pay attention to even the most modest of daily details. Even if you're not in the woods, be aware at all times. Notice what food tastes like; … notice what bare feet feel like; pay attention every day to the vital insights that mindfulness can bring. And take care of all things, of every single thing there is – your body, your intellect, your spirit, your neighbours, and this planet."
The time for The Wild Woman will come. It is one for another post. Today, I had to reconnect with a certain Wild Man from Morukuru, my ranger from some time spent on safari at this private reserve in Madikwe late last year. Mark MacNeillie, Lodge Manager and Guide at Morukuru. This South African born Wild Man shares his own insights below in the first of our series…
*Please note that The Wild Man does not like to be photographed. Hopefully these shots, wily captured from various angles and at unsuspecting moments on my safari with Mark, will give you a good enough glimpse to piece together the puzzle that is such a creature.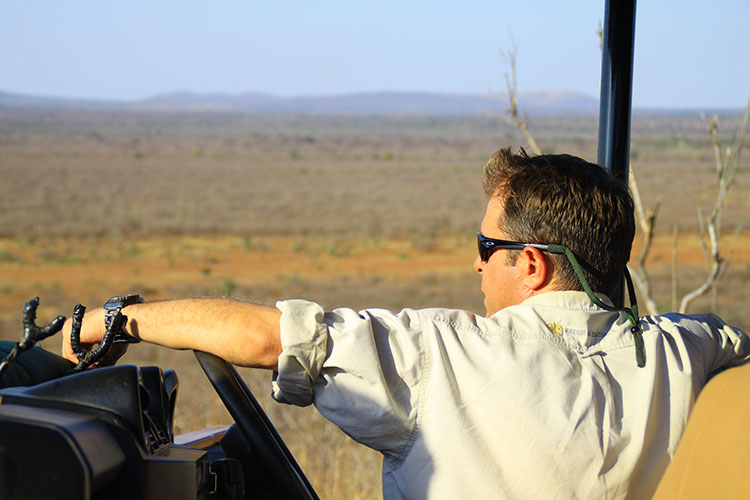 10 Questions with Morukuru's Mark MacNeillie
__________________________
1. Five Important things to remember when living in the bush – mentally/emotionally and physically?
1. Don't track a lioness with her 2 week old cubs, on foot, in a dry river bed.
2. Always expect the unexpected from a wild animal.
3. Prepare to work long hours. Oh, and I hope you are morning person?
4. I hope you don't have the type of blood that mosquitoes love.
5. Work hard on finding the time to stay fit and in contact with family and friends.
2.

 Five

 things being a ranger has taught you about yourself, life and love?

1. Self confidence and an open mind.
2. If you are passionate about what you do you will be successful and happy.
3. Follow your dream.
4. Enjoy and empathise with the company of both your fellow employees and visiting guests. You meet so many interesting people!
5. One can learn so many lessons in life by experiencing it through the eyes of Mother Nature and the animals living their daily lives therein.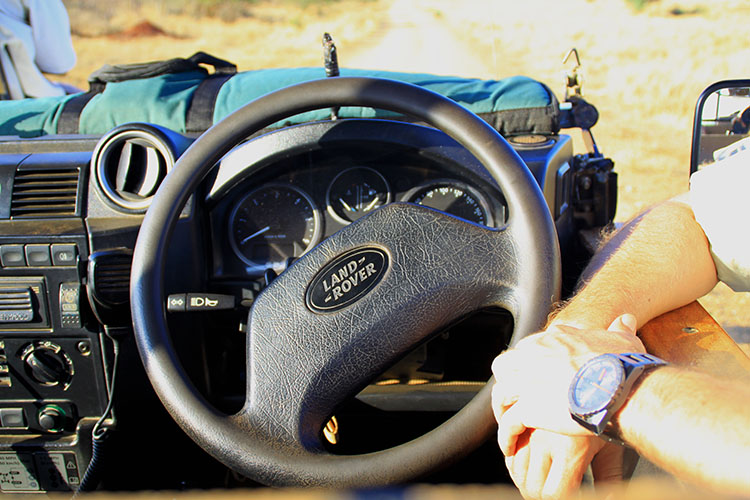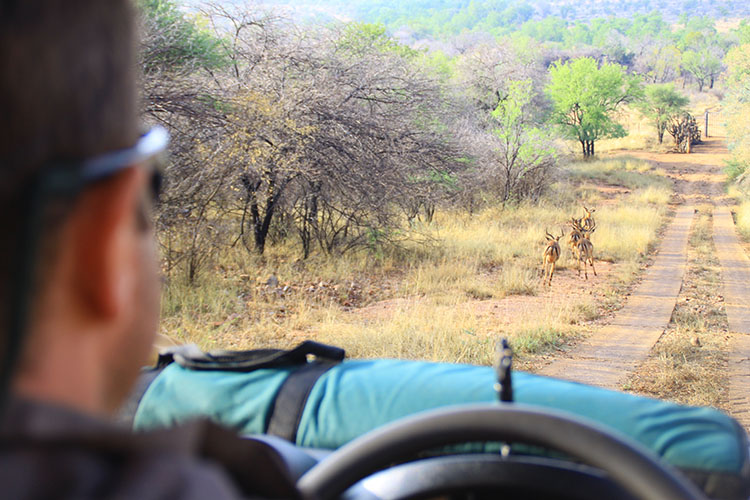 3.

What is your background and what training did you do to prepare you for your role as ranger at Morukuru?

Both my grandfathers and great grandfathers have served duties in the line of conservation, from playing a vital role in protecting the threatened Bearded Vulture and the White Rhino to being the first park rangers in the oldest game reserve in Africa. My family's involvement in conservation had a profound influence on my chosen career path as a ranger. My knowledge of wildlife has been passed down by the family, self study, shared with me by some of the most incredible and knowledgeable guiding peers and trainers in the business and all this taken part in various South and Southern African parks I have had the privilege of spending my 13 years in.
4.

We heard you recently tied the knot… 

What is living in the wilderness with your wife like and how did you propose?

Great! Now that she is my wife, she's no longer afraid of bugs; she can even chase away a hyena and doesn't get to spend too much time in shopping malls with my credit card… I proposed by taking her to the top of a mountain in the park, after she had arranged to have a full body massage… I organised a bottle of champagne and candles, littered the area with red rose petals and got down on one knee in front of the most amazing African sunset one could imagine.
Image below: Mrs Wild Man, Lindie MacNeillie, also a lodge manager at Morukuru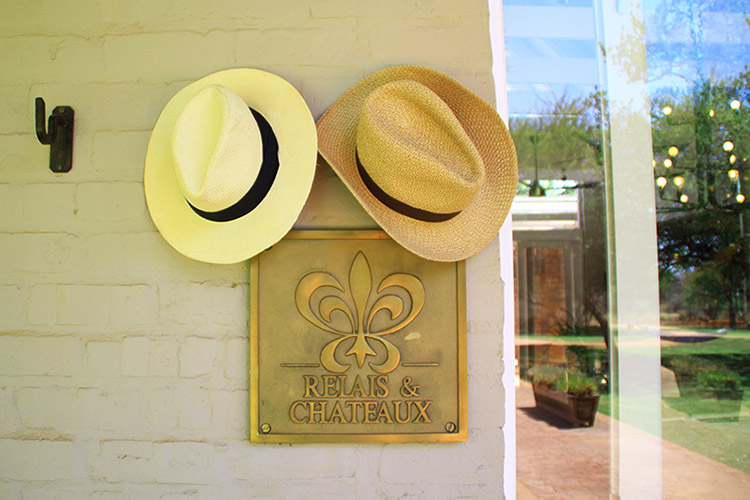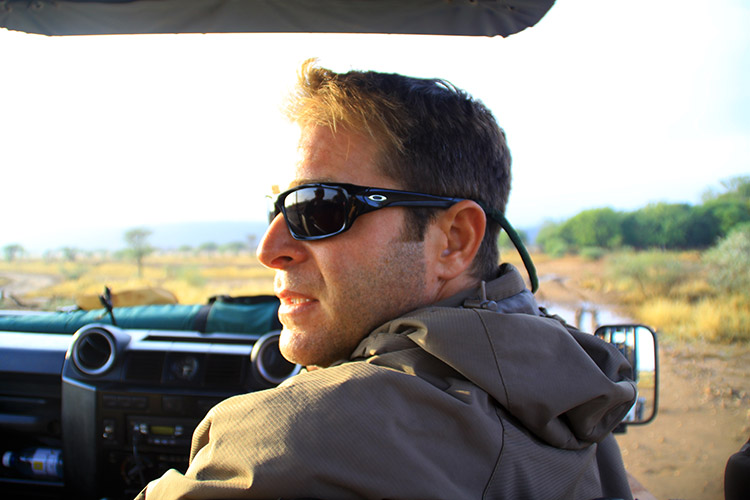 5

. Favourite part about living in the bush and at Morukuru in Madikwe?

Not sitting in an office or traffic!
6. Favourite dish to cook in the bush?
A big juicy rack of ribs!
7. Best way to unwind on a day off?
Get comfortable with my feet up on our big leather couch in front of the television with a packet of crisps, watching an exciting test cricket or rugby game or a good action movie.



8. What does your relationship with your 
tracker mean to you?
The relationship between any ranger and tracker who have been working in the industry for many years together is like that between brothers or best friends. There is a deep sense of trust and respect a ranger develops with his tracker, through tracking and encountering dangerous animals on foot and living to tell the tale.
8.
Most memorable moment on safari?
There have been so many but I would have to answer with two most memorable close calls. The first was while tracking lions on foot. I bumped into a pride of 22 lions sleeping in long grass after practically stepping on the pride male's tail… which ended up in a pretty intense charge from almost all of them. 
The other was during my time as a kayak guide when I had to jump into crocodile and hippo infested waters to pull a guest's kayak away from a hippo he almost paddled over. I then had to beat a 3.5m crocodile over the head with my paddle to prevent it from pulling another guest off his kayak!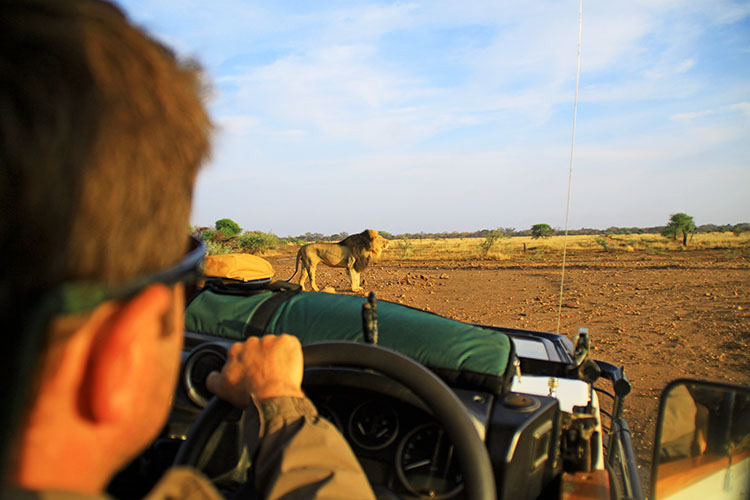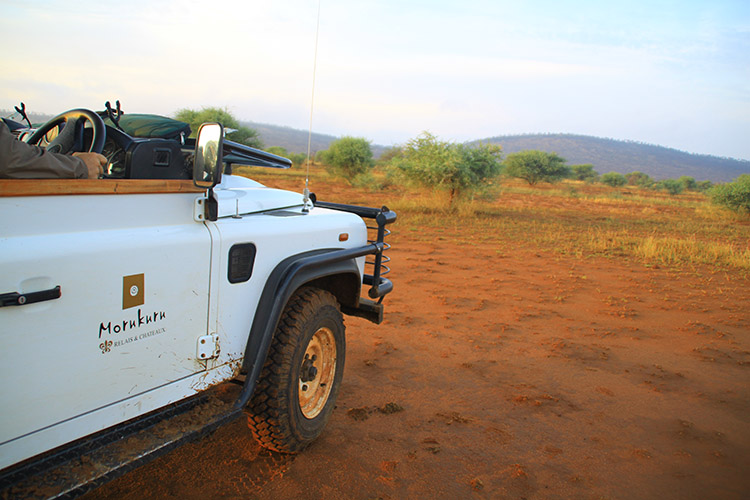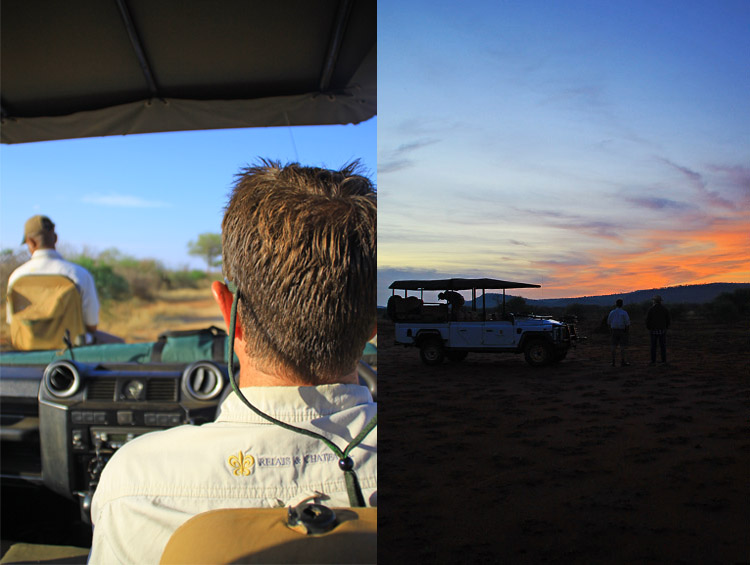 10.

 Next adventure for the

 bucket list?

I want to party a night away in Ibiza and Vegas with close friends and family and to live happily and healthily until I witness the day that my unborn boy has kids of his own.
Below: Mark and Morukuru owner, Ed Zeeman, take in the early sunrise…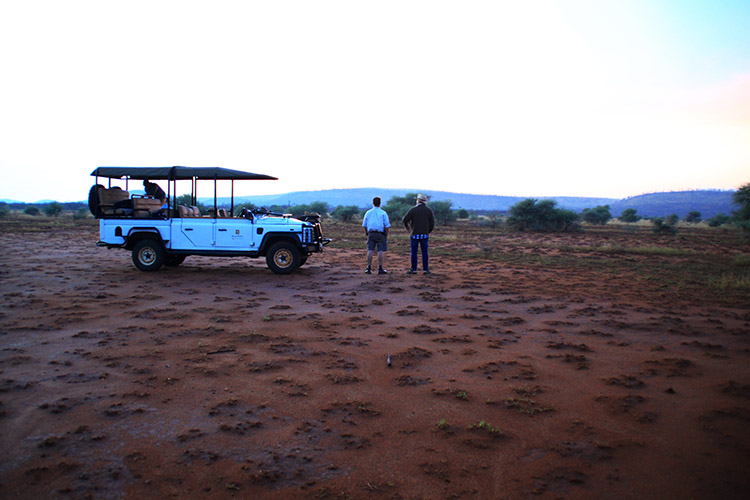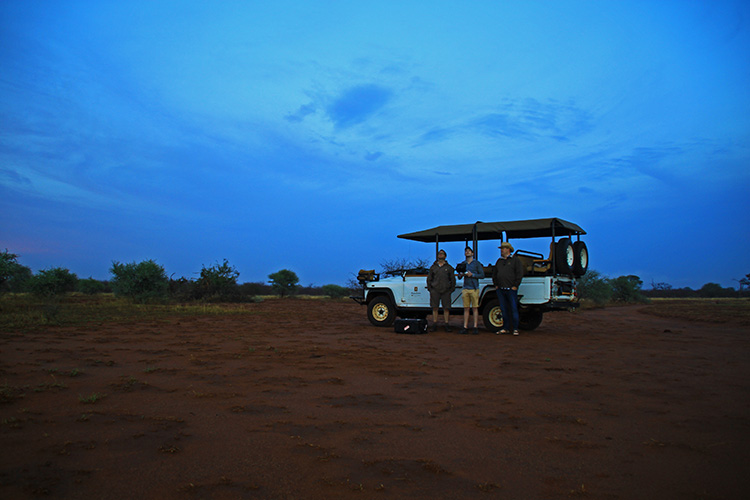 In the next segment of our ongoing series of 10 Questions, meet the other wild souls of Africa, the wild men and women of our other game reserves and safari lodges.