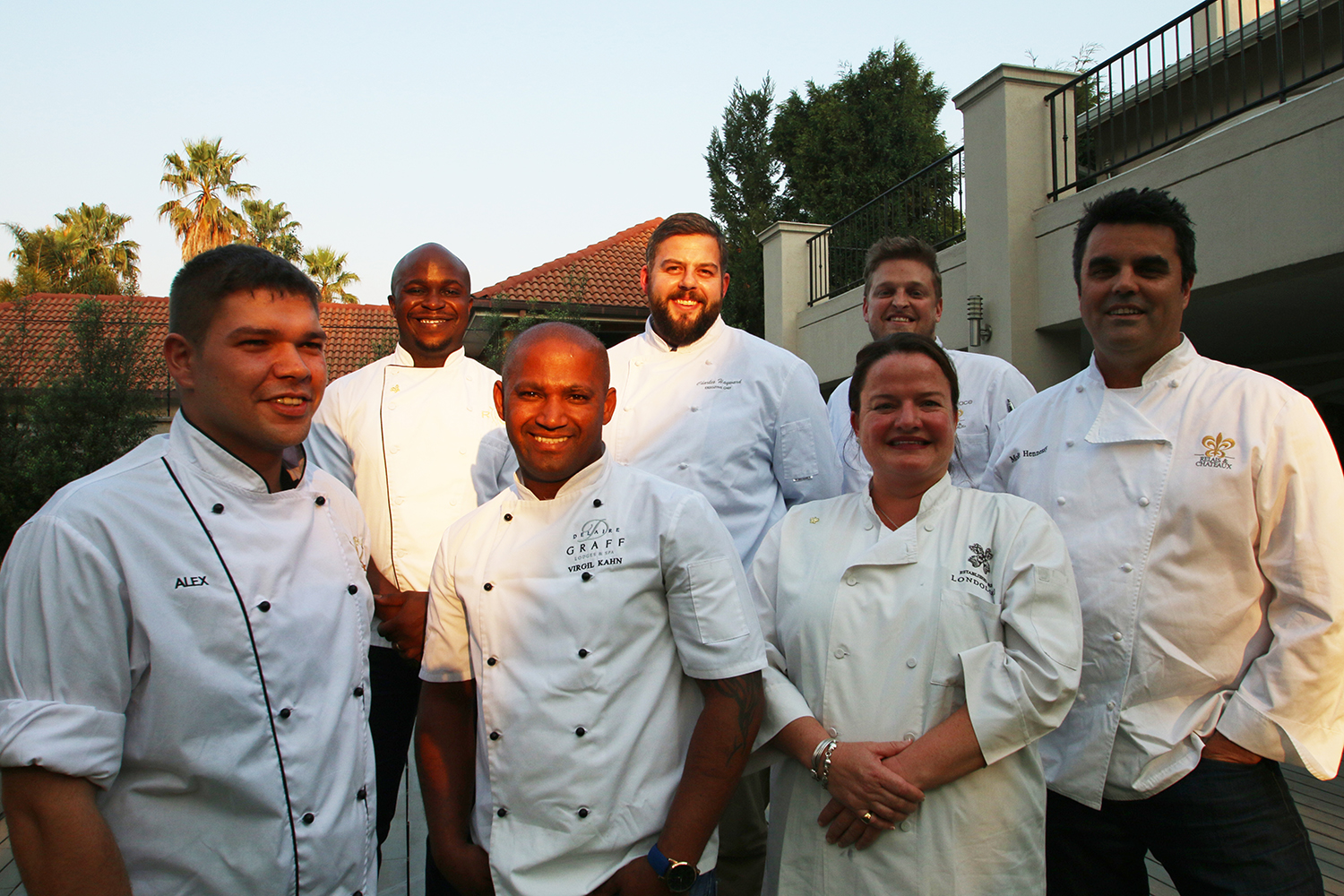 There were seven tastes that stood out, seven flavours of Africa that took me right back to the banks of the Zambezi River and the shores of the Cape's seas, to safaris in the South African wilderness and dinners surrounded by the silhouette of the Cederberg. Distinct, yet magically complemented by the other ingredients in the seven dishes.
This is what the chefs of Relais & Châteaux do. What any good chef does. They take you on a journey. And they make you feel ok with the fact that you're eating a day's worth of food in one sitting.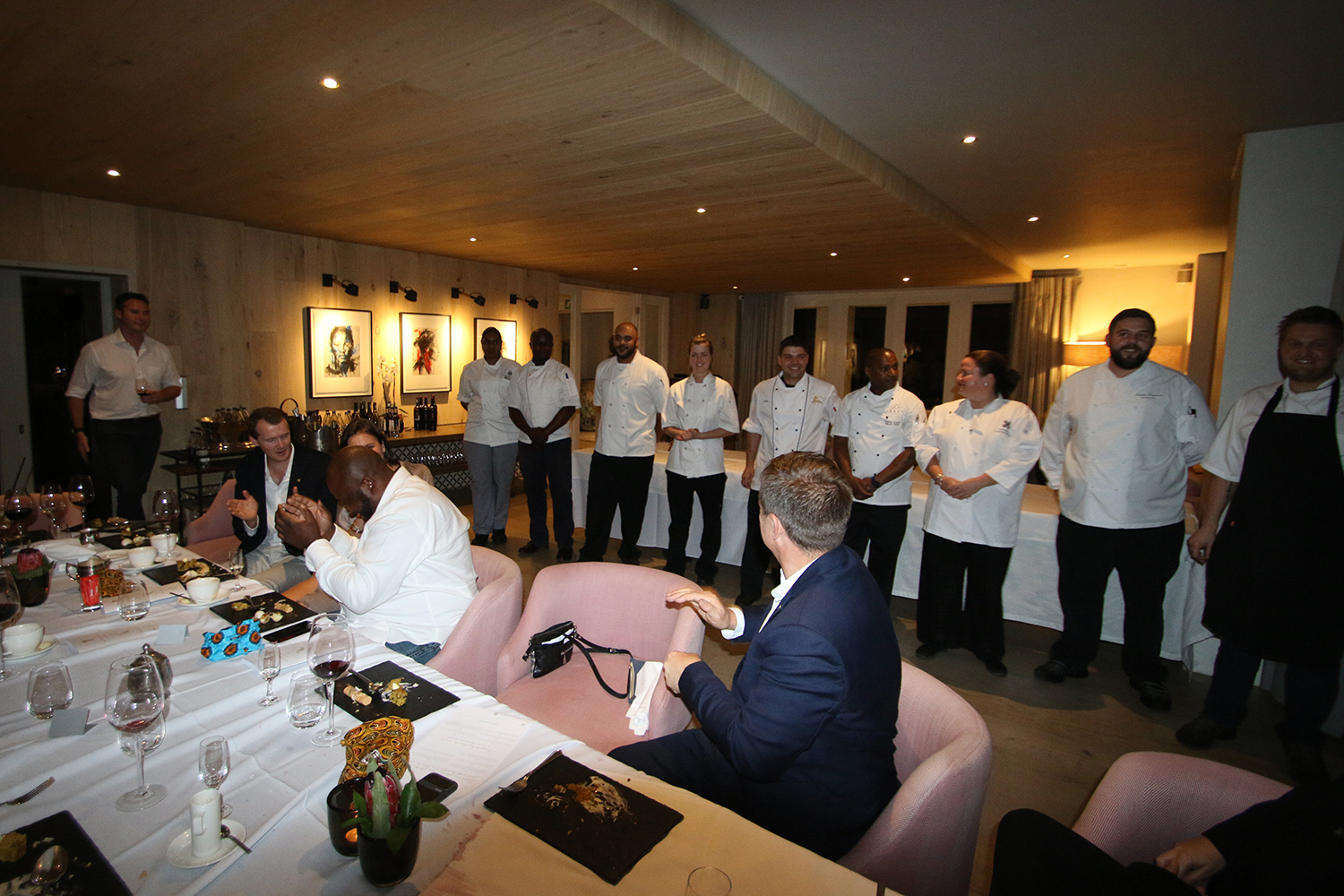 Last week, the chefs of Relais & Châteaux Africa came together to create a multi-hands dinner for a few special guests at AtholPlace Hotel & Villa in Johannesburg.
Together under one roof, for the first time, were Peter Tempelhoff – Greenhouse at The Cellars-Hohenort, Anna Ridgewell – Londolozi Private Game Reserve, Virgil Kahn – Indochine, Delaire Graff Estate, Willie Malherbe – AtholPlace Hotel & Villa, Sungani Phiri – Royal Chundu in Zambia, Alex Van As – Camp Jabulani, and Charles Hayward – Bushmans Kloof Wilderness Reserve & Wellness Retreat.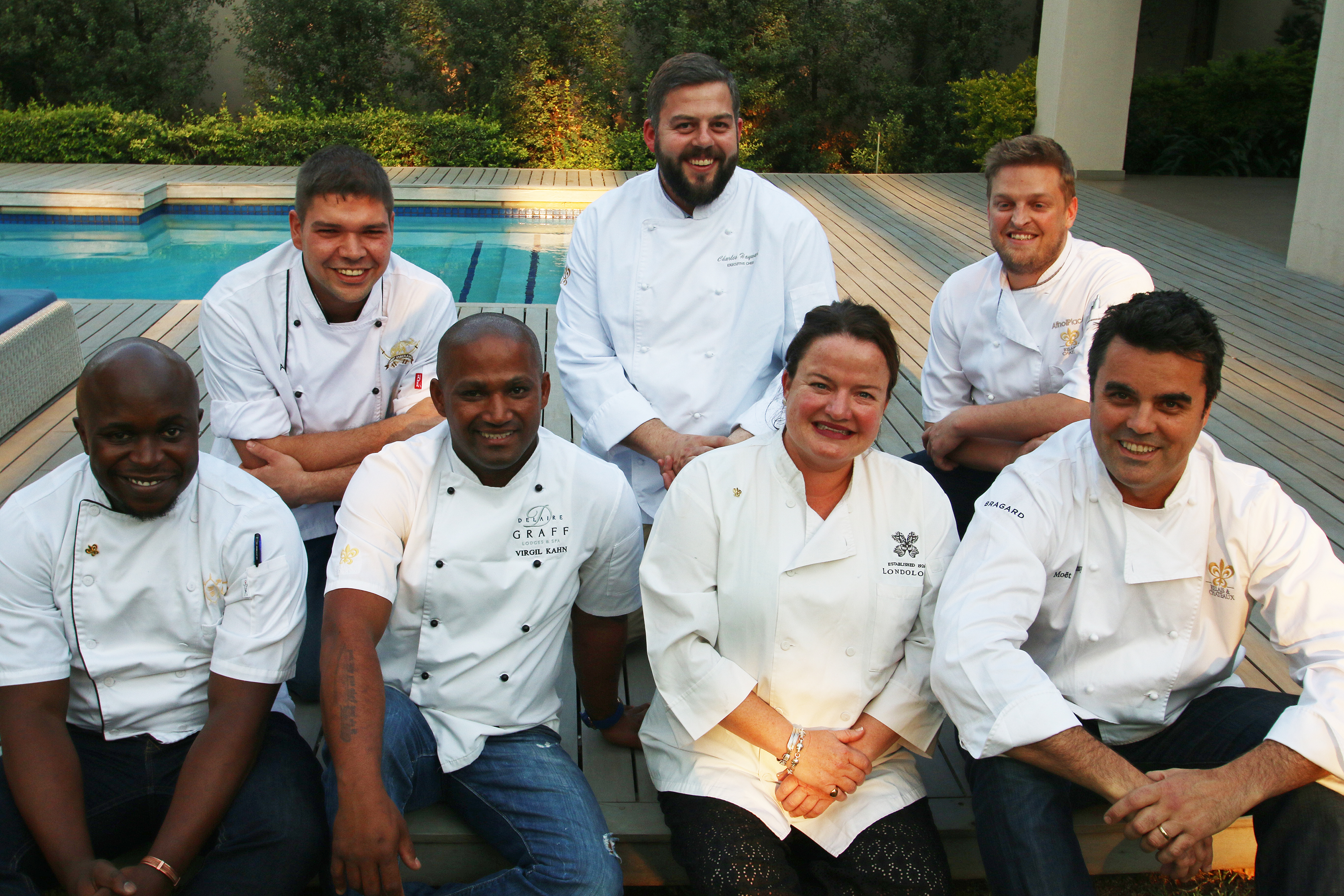 Each chef created a dish for the evening. On serving, the tale behind the dish was revealed… its connection to the land, or terroir, its significance to the chef, and its knitting together of experiences and influences, far and wide.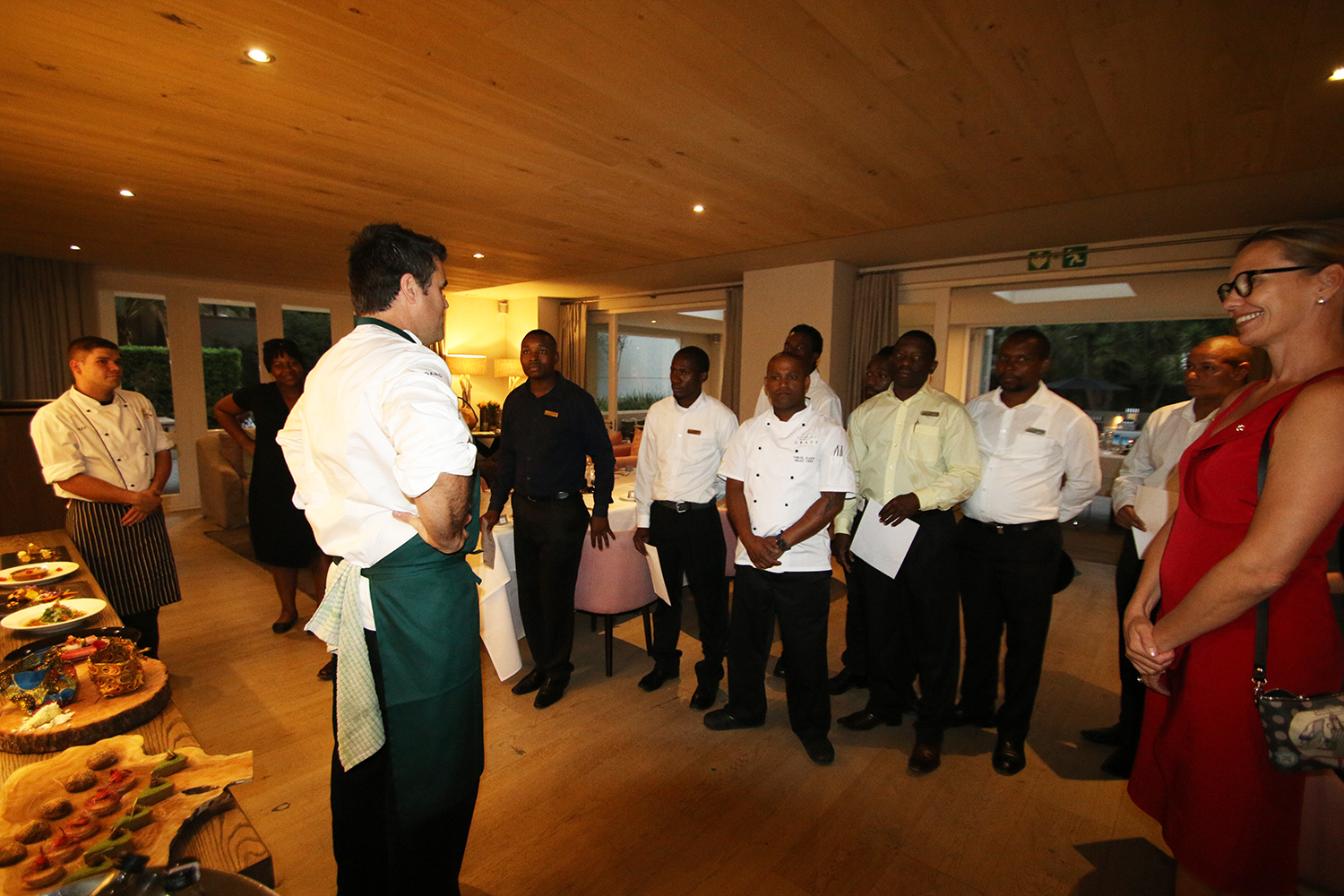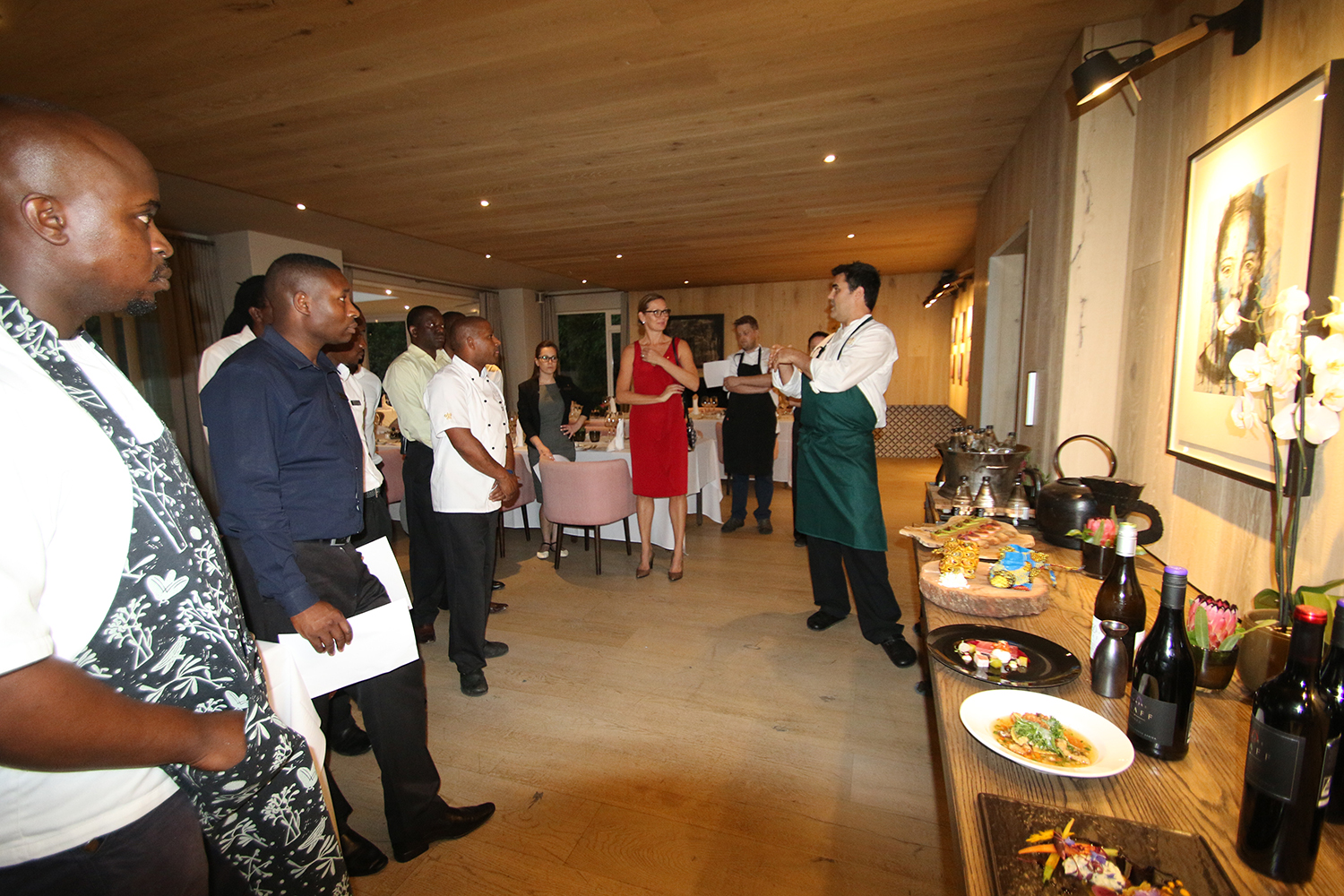 I'll remember the incredible company I found myself sharing the night with for some time to come, but what has my attention right now are those seven tastes of Africa that so beautifully told the stories of the continent:
Biltong
Wild lemongrass
Atlantic tuna
Morogo
Springbok
Amarula
Rooibos
Discover how these flavours fit in to the menu as a whole below, starting with the evening's canapés and ending with the final dessert.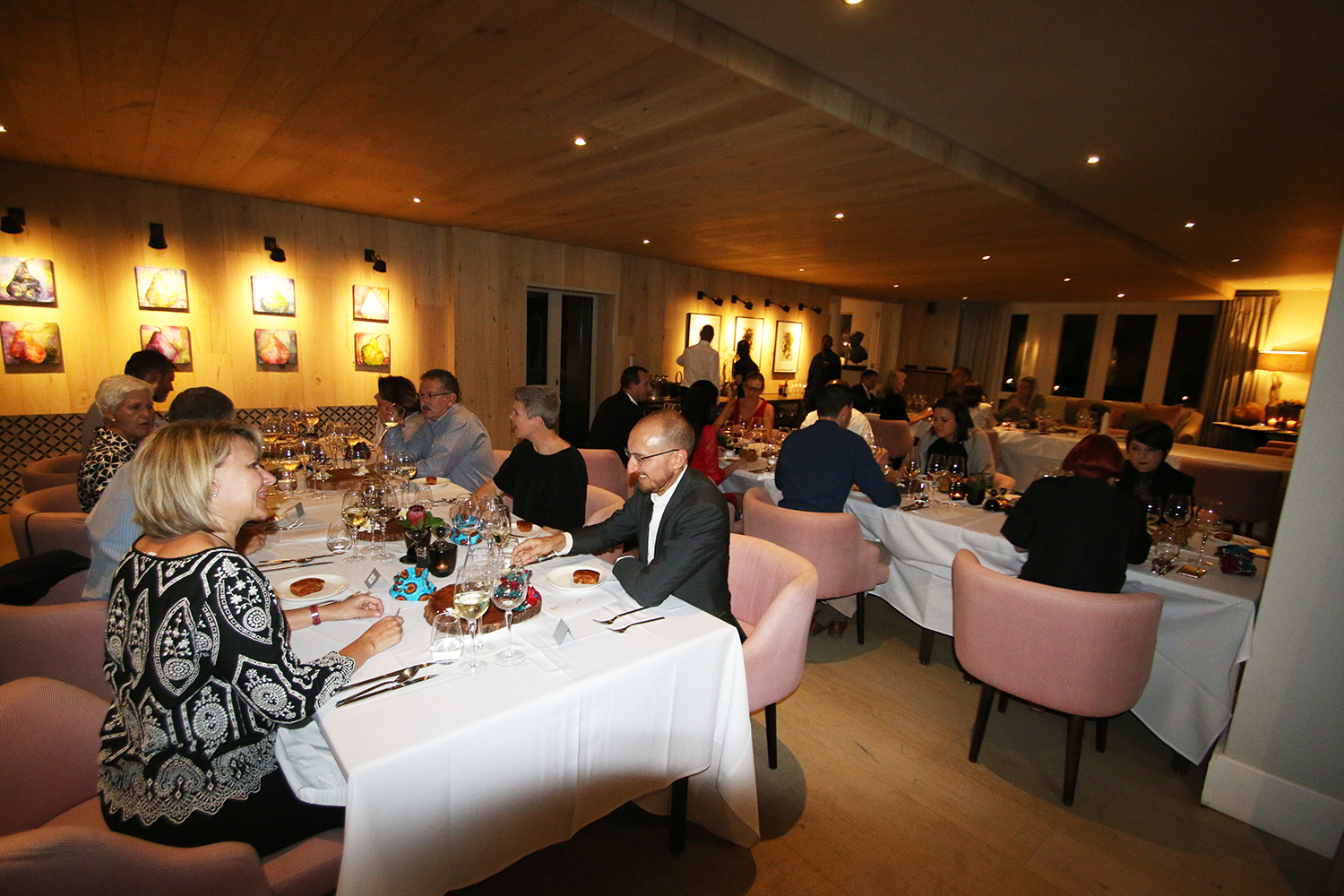 ---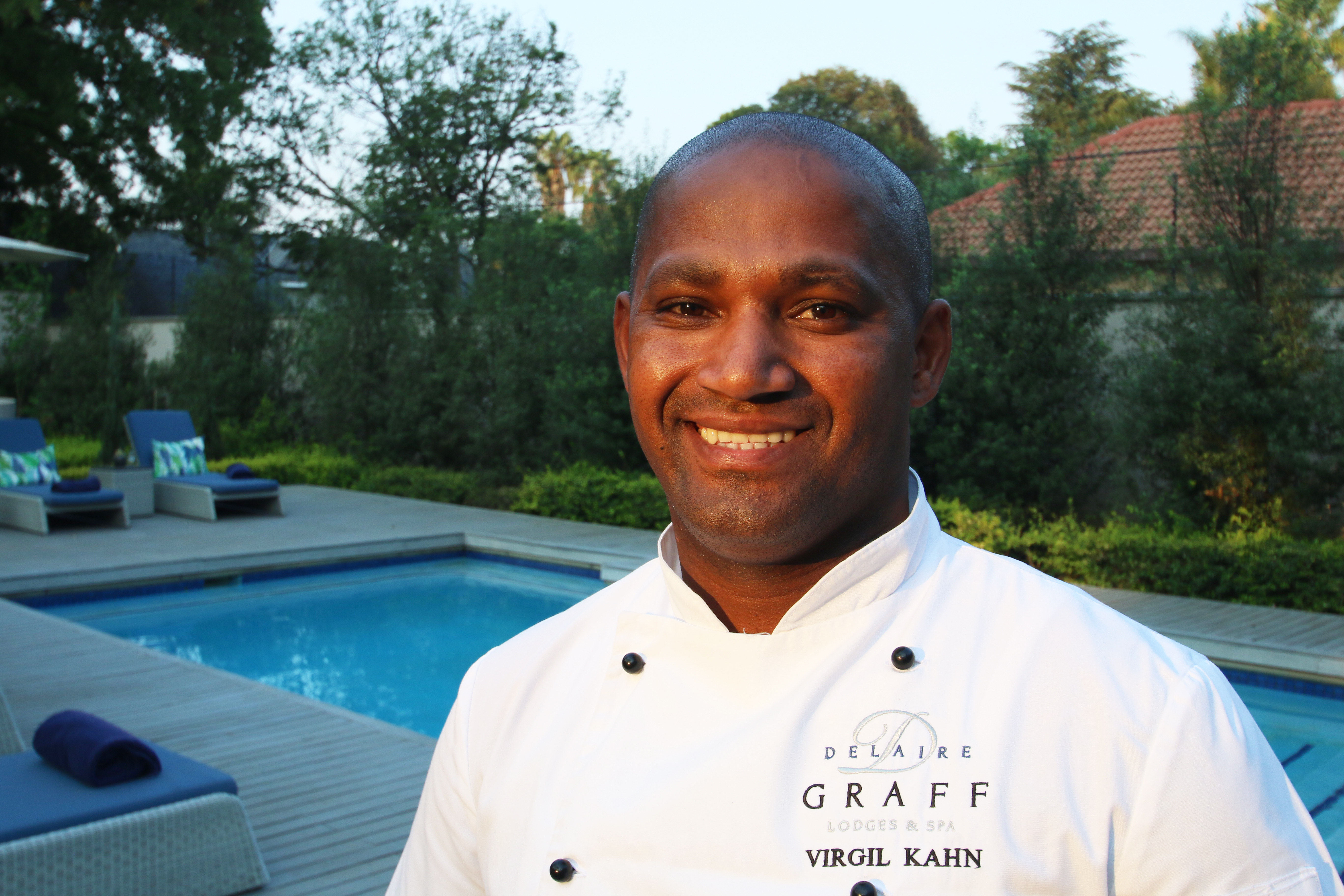 East Meets South – Canapés from Delaire Graff Estate
You could call this Asian food through the eyes of a Cape Malay. Indochine Head Chef, Virgil Kahn favours the Cape Malay influences and ingredients in his cooking – it is in his blood, being from the Cape himself. In the three appetisers he prepared, he combined this touch of South Africa with a Thai influence and a hint to Japan (the robust Asian flavours being typical of Indochine), and all of this prepared with French precision…. And of course, a South African favourite, biltong.
Tart with smoked eggplant, green curry, green pepper
Cookies and cream-shrimp, red curry prawn, biltong
Choux craquelin-cauliflower and miso, bonito
Paired with Delaire Graff Sunrise MCC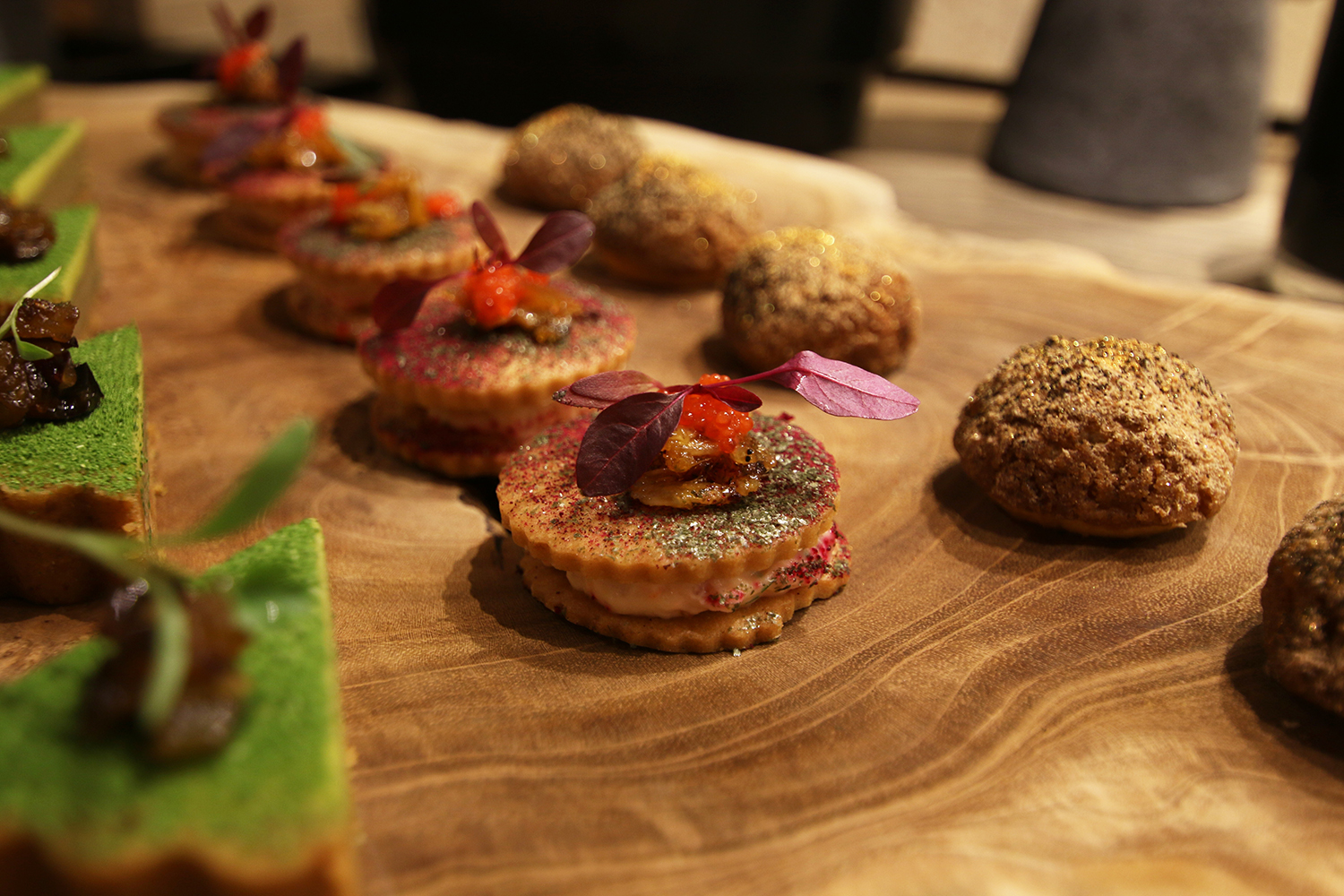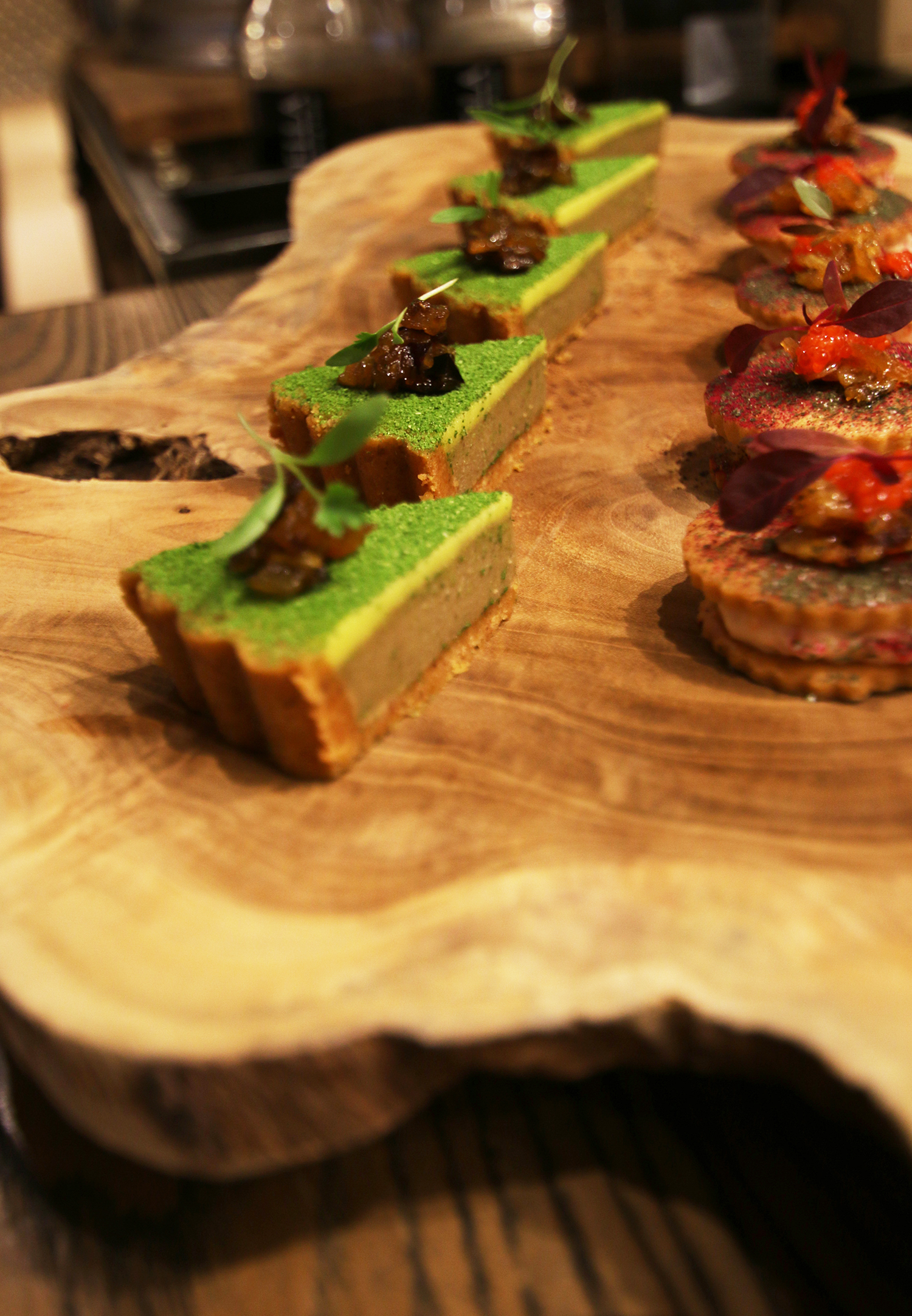 ---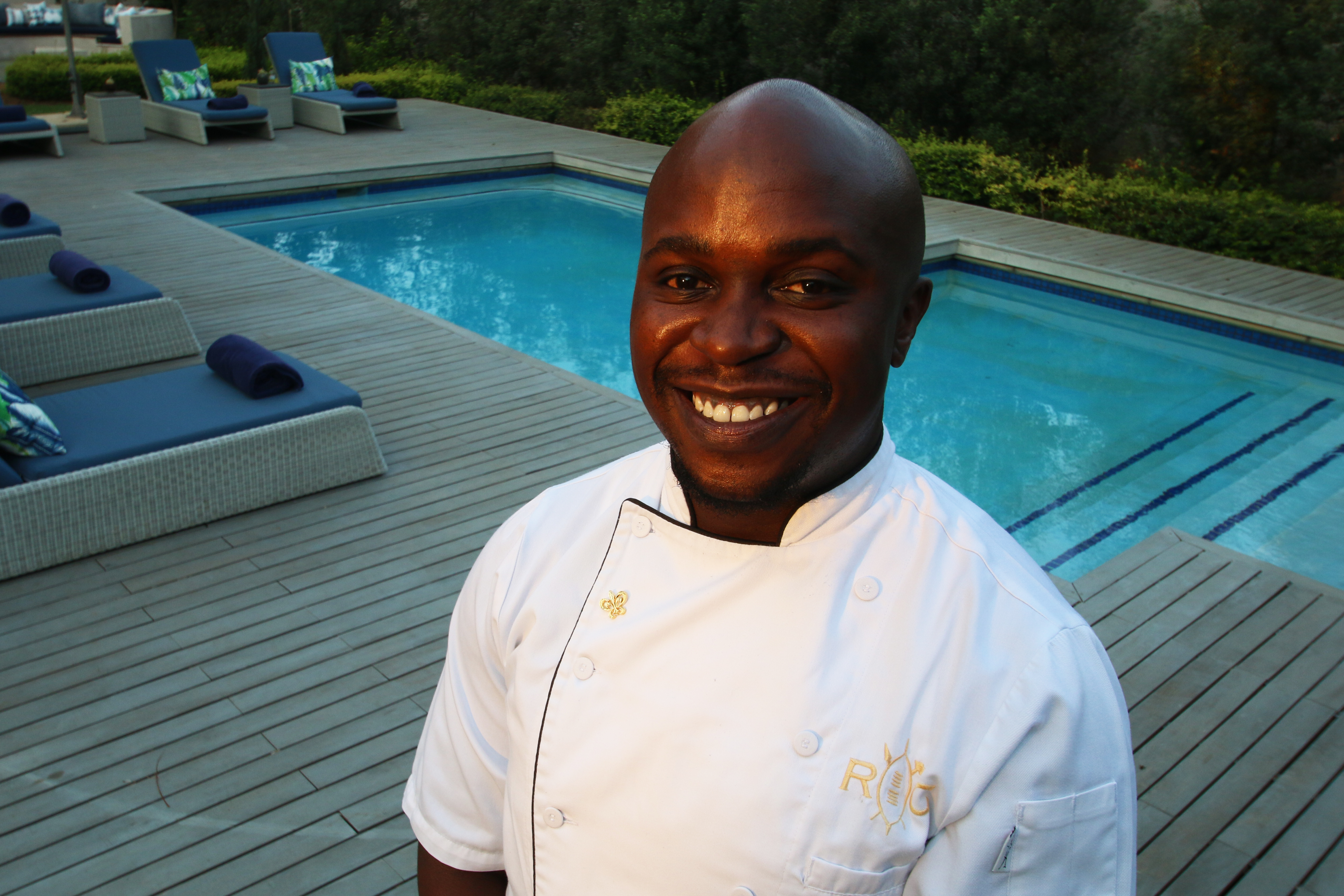 From the Zambezi
From the banks of the Zambezi River in Zambia, Royal Chundu's Head Chef Sungani Phiri created a sweetcorn brioche, with lemon grass butter and olive oil powder, as captured below by our guest @LaurasWorldza.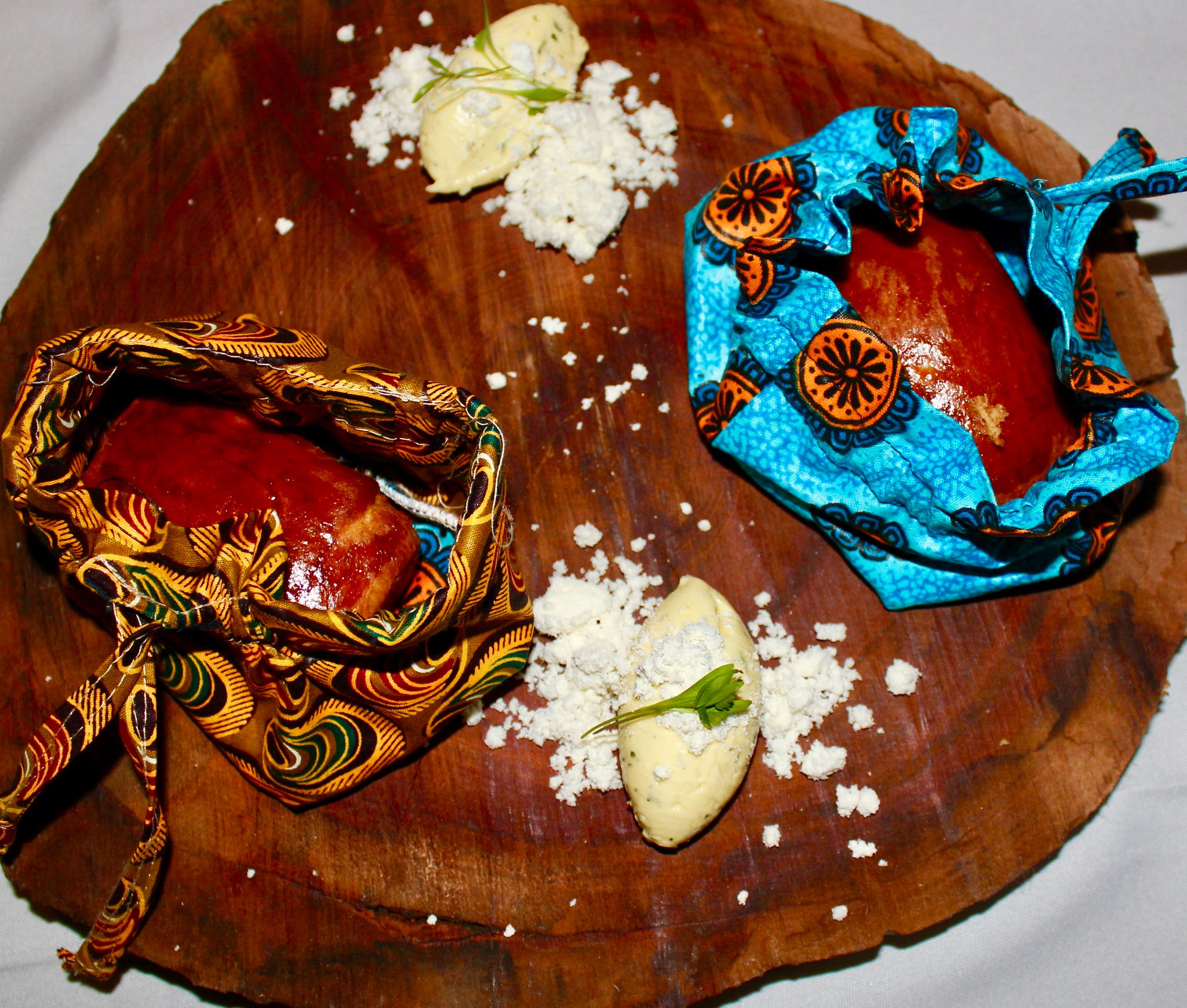 The dish combined lemongrass forested from around the lodge at Royal Chundu where it grows naturally and corn from the banks of the Zambezi, a staple in the local diet. This was served with an egg-based brioche wrapped in the traditional Zambian cloth known as the chitenge, creating a true cultural culinary experience. 
---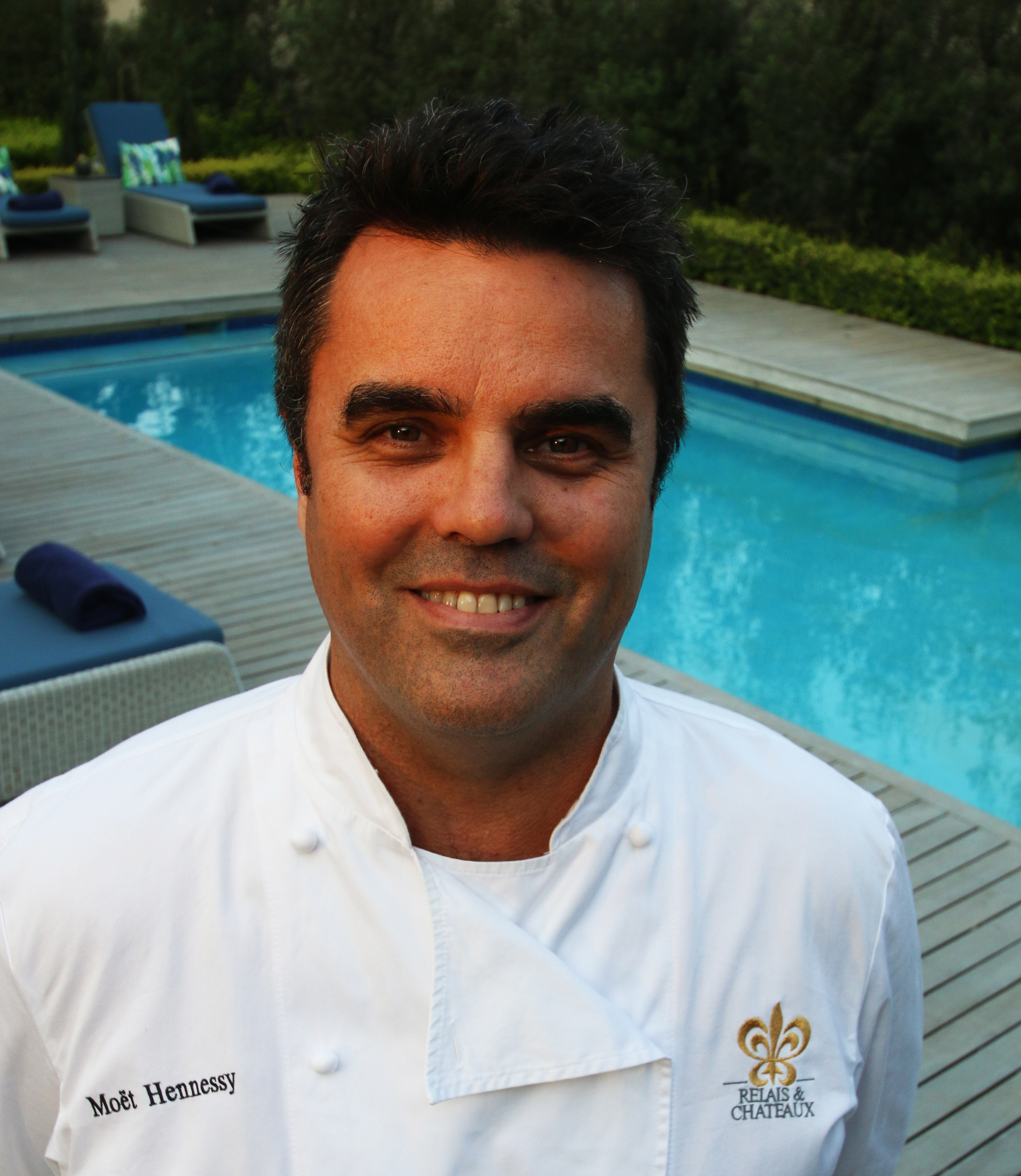 Memories of Japan from Peter Tempelhoff, Executive Chef at The Cellars-Hohenort's Greenhouse, combined influences from the East and ingredients from the South: Atlantic tuna tataki, home-fermented kimchi, Elgin apple, beet kombucha radish, sesame dressing
Paired with Delaire Graff Coastal Cuvee Sauvignon Blanc 2017
For Peter, this dish goes as far back as 2009, when he spent time walking through the world famous Tsukiji Fish Market in Japan with chef, Kiyomi Mikuni of Hotel de Mikuni. Peter was so taken aback by the unusual tools used in their cooking that Kiyomi took him to Masamoto where they came across a knife that was particularly special, because of its unique colour bone, among other aspects. Peter now uses the knife every time he cooks with tuna, as he did in the preparation of this meal. Each time he does so, he is reminded of this special time in Japan.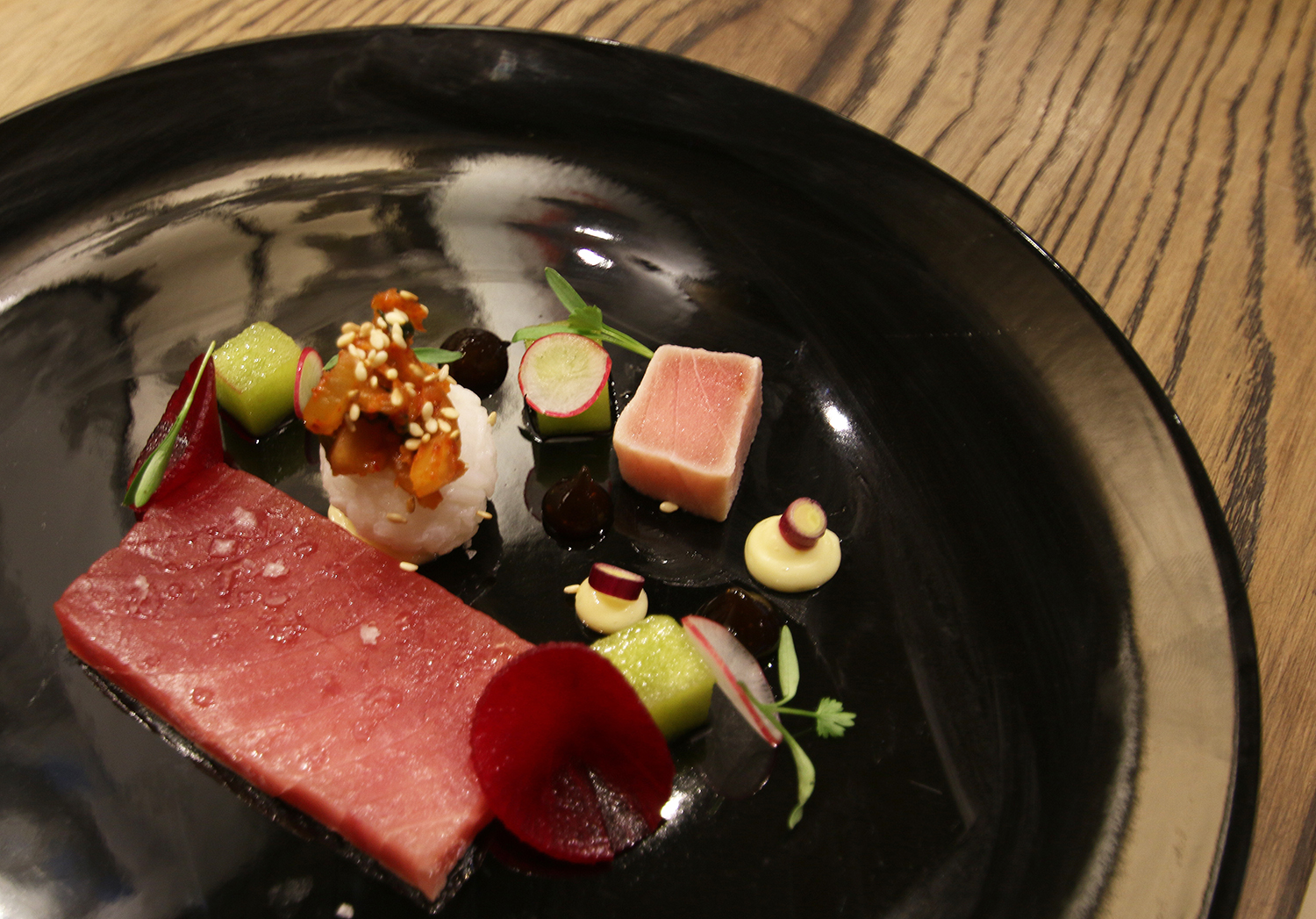 The tuna for the evening was caught off the shores of Cape Town. This dish also featured apples from a local farmer in Elgin in the Cape and kimchi – a favourite of Peter's as he believes fermented foods add an important flavour to cooking. In this way the dish unites Japan and the Cape and Peter's experiences in both locales, making it a true traveller's dish.
---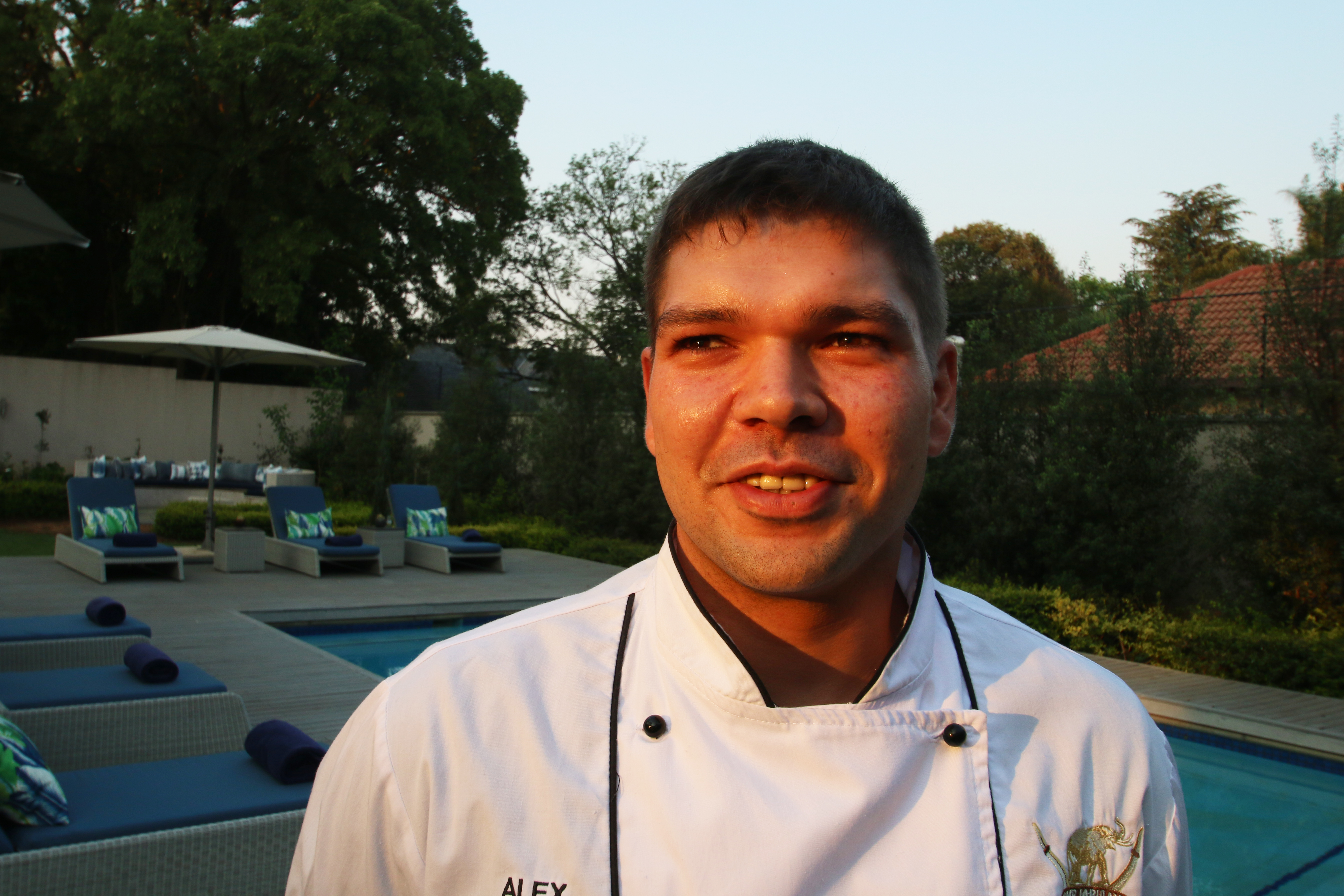 Home, sweet home… a taste of South African safari life from Camp Jabulani Head Chef, Alex Van As: Springbok shank ravioli with spicy Asian broth, brunoise vegetables, panko crusted shimiji mushrooms, Parmesan foam, Thai lemon-dressed morogo and micro coriander.
Paired with Delaire Graff Shiraz 2017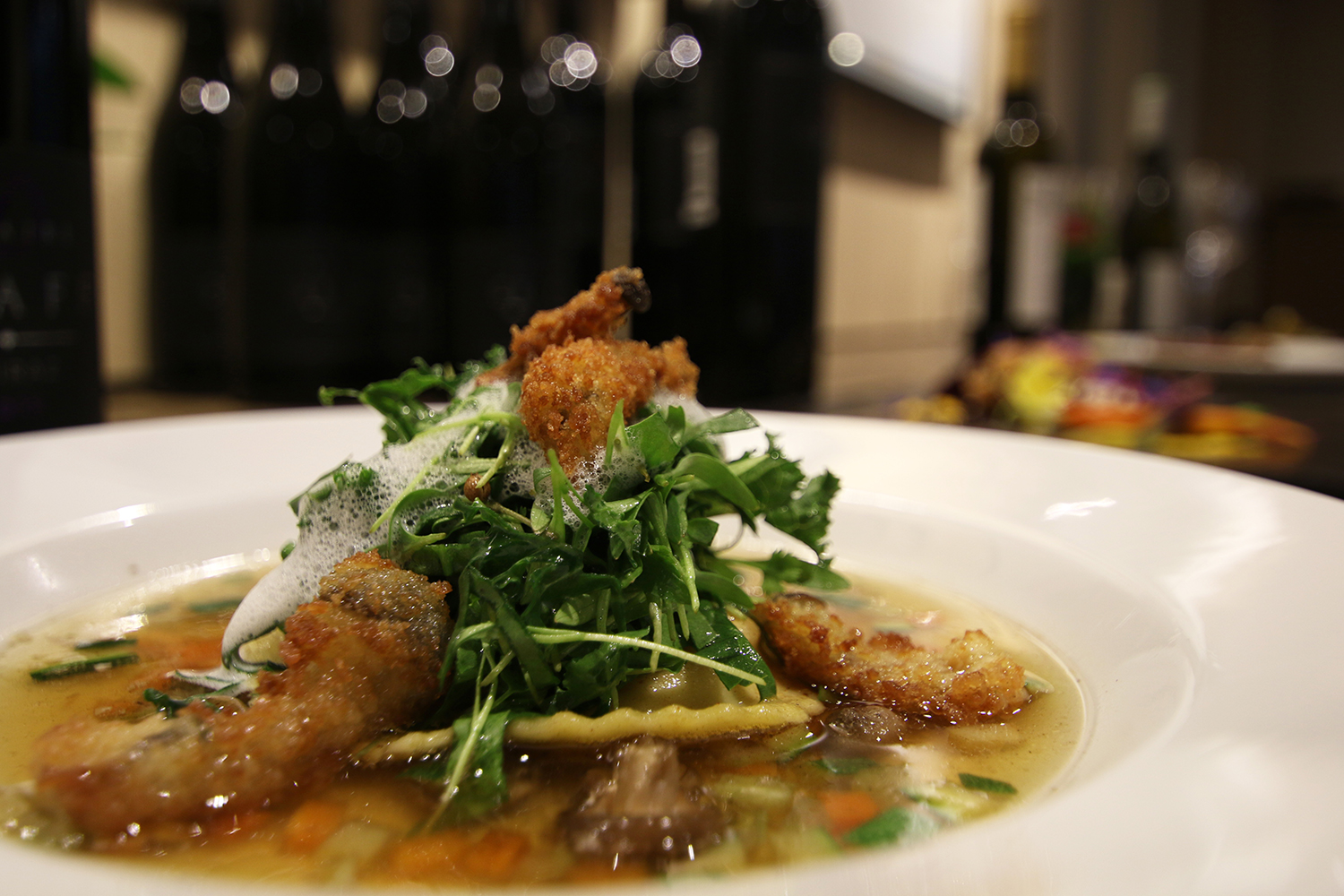 Alex is passionate about pasta and wanted to introduce to this Italian element a few South African flavours – such as springbok (also the name of his much cherished South African rugby team) and morogo (spinach, being a symbol of strength) – two ingredients that evoke a sense of home for him and that in turn help to connect the diner and the chef in a more intimate way.
---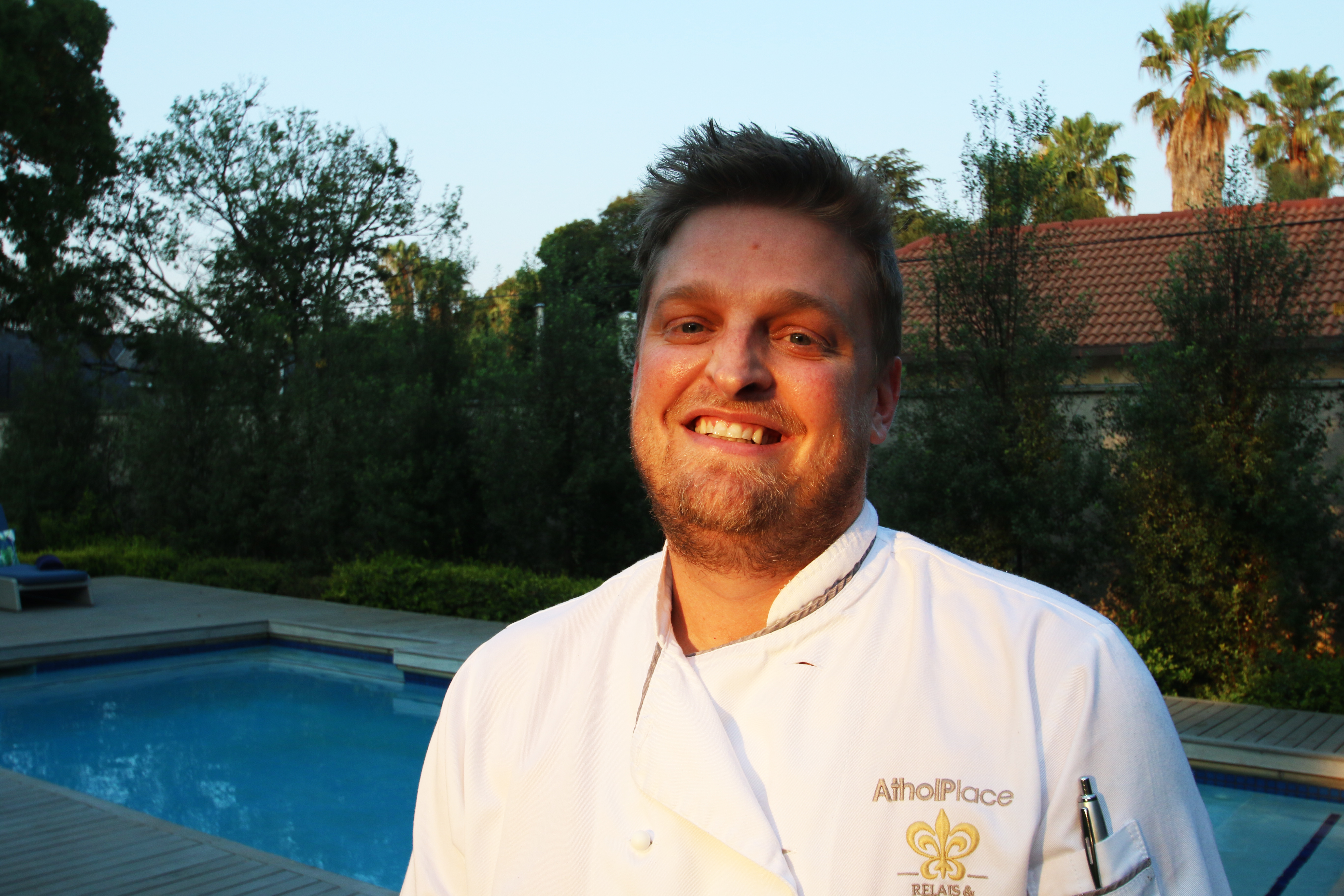 The Art of Sharing (AtholPlace Hotel & Villa)
Lamb Rogan Josh – Crème fraiche pastry, rainbow carrots, spiced yoghurt, and curry leaf jus.
Paired with Delaire Graff Botmaskop 2015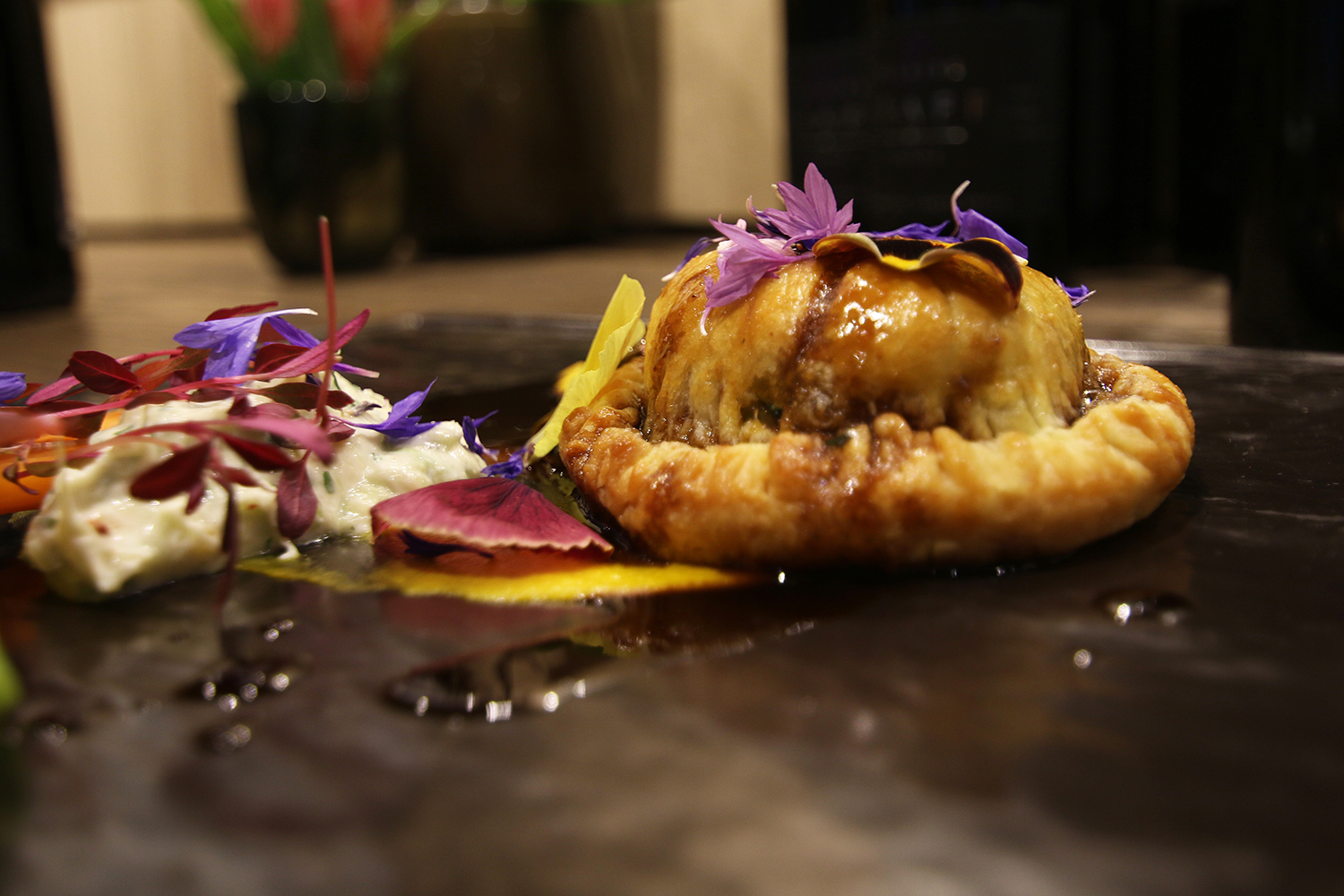 AtholPlace Hotel & Villa Chef, Willie Malherbe is passionate about curries – because of the numerous rich flavours you can get from one curry dish. Also important to him is family and family meals, something that he grew up with and that he wanted to recreate in a new way. His family meals always included a single large pie for the family to share, and so here he created smaller pieces of the same pie for each of us to enjoy – separately and together. Inside his love for curries shows, with the Indian flavours shining through.
---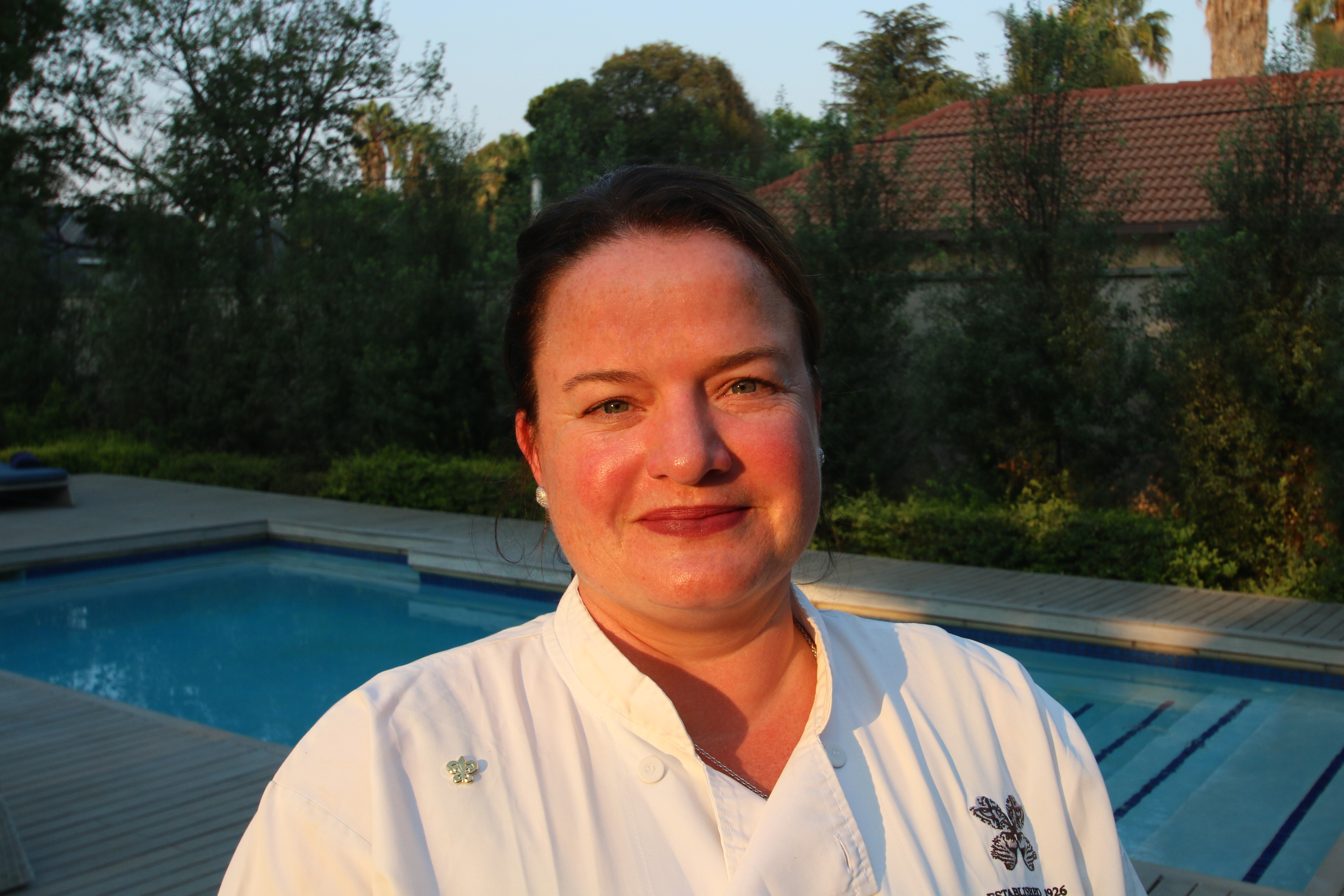 An African Sunset
Londolozi's Executive Chef Anna Ridgewell served a taste of the winter African sunset after a drought – an Amarula and white chocolate cremeux, inspired by safari life at Londolozi.
Londolozi lies in the Lowveld, a macadamia growing area. Inspired by this nut and the terroir, Executive Chef Anna Ridgewell put together a dessert that combines macadamia with another South African favourite – Amarula, to evoke what she calls a winter African sunset after the drought.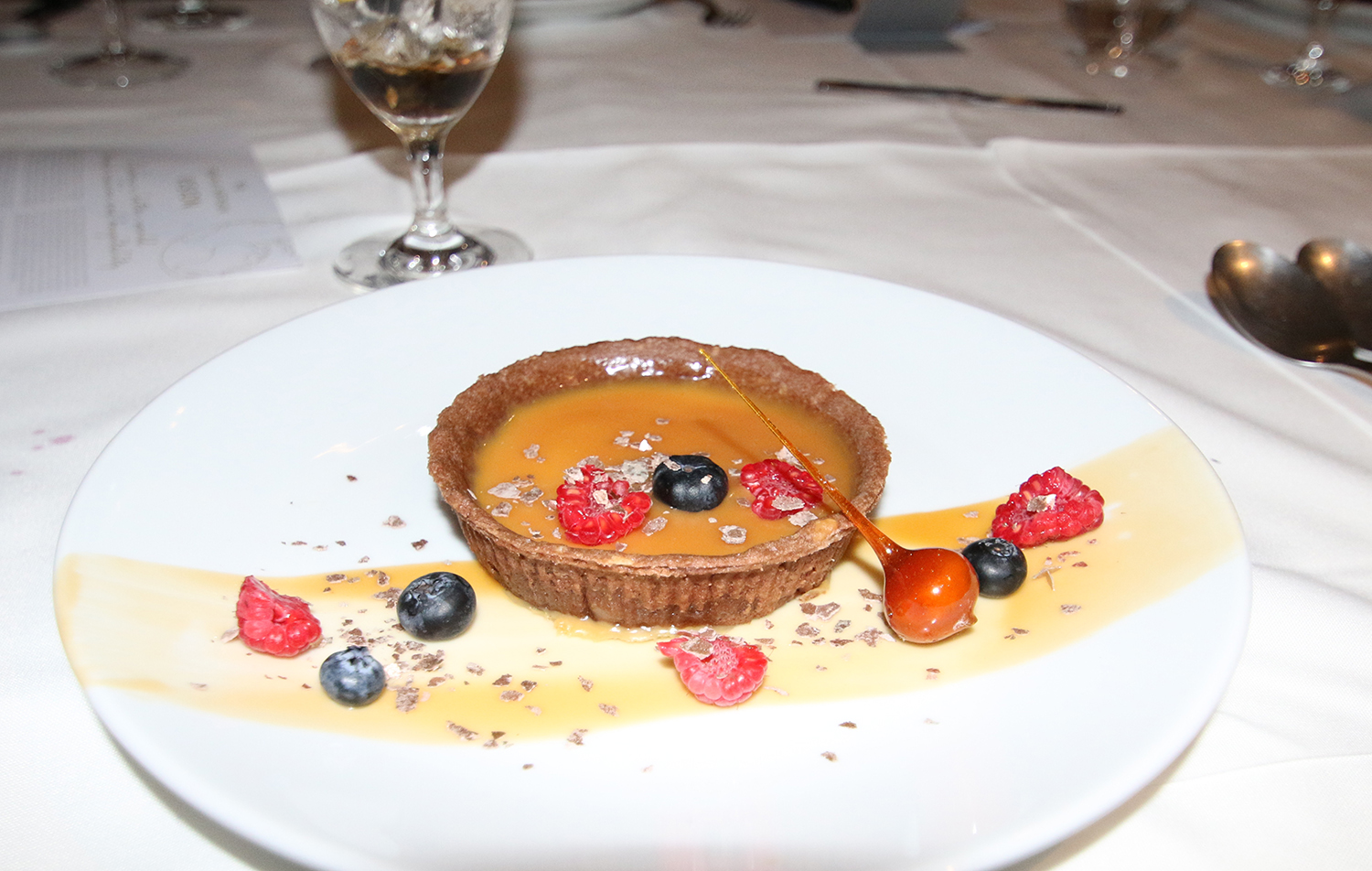 ---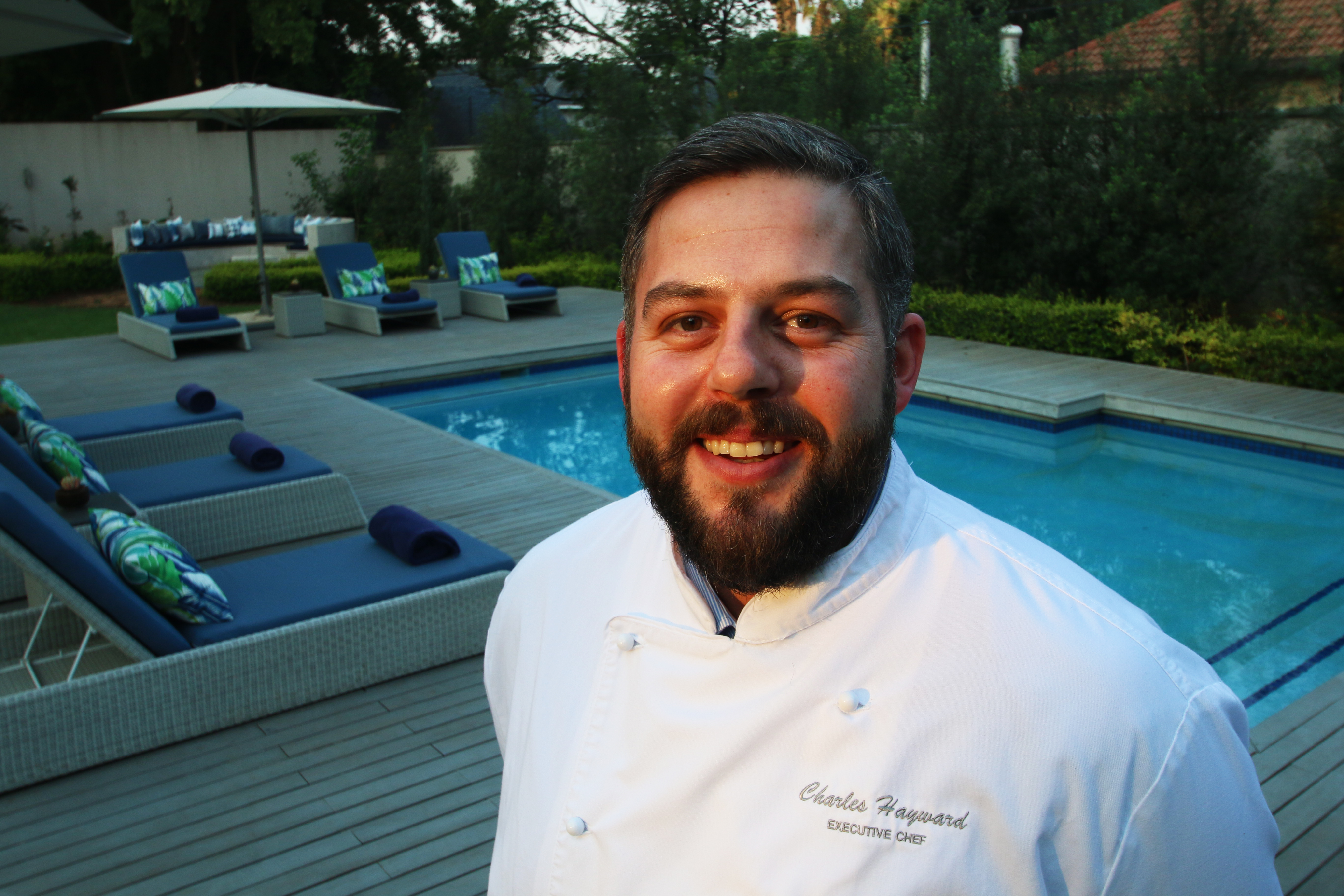 It's simple. It's the Cederberg. 
Bushmans Kloof Wilderness Reserve and Wellness Retreat's Executive Chef, Charles Hayward rounded off the evening with a taste of the Cederberg… a rooibos panna cotta, spiced cake, caramelised banana, toasted coconut, paired with Delaire Graff Sunburst Noble Late Harvest 2015.
Bushmans Kloof Wilderness Reserve & Wellness Retreat  is set in the rooibos-rich region of the Cederberg Mountains in South Africa and so Charles really had no choice but to celebrate this one, simple ingredient that is so much a part of the South African national identity. He combined rooibos in a panna cotta and added the flavours of the Cape Malay spices to a delicate cake to create a memorable end to a special dinner.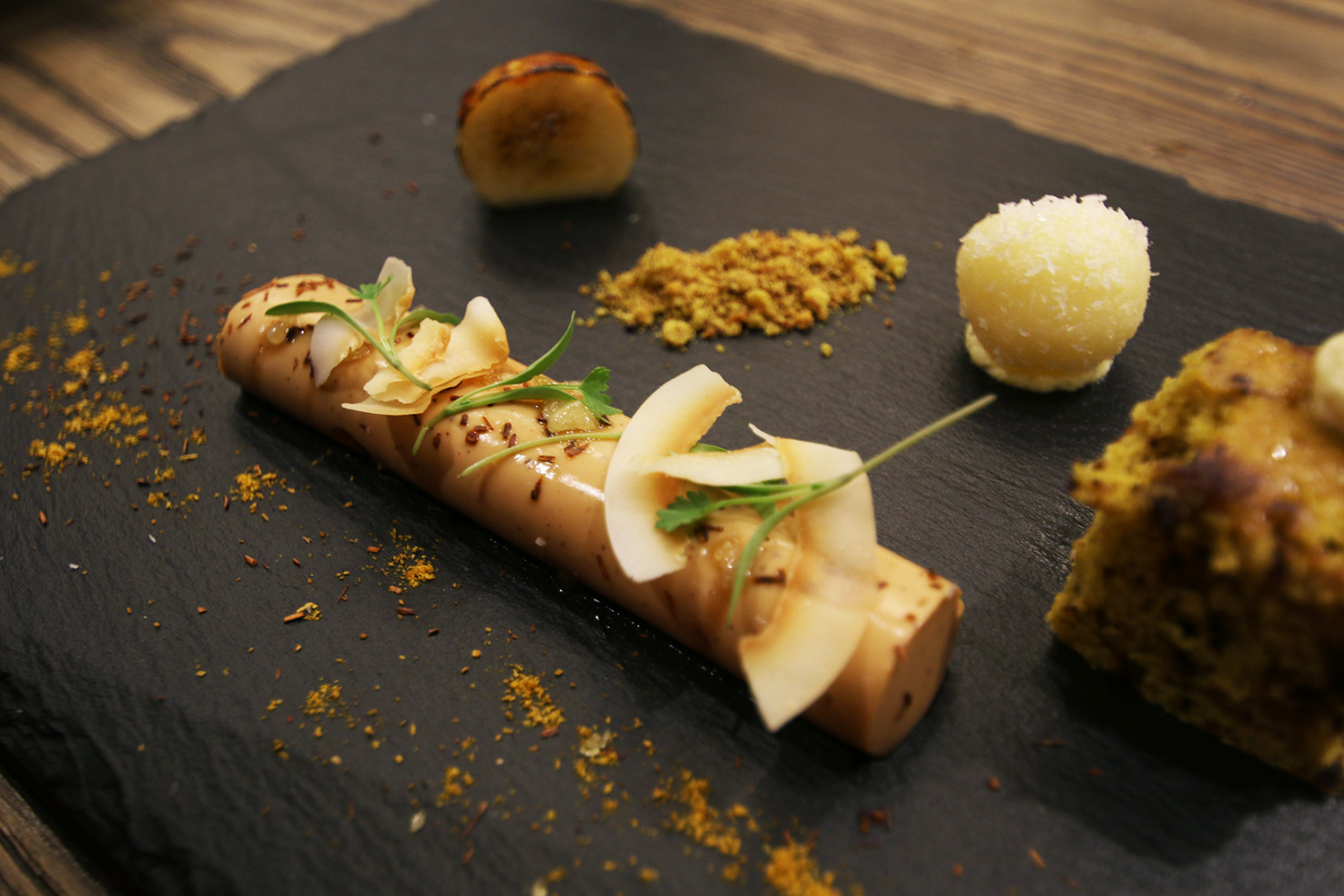 ---
All together in one place… our chefs from Camp Jabulani, Delaire Graff Estate's Indochine, The Cellars-Hohenort's Greenhouse, Royal Chundu, Londolozi Private Game Reserve, AtholPlace Hotel & Villa and Bushmans Kloof Wilderness Reserve & Wellness Retreat…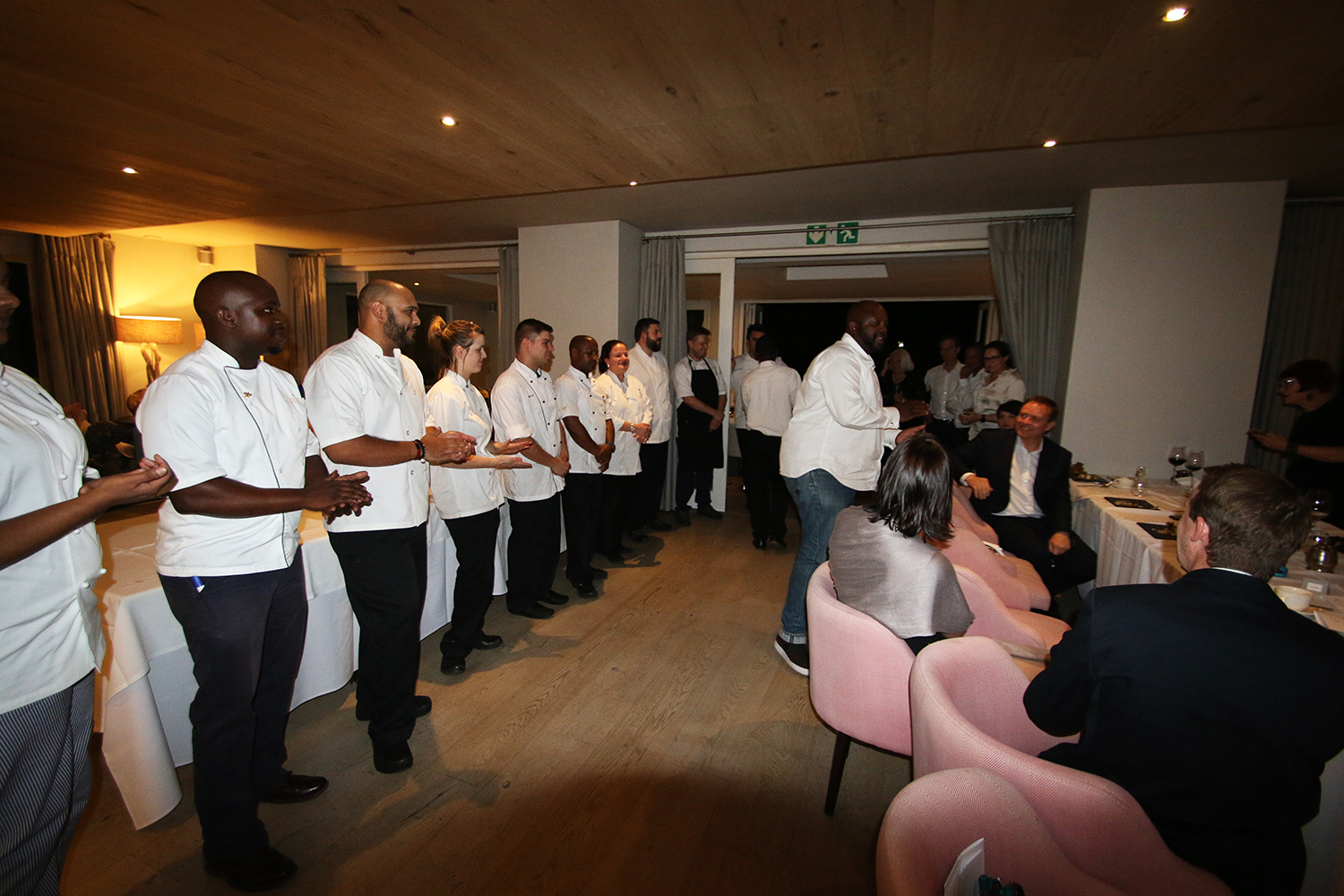 What an extraordinary night! Thank you to our guests for sharing in our celebration of cuisine and hospitality, to our chefs from around Africa, to AtholPlace Hotel & Villa for hosting us and to Delaire Graff Estate for the beautiful wines.