---
 Before we let you into the life of the co-creator of one of the most beautiful gardens in South Africa – those of The Cellars-Hohenort in Cape Town, we'll try to paint a picture of her for you… Imagine one particular picture, the impressionist painting by Monet featured above, and you'll see, in the woman in white, the elegance and affinity for nature that characterises our own "woman in the garden" – Jean Almon.
Add to that the words of Wordsworth's poem, "To the Spade of a Friend" and his depiction of the "agriculturist", who employs leisure hours shaping pleasant walks by the side of beloved streams and who labours in "pleasure-ground", enjoying the, "Health, meekness, ardour, quietness secure, … And elegant enjoyments, that are pure / As nature is," as bestowed by time spent with your hands deep in soil, creating and shaping life.
Over the years, Jean has not only helped to create the artwork that is the gardens of this Constantia retreat, but has also taken garden lover after garden lover to explore its corners – those blooming in bougainvillea, agapanthus, plectranthus, hydrangeas, clivia, camphor trees and daffodils.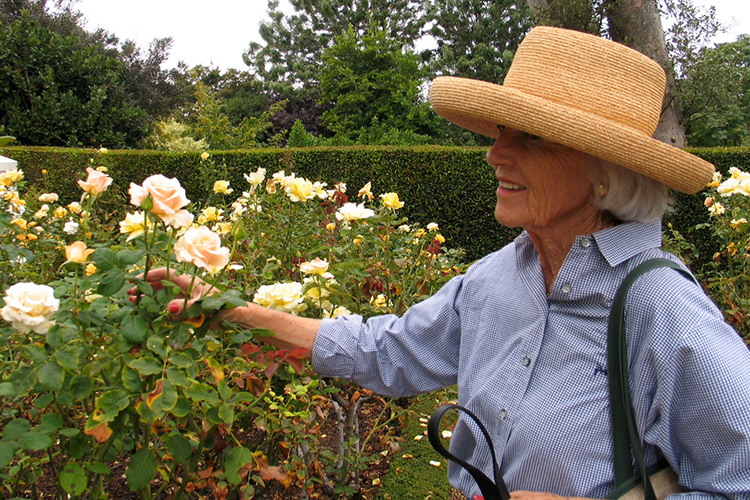 Before she reached the gardens of the Cellars-Hohenort, Jean grew up on a farm on the banks of the Umzimvubu River in Port St Johns – the seaside village where she met her husband, Harold. Perhaps it is in those years surrounded by lush subtropical plants and country living that first sowed her passion for the art of gardening. Perhaps it was a matter of nature. Either way, her path led her to help create one of the most notable gardens in South Africa.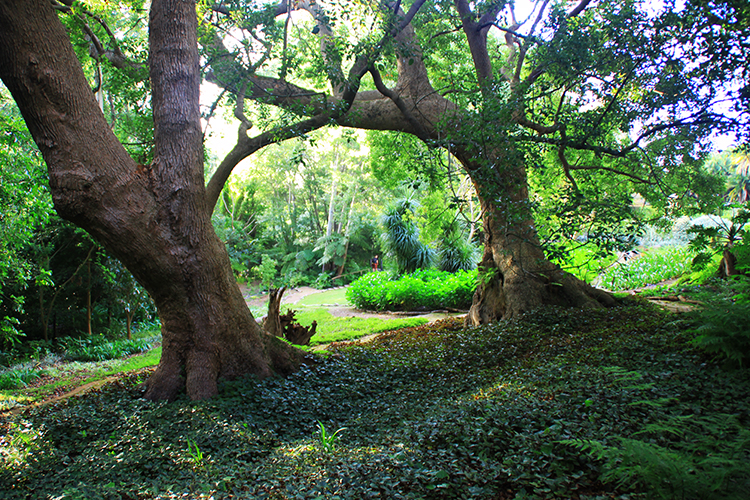 ---
Today, Jean can be found busy on the estate gardens three days a week. Find out more about the gardener of the late Liz McGrath's prized gardens at The Cellars-Hohenort in these…
10 Things About Jean Almon
1. "When my husband died 34 years ago, my close friend Erica Goss, also a widow, said to me, we must never get morbid, we must keep enjoying life, so we decided to travel once a year to somewhere spectacular. We had many great adventures travelling the world – the Americas, Russia, China, India, the great gardens of the United Kingdom and Europe, we cruised Antartica, we flew over Everest.
2. I met and married Harold after he had returned from World War 2 and established a law practice in Port St Johns. We had a beautiful hilltop home with acres of gardens and magnificent views of the Indian Ocean, the river and mountains. in 1968 we moved to Grahamstown where we spent our last years together in a gracious double story 1820 Settler stone house.
3. Here we had a wonderful gardener, Sandi, who I was close to. Together we established a beautiful garden to complement our home. Sandi brought me such joy. At festival times, he would offer rides on his horse and cart, both he and the horse dressed in my old gardening hats, putting a smile on everyone's faces.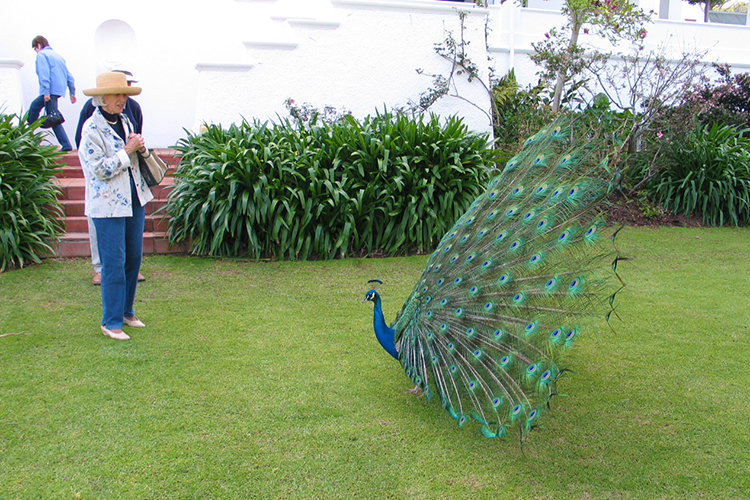 4. After Harold died, I sold the house and moved to Cape Town to be closer to my children. I didn't know what to do with myself, so I helped with fund raising at St Luke's Hospice. One of the events I organised was an open day at the glorious Stellenberg Gardens and visiting that day was a Johannesburg friend of mine, the garden designer Beth Still.
Beth was in Cape Town with Liz McGrath to help design the gardens for the Cellars Hotel which Liz had recently bought. Back then it was only a 12 bedroomed country house and the gardens were almost non-existent. Beth needed someone in Cape Town to help establish and run the garden and asked if I would be interested. I had hardly had time to think about it when she brought Liz McGrath over to meet me. Liz put out her hand and said: "I'll see you at 9am tomorrow morning!" I had never even heard of the Cellars and didn't even know where it was but Liz and I became good friends and she was always extremely kind to me.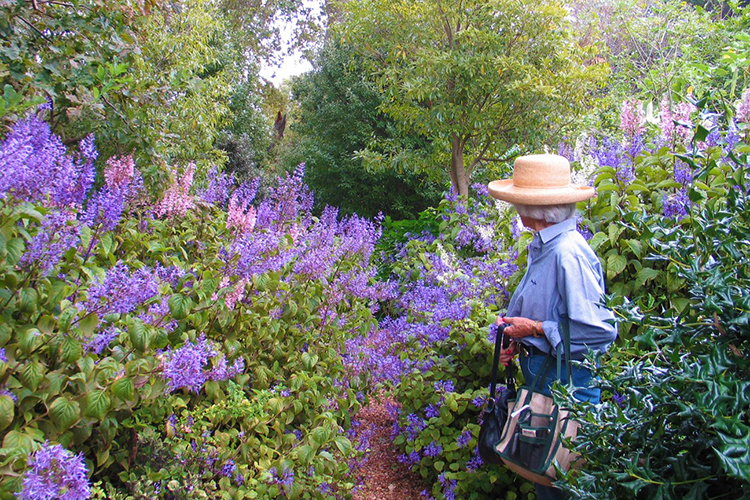 6. When the adjoining Hohenort home and property came up for sale Liz was able to extend and grow the Cellars-Hohenort garden to 10 hectares, and together with Beth, we established the rose garden, the terraced orchards, the vegetable and herb gardens, the shaded forest walkways, the vineyard, the pools, ponds and courtyards and the Gary Player designed putting green. Liz always encouraged me to pursue my ideas in the garden and together with our incredible team of gardeners we worked hard to get it to the international standard it enjoys today.
7. Jean, with her signature hats, has become the face of The Cellars-Hohenort garden. She has been there for 26 years.
8. For three years running, during her time at the Cellars, Jean worked at the annual Chelsea Flower Show in London as a volunteer on the award winning South African Botanical Society's Kirstenbosch stand.
9. Many of Jean's favourite plants at the Cellars-Hohenort were grown from slips lovingly transplanted and brought with her from her own gardens in Port St Johns, Grahamstown and Cape Town.
10. "The gardens of the Cellars-Hohenort are a place people love to come and get lost in, to just enjoy. A garden should be beautiful no matter where you are in it. It has to be part of your life, something you're always trying to improve. My own garden now is something of a "courtyard jungle". It gives me enormous pleasure and privacy. A garden is never complete. It is a lifelong journey."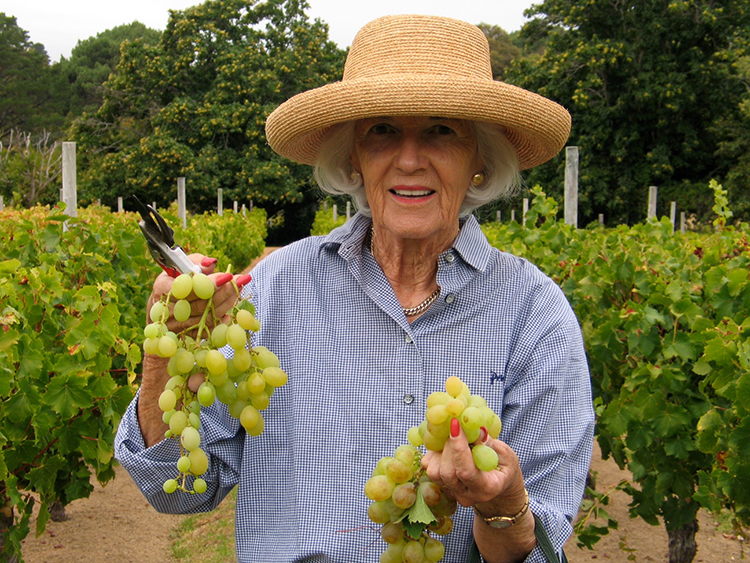 The Cellars-Hohenort garden received the Relais & Châteaux Garden Trophy for the 2010.