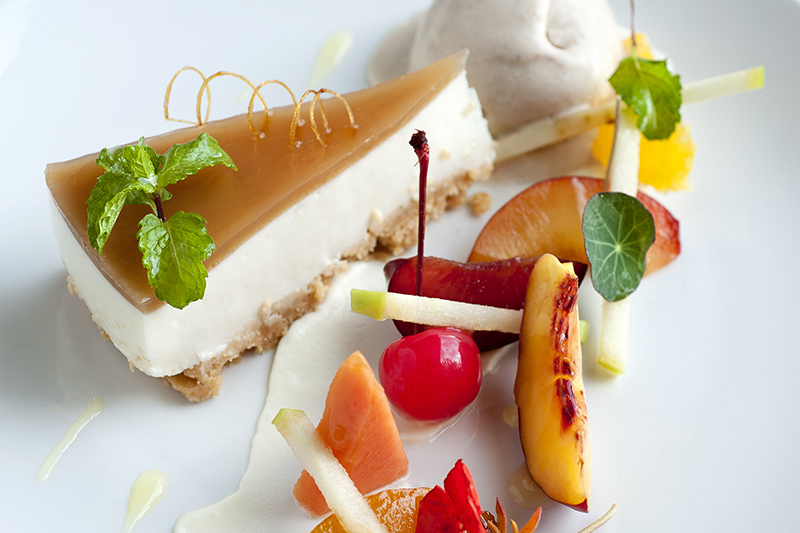 ---
The Sour Milk Cheesecake with Musika (Tamarind) Jelly
---
"This is, dare I say, Zambia's first official dessert," Royal Chundu's Executive Chef, Sungani Phiri tells me on the sixth course of our tasting menu.
We're dining at Royal Chundu's Island Lodge, on Katombora Island, on the banks of the Zambezi – the river that separates Zambia from Zimbabwe, the river that defines, quite literally, a nation.
With his sour milk cheesecake with tamarind jelly, Chef Sungani has created a dessert to do just the same.
"I say 'first official dessert'," he continues, "because, well, there simply wasn't one before now. Normally, Zambians will eat leftover nshima cold instead of hot with sugar and sour milk – as a form of a dessert if they want something sweet. Sometimes it actually substitutes as a main course."
Nshima, he explains, is a staple in most homes across the country. Made from maize meal, it's used for breakfast, lunch or dinner.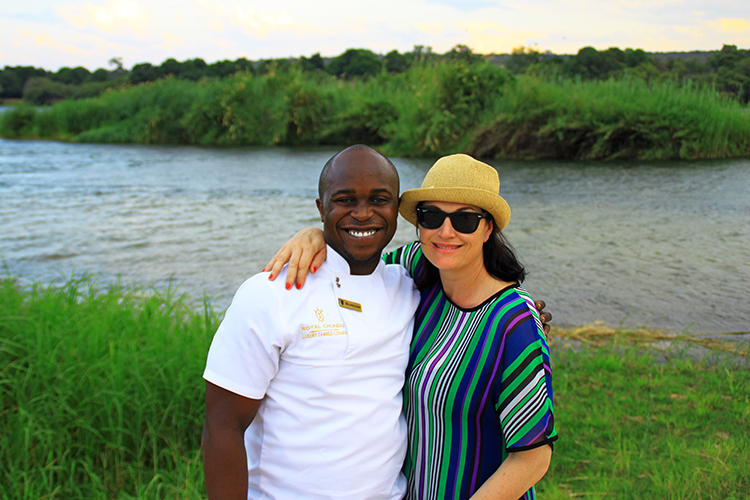 "Because there was no dessert type approach in Zambia when I started at Royal Chundu, I wanted to create something to introduce the idea to the country's cuisine-scape. I made a sour milk cheesecake using sour milk to replace the cheese. This makes the dessert much smoother. We use a tennis biscuit base to complement it. For the sour element I added tamarind jelly above the cake and a tamarind sorbet with cayenne pepper. Tamarind is rather dear to me… my mother used to drink tamarind with a dash of cayenne as a digestif when I was growing up. And considering that you've gone through the tasting menu's six courses, it's a nice way to speed up your metabolism after eating so much – despite the fact that it's a dessert."
And so Zambia's first dessert was born…
As for the man behind it, both Executive Chef and Food and Beverage Manager at Royal Chundu, we asked him our 10 questions. Meet Zambia's Dessert Pioneer below.
---
---
10 Questions with Sungani Phiri
1. Five important things to remember when living and working in a remote and rural setting like the banks of the Zambezi?
Don't be fooled into thinking town is close by. You're basically on an island. You don't have the luxuries of the city and can't always get what you want.
Don't expect to keep your social life, but remember that what you're creating makes it worth it.
Engage the community as much as possible – without them the job is impossible. Besides the practical side, involve the community environmentally and culturally. Go to the community leaders if you have a problem; you need the leader, you need to understand their ways, not to impose your own. And remember that English is not everyone's first language.
Be more compassionate toward the community – don't expect others to naturally understand things the way you do. And I've had to remember that for every one person whose life I affect here, I affect eight more, since most of them are supporting their whole families. You need to be very concerned about that.
You need a good support system to cope with the remoteness and isolation… so you don't lose the plot. We support each other – Aggie and Hessah, the other managers, Tina, our Mama of Royal Chundu, the MD. You learn to reach out when you need to.
---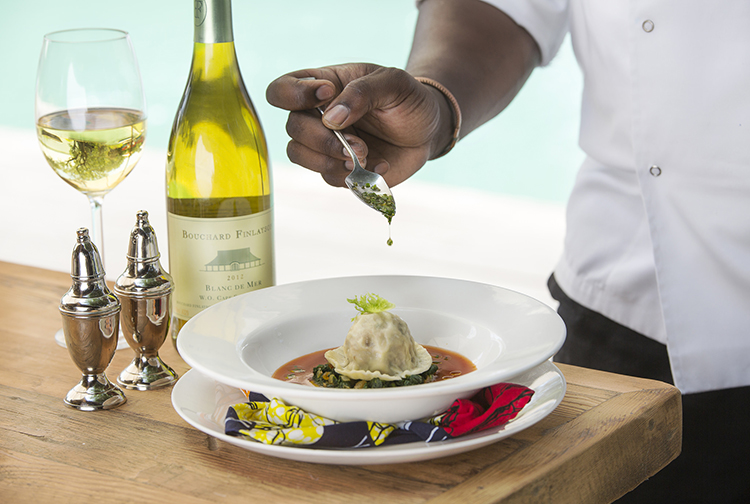 ---
2. Five things being a chef has taught you about yourself, life and love?
Before you set expectations you need to correctly train. I trained with a 2-Michelin starred Chef, Sven Niederbremer from Germany, at the The Westcliff and The Monarch hotels in Johannesburg. My standards are much higher as a result, but working in Zambia, my expectations had to change. I had to devote more time to training people up – it was a humbling experience. Most of the people in the kitchen had no culinary background but four years down the road we have a very competent team.
My love for the industry is the pursuit of culinary perfection but my love for Zambian cuisine extends to trying to put it on the map. I have developed a love for a culture I didn't know growing up. My family are Zambian but growing up we moved around a lot. I lived in so many different African countries – Zambia, Botswana, South Africa. My dad was a diplomat with a Bachelor degree in English and a Masters in International Development and we basically only spoke English at home. But the more I get to know the culture here the more deeply bonded I feel to it.
Every day you learn from everyone you work with. There are so many interesting characters and personalities. It is a good lesson in consideration for others.
Working in Zambia and as a chef here with other people has made me less hot tempered. I had to tone it down!
I've developed a greater respect for nature. You can learn so many life lessons from living so closely with Mother Nature here on the river, from the animals living out their daily lives here.
---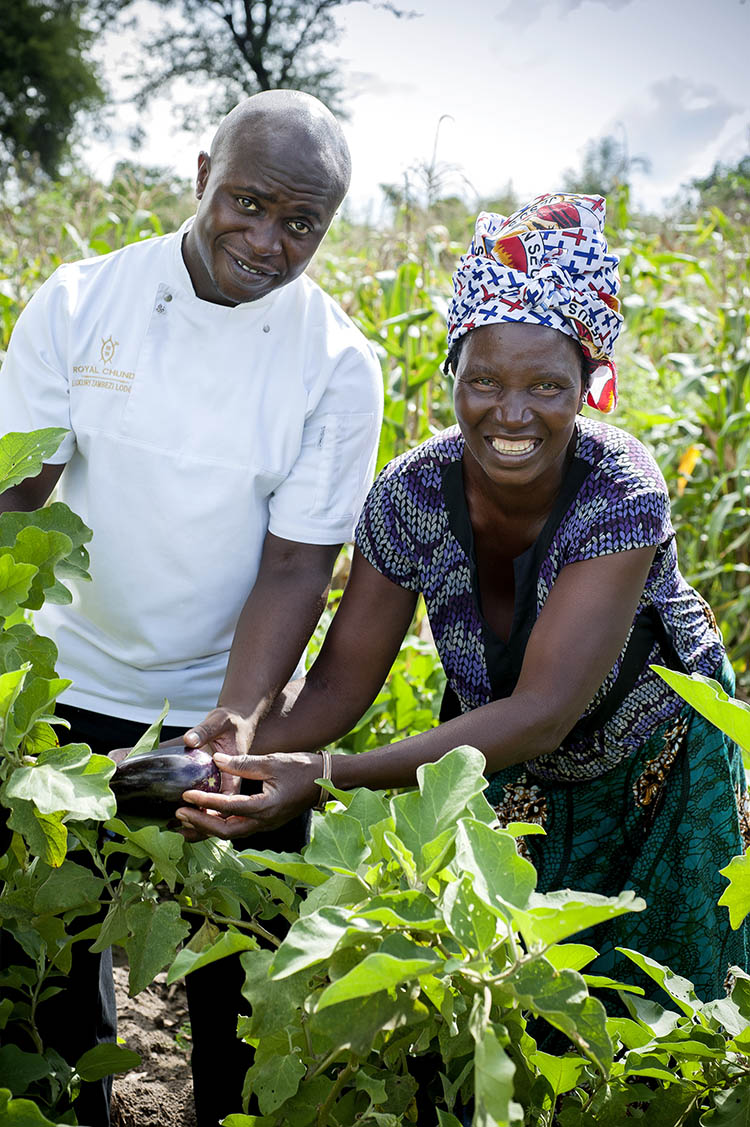 ---
3. what would you say makes you unique?
I'm really trying to pioneer a new era for Zambian cuisine. No one is really doing that right now. Most of the cuisine you see here is either 'colonial', inherited from the colonial time, or isn't really from Zambia. There is so much potential here. I also play with more unique styles of plating – I have the Jackson Pollock concept of plating – as in when placing the sauce, the spoon can never touch the plate. Pollock is my favourite painter.
---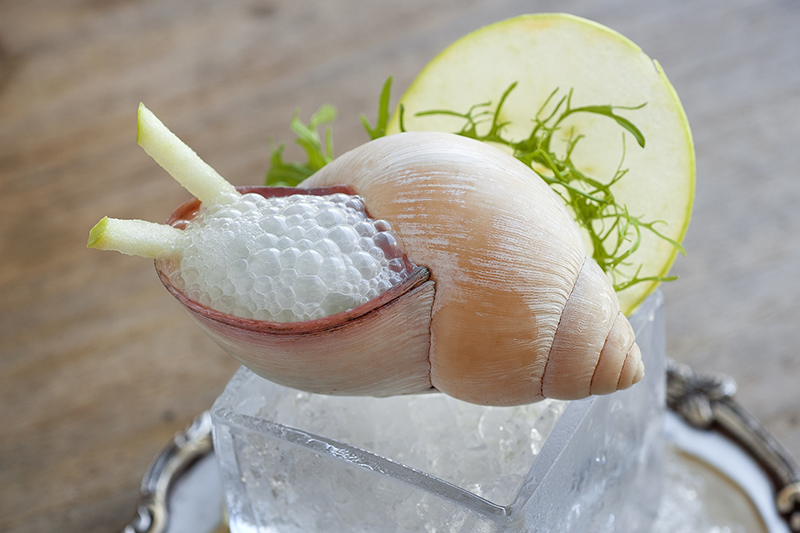 Above Top: Chibwantu Cocktail
---
4. what are your challenges as a chef in zambia?
Challenges? Availability of stock and consistency of produce, but it drives us to find other ways – ways that end up being more sustainable and that support the local community. I can always get fresh bream fish from the local fishermen who live alongside us and vegetables and herbs from the garden at Mushekwa or in the local market. We're also working on our own veggie garden which is thriving – we've planted beetroot, carrot, eggplant, mustard spinach, lettuce, radish, watercress and a variety of herbs. I'm busy working on a new menu right now, using produce from our garden.
5. What drives you?
Zambia is one of the most fertile countries in the southern hemisphere. I really believe we can be on par with the culinary scene internationally – it just requires some work, and I have made that my task, starting with simple things like community awareness – teaching locals how to make bread, which isn't part of traditional gastronomy. The job never finishes but I hope to leave a legacy and empower people from the community.
---
 
Above Right: Impwa Tart with Peri Peri Sauce | Above Left: Trio of Fish with Mundambi Jelly
---
6. What is your favourite part about living on the Zambezi?
That there's no cellphone network. (mostly). You have to actually plan to get a hold of me. It's so beautiful and peaceful – no noise.
7. Favourite dish to make?
Pasta. It's so "zenny" – it makes me so calm. If I want to relax it's what I make. It's what my mentor made me do constantly when he was training me and since then I fell in love with it. He always made me make open raviolis, lasagna, tagliatelle and fettuccine. It was such fun.
---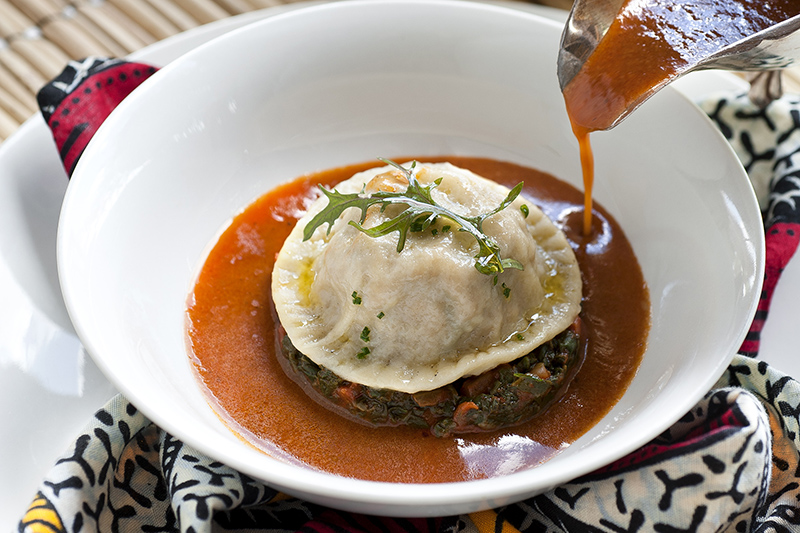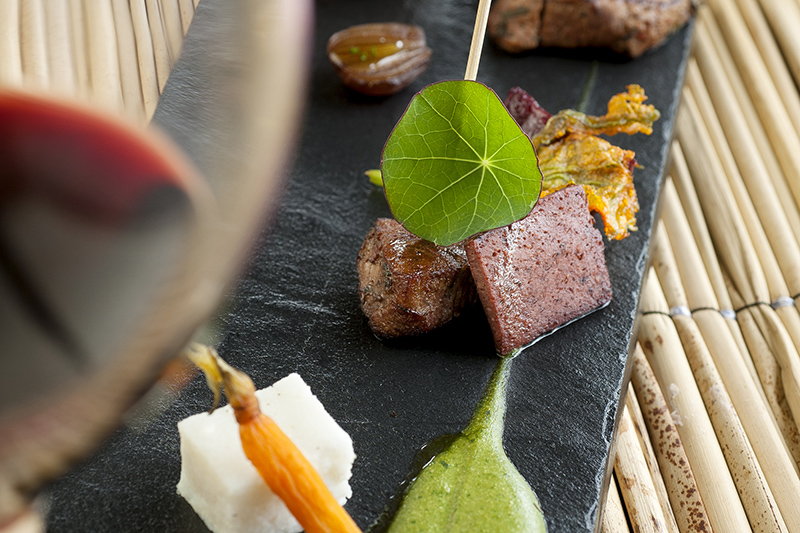 Above Top: Organic "Village" Chicken Ravioli with Rape Salad | Above Bottom: Protein Happiness with Nshima & Spinach Puree
---
8. How do you unwind on a day off?
I love getting to stay in and having the odd braai.
9. You recently got engaged… how did you propose?
In Zambian culture I can't actually propose. You have to tell a senior family member that you want to marry and they will approach the family of the woman you're interested in, to tell them about your intentions. The senior will put a bowl on the table at the meeting, with a certain amount of money, or something to show they want to start "talks". It's a sign of respect. Then the family will call the woman of the moment and ask her if she knows the family. For me they called us out together. In Zambian culture it is the mother who is the most involved; the mother gives you away because she's the one who carried the woman in her womb. With me, my fiance and I both just decided we wanted to get married. It was mutual…
---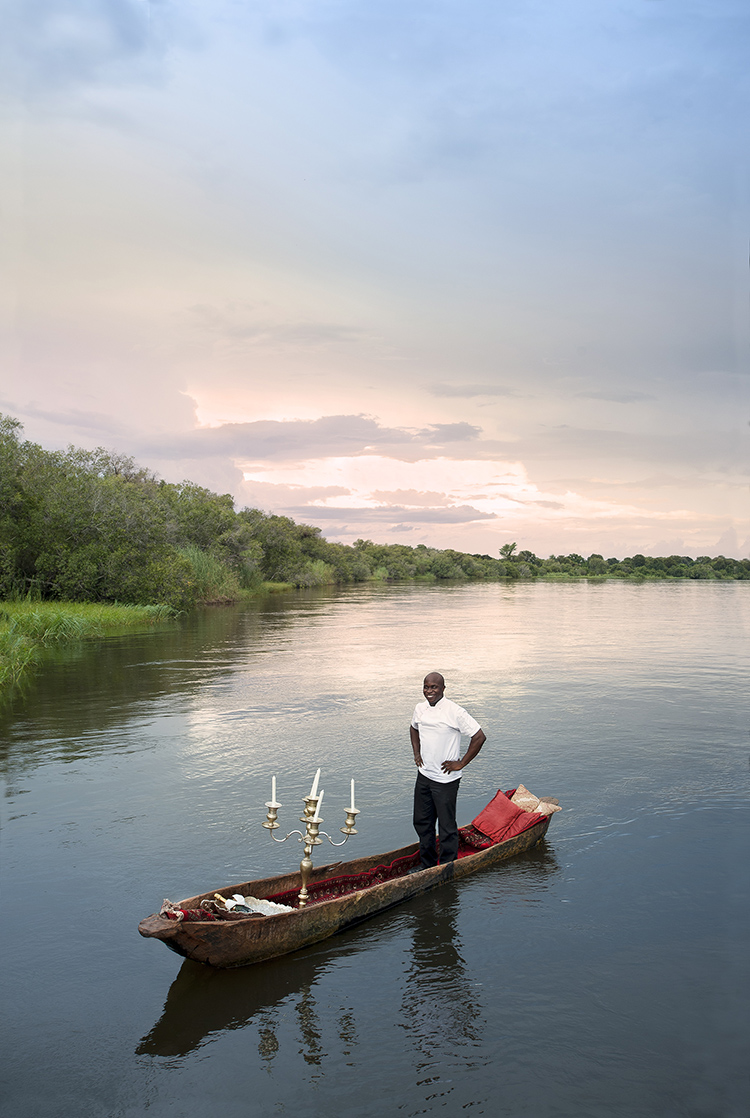 ---
10. Most memorable adventure so far? And the next one for the bucket list?
Most memorable – once on safari in Botswana when we got caught between a lioness and her cub and she decided to charge the vehicle… And at Royal Chundu on the river in a canoe. We were on a wide bend and came across a hippo. We didn't see it and went right over it. It charged at us and stopped about five metres away. My heart was in my mouth the entire experience. But I went canoeing on the river again the next day.
What's next? Marriage! And I'd like to go white water rafting on the Zambezi and sky diving – perhaps over the Victoria Falls.
---
The dishes shown above make up the Zambian Cultural Tasting Menu at Royal Chundu. Discover more about the lodge's dining experience here.