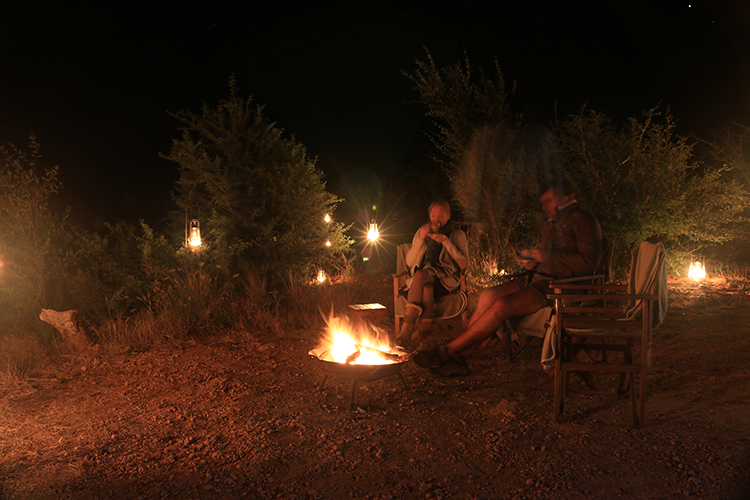 People often talk about the last meal they'll have "before the plane goes down", so to speak… if we could control fate, if we knew when said moment would strike, what would we choose as our last meal? Maybe you've never thought about it. Perhaps the people I associate with are a little morbid. I can take some credit here too.
But it's an intriguing thought and one that nudges you to not hold off until that final moment, to seek out those dishes that make you wonder what on earth you were doing eating anything else before. I recently came across several meals of this nature on safari at Morukuru Family in the Madikwe Game Reserve of South Africa. Meals that can be divided into five significant stages. (The next blog will be, How To Stay Slim While Eating Like There's No Tomorrow.)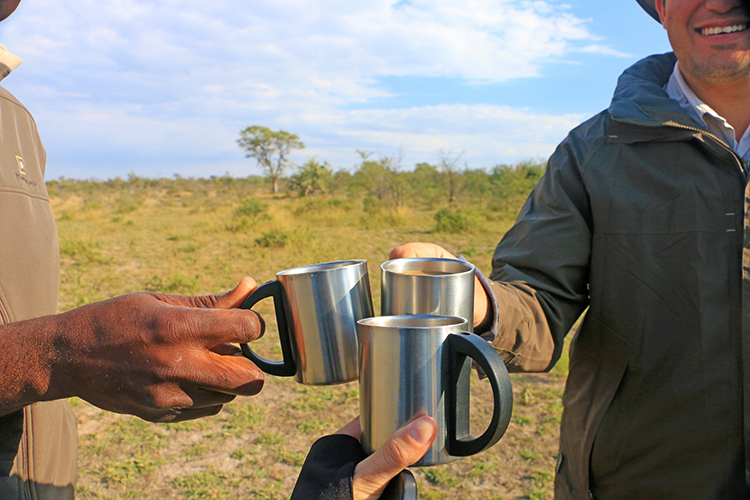 The Five Stages of Dining at Morukuru Family
1. That first meal after the flight in
A lunch to welcome you to your new home – in this instance: Served in the riverside sala at Owner's House, one of the three exclusive-use lodges that make up Morukuru Family. The welcome dish: Seared duck breast, on fresh lettuce with plum and citrus, roasted pumpkin seeds and drizzled with a honey and soy sauce dressing.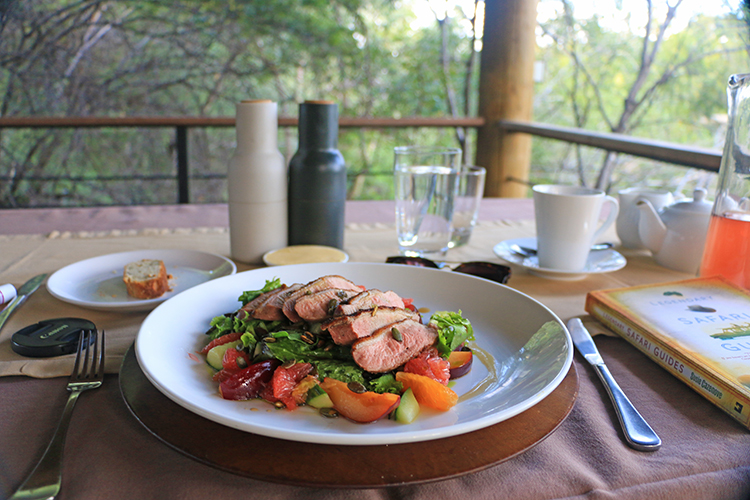 2. The campfire dinner
On our late afternoon game drive, we chased the setting sun to a clearing on the escarpment, "Anka's View", named affectionately after one of the lodge owners, Anka Reijnen. Lanterns and campfire called us to a walk-in-dinner of seven courses. Presented by Chefs Siki and Esmaralda, it began with the winding of bread dough around a long stick and cooking it on the open flames, slipping a thin sliver of butter down its warm centre and biting into it, as it melted. Such are the pleasures of stokbrood.
Buffalo hid in the shadows around us, in the fast-falling night, the crackle of bushes under their hooves indiscernible from the crackle of our own fire but not enough to keep us from slipping into silence and giving the nighttime wilderness our whole attention.
Then came the other courses – pea soup; salmon and cauliflower roulade, served with a fresh pawpaw salsa and coriander mousse; grilled haloumi on a tomato and basil salad, with a basil Anglaise; French chicken drumstick with grilled butternut and turnip with a coconut curry sauce; kudu sosatie (kebab) as well as a vegetable sosatie and boerewors; and, finally, tiramisu.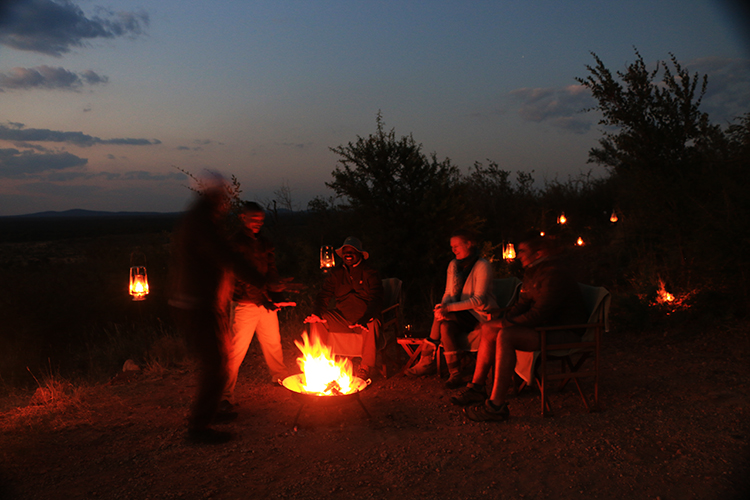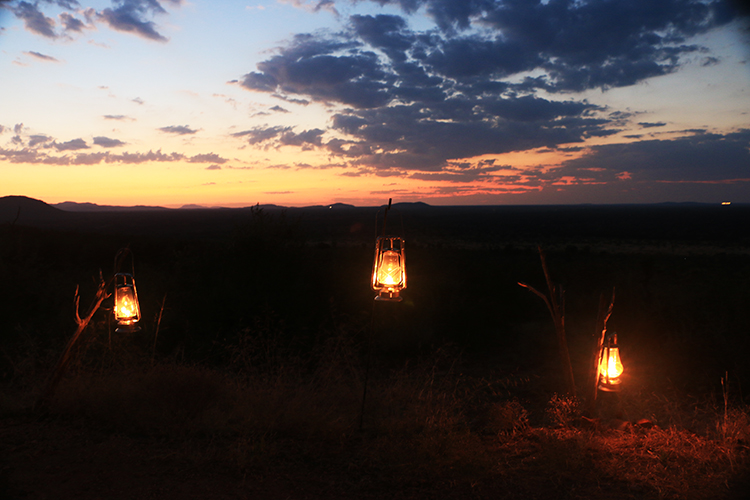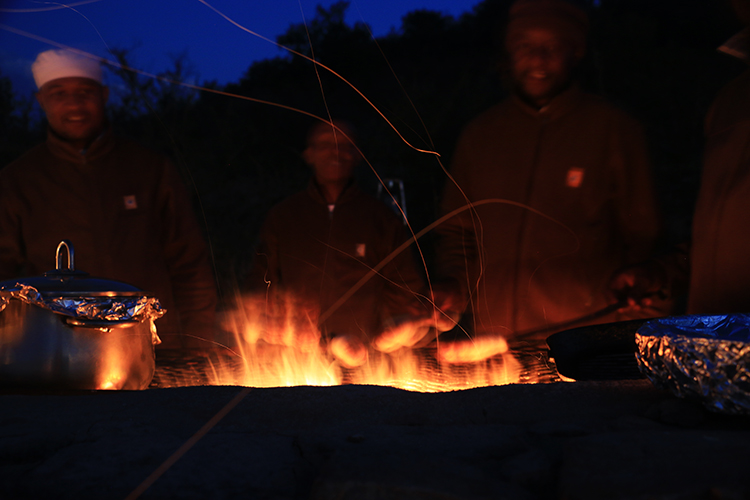 3. The coffee stop
The morning drive led us from rutting impala and napping wild dogs to a bush stop on the open plains. We christened the new day with biscuits, rusks, muffins, dried fruit and warm coffee and Amarula, that creamy South African liqueur made with sugar, cream and the fruit of the African marula tree.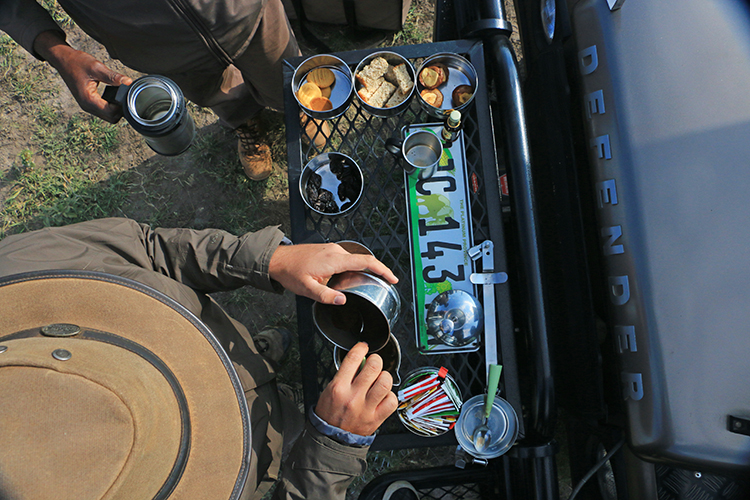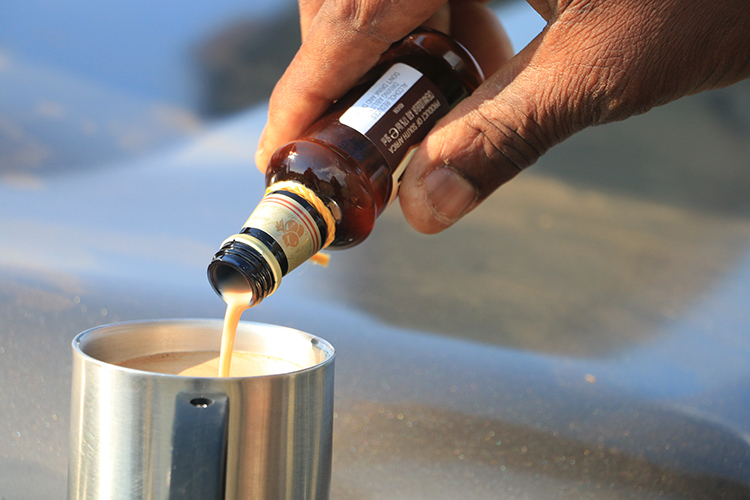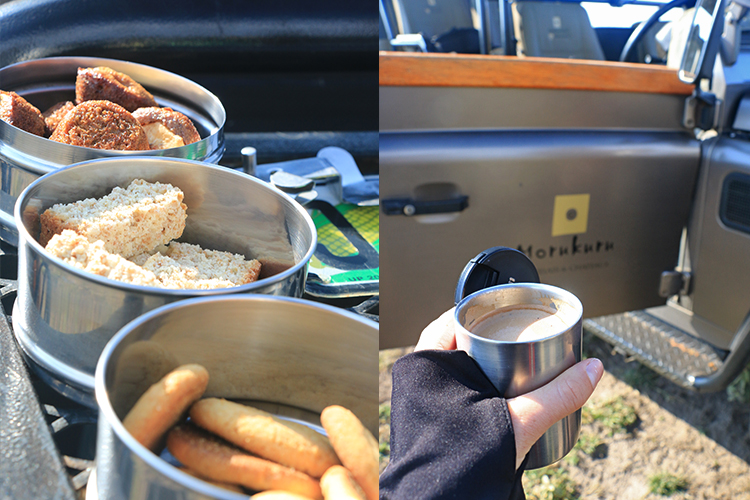 4. The bush breakfast
Bush breakfasts are a time to pan through the photos from the morning game drive, to put a name to that shiny navy blue bird on the treetop and that antelope with the horns and the circle on its derrière. It's also a time to eat and to eat well: potjie pots with a concoction of tomatoes, mushrooms, bacon, pork sausages, egg and cheese, served beside steamy rooibos tea; as well as a feast of flapjacks and croissants, fruit and cheese platters, cereals and yogurt.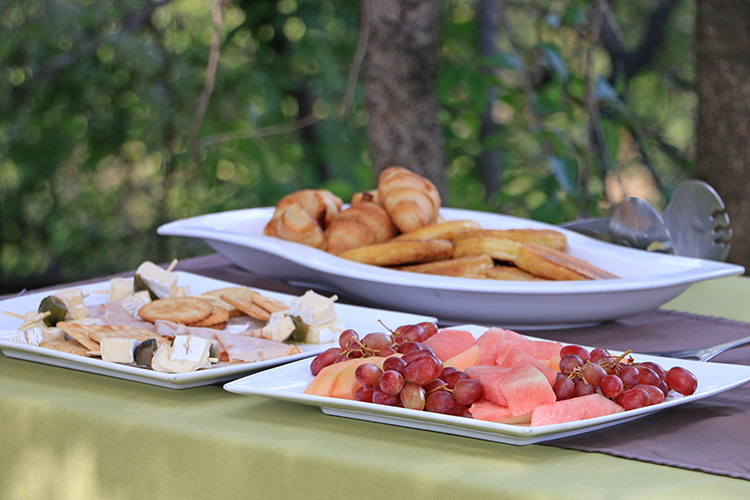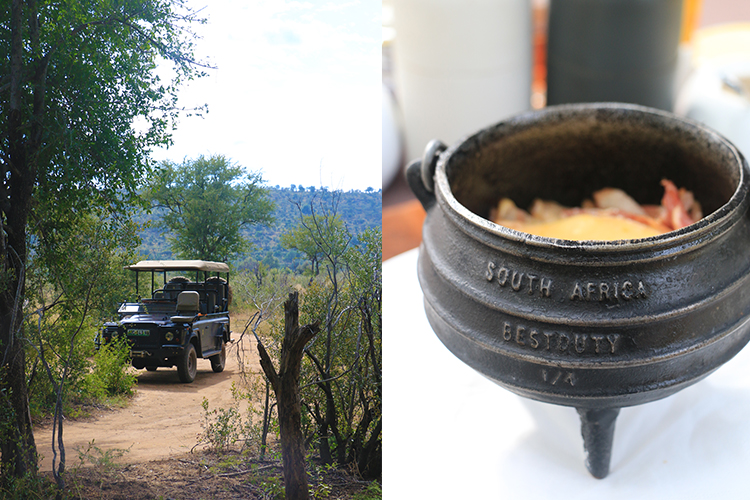 5. The last supper
The last meal on that last night, before heading home, strikes just as you start sketching the house you're going to build behind the lodge, as you begin dialing the extended family to tell them that you have decided to move to the wild.
It is all the chilly mornings, hot afternoons, pink sunsets and ebony skies in one. All the wildlife, all the meals, all the outdoor baths and misty morning swims. It is all the people who made an impression. It is the last supper.
With four courses, ours consisted of a focaccia starter; followed by beetroot risotto served with crisp butternut, Parmesan shavings and fresh rocket; impala loin served with Pomme dauphine, baby carrots, brussel sprouts, and an aubergine puree drizzled with a chocolate jus; and for dessert: a pear and almond tart with a butterscotch sauce and rooibos tea sorbet.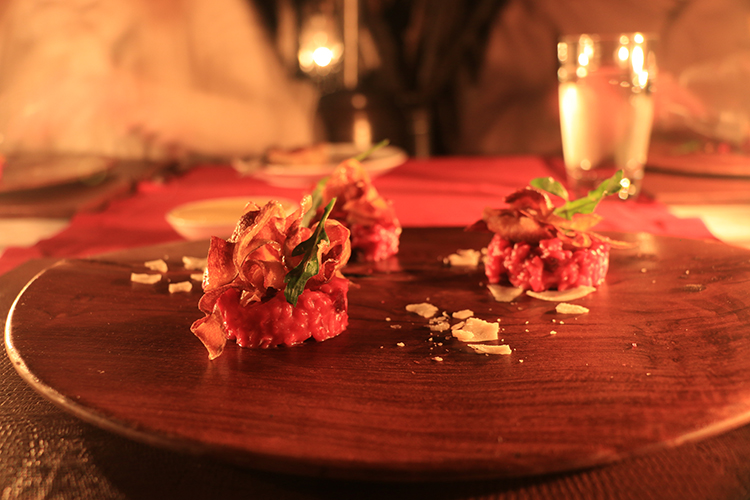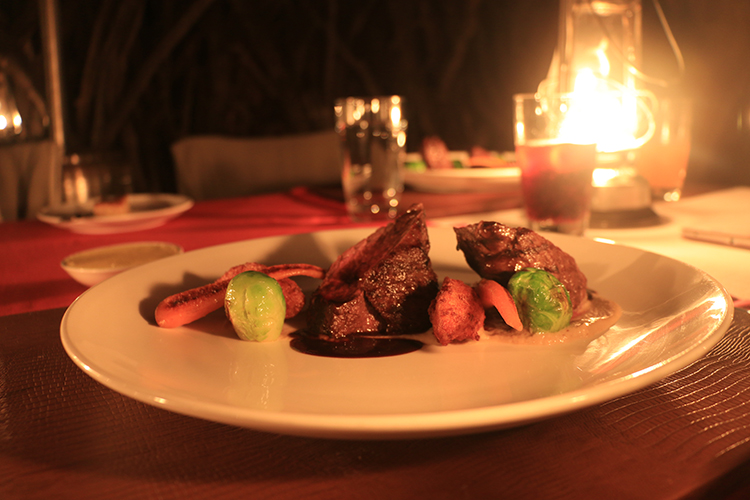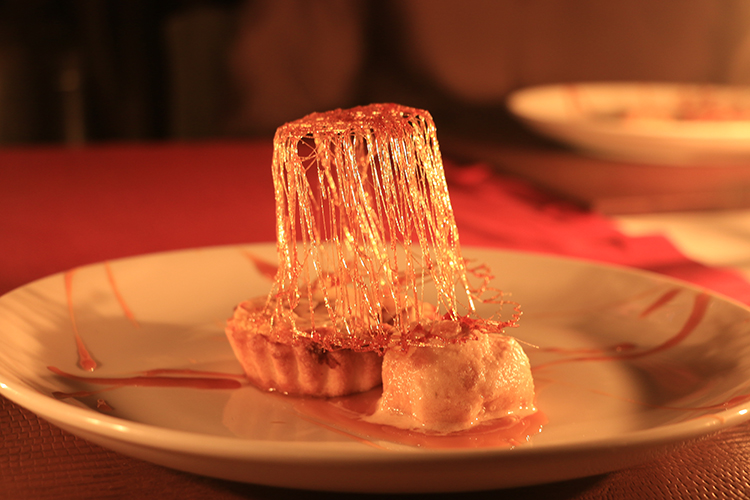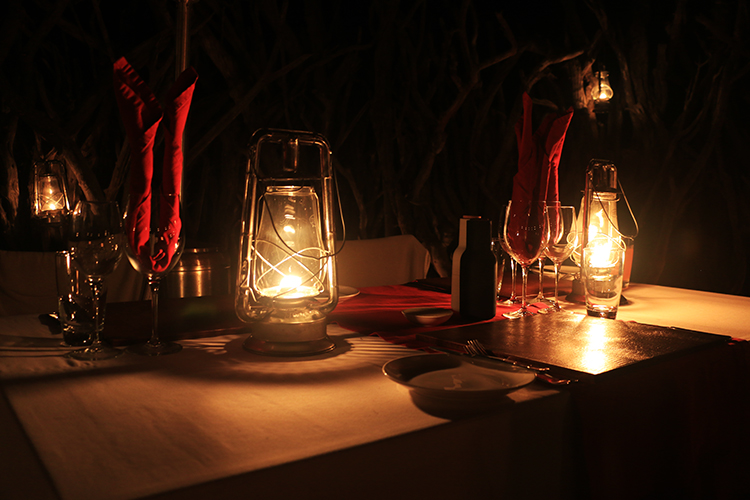 P.S.
Of course, we (I) did much more eating than can be restricted to five points. We're (I'm) much more adventurous (greedy) than that. There were more lunches, more breakfasts, more bedside Lindt balls. Because food here is as much a part of the safari as the drives down dirt paths and walks with wild things; it guides you from one setting to the next, from the heart of the bush to beneath the lantern-lit trees on the lodge verandah.
From breakfast… a hot cross bun topped with honey bacon, biltong, brown mushroom, roast baby tomatoes, Bocconcini cheese, parsley mayonnaise and a poached egg; along with pomegranate scones and banane muffins, fruit salada and cheese platters, cereals and yogurts…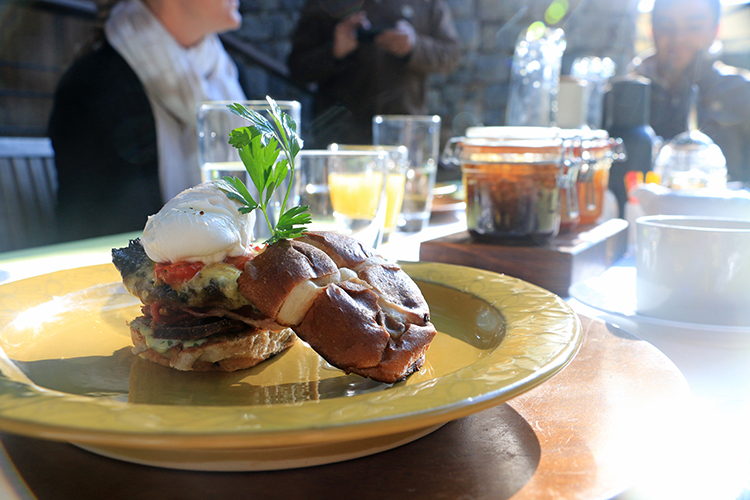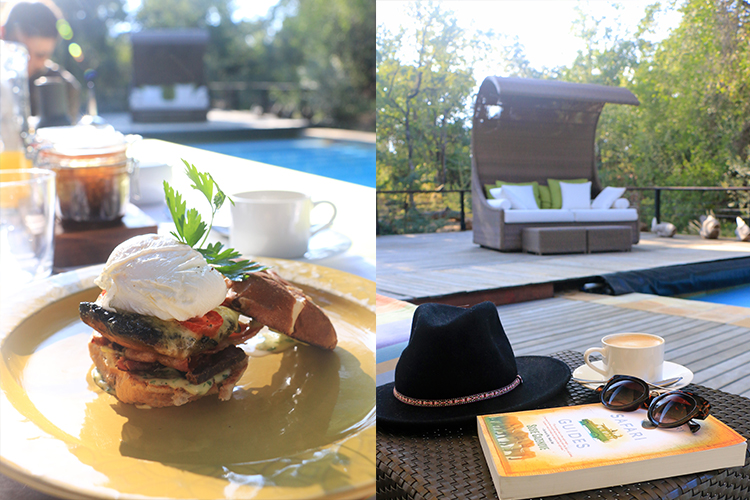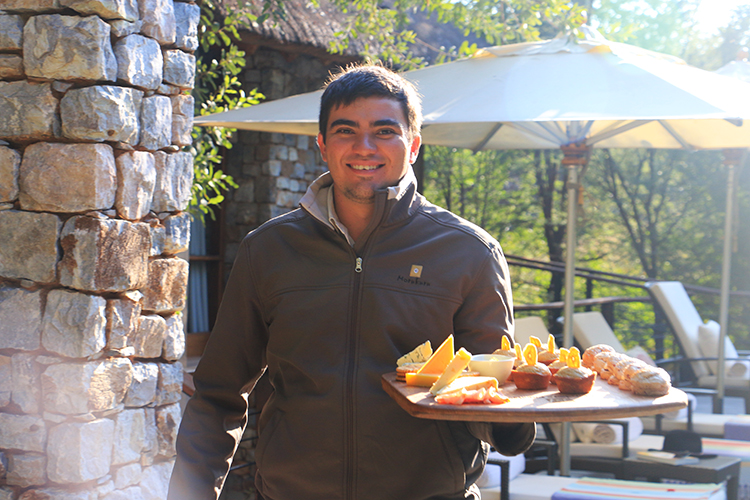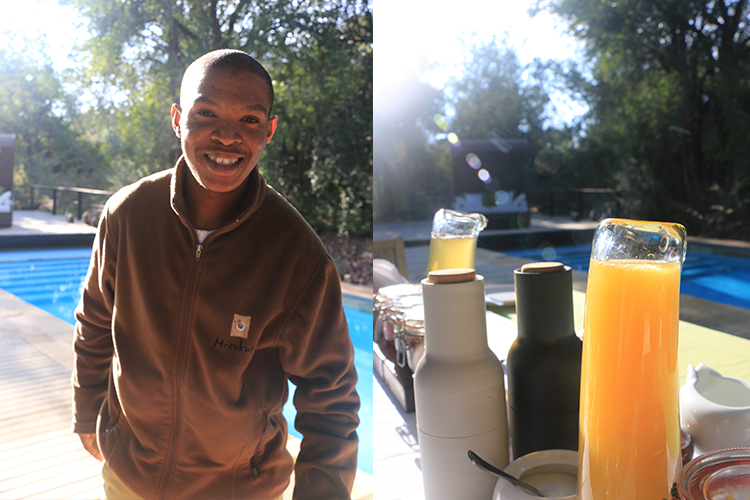 To lunch… sesame bread rolls and deconstructed bouillabaisse: a prawn bisque with pan-fried cod, served with julienne vegetable, squid stuffed with sun-dried tomato and calamata olives and fried prawns.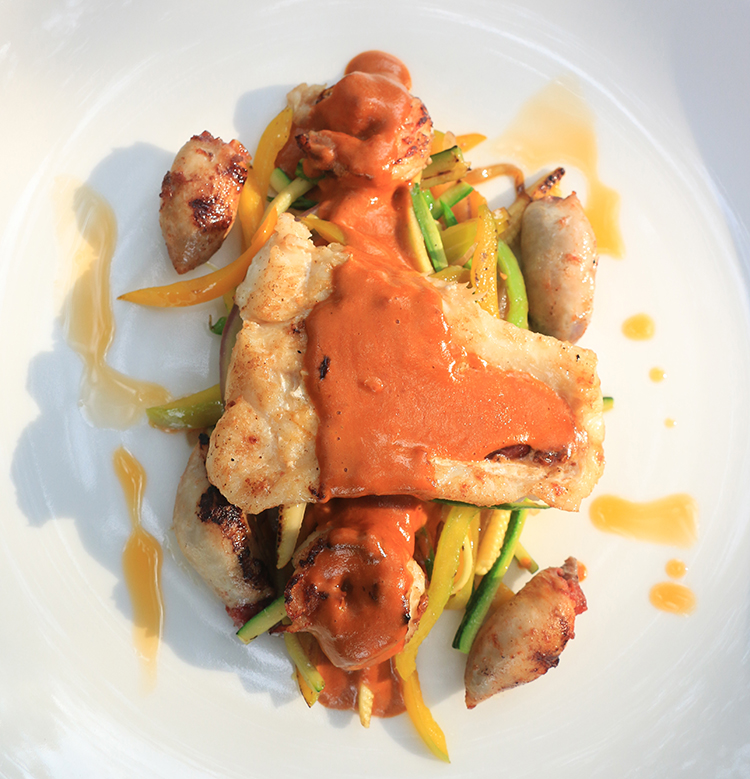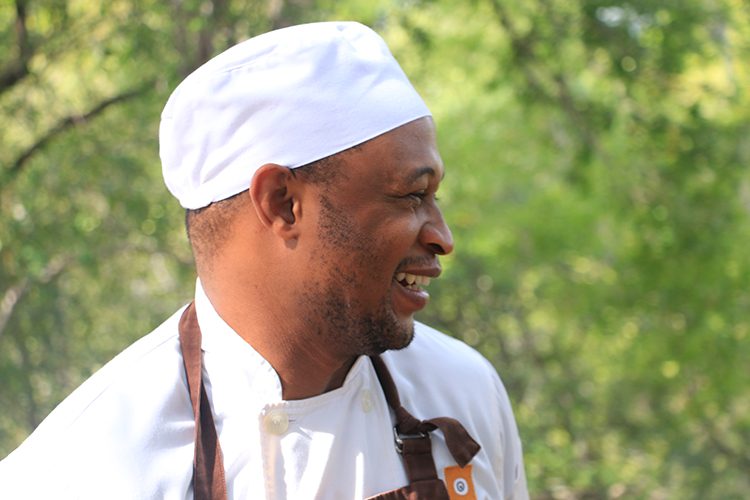 Above: Chef Siki, who recently joined forces with Morukuru's Chef Esmaralda, presents each new menu like an artist at a gallery opening, each dish like a painting with more to it than initially discerned.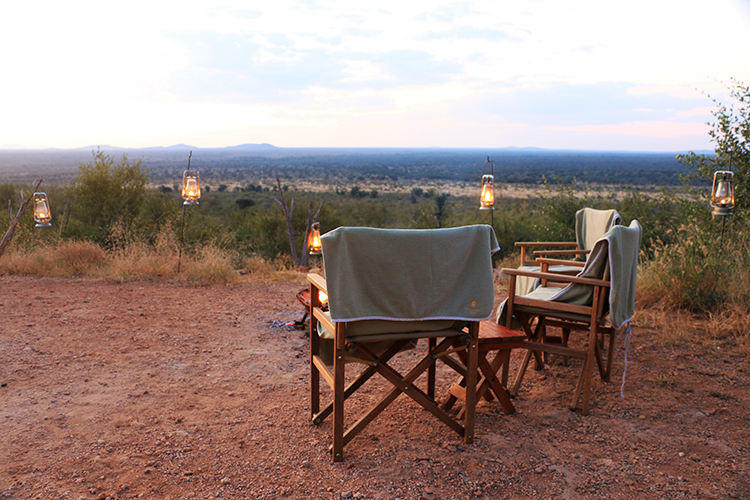 For more about dining in the wild
Read our piece featuring the Great Plains Conservation, How To Dine In The Wild, and our 10 Questions with one of Morukuru's accomplished chefs, Joyce Mmutlane.
More on our latest safari coming soon to >> blog.relaischateaux.com