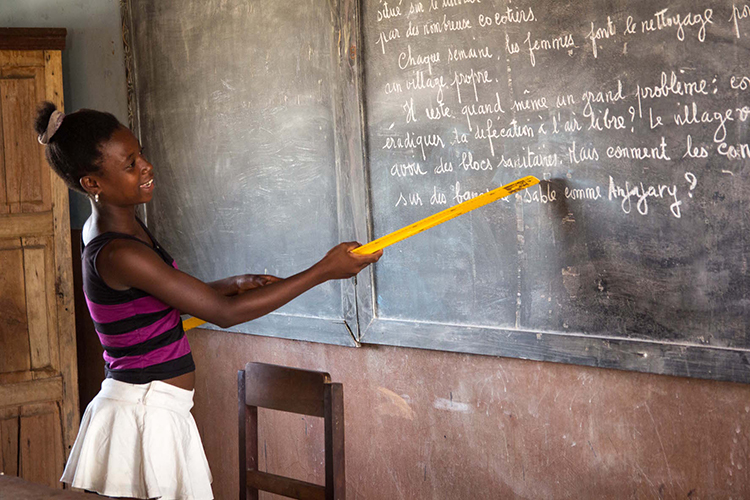 Above: Anjajavy le lodge
---
A year or three ago, I found myself at my 10 year high school reunion. The school halls and teachers that had once, allegedly, been mine, seemed foreign, weird, like a limb that didn't belong to me. I blamed my mind's poor powers of retention. Freud might say I'm suppressing bad memories. He'd be right.
Some of us look back on the school years fondly. Others prefer not to look at all… As important as "The School of Life" may be, the actual years spent in school do, however, create one of the greatest foundations for our still-forming selves.
They are the beginning of the rest of our lives… In disadvantaged or more rural communities throughout Africa, this couldn't be truer, more essential. A good schooling can mean all the difference – not only in the students' own lives and the futures of their families, but for society as a whole.
---
Above: Londolozi Private Game Reserve
---
When I force myself to think about those twelve years more closely, I catch a few more glimpses. I realise just how ingrained those moments actually are in the person I am today; how they taught me much more than the subjects I took. I realise that many of those lessons were because of the teachers  who showed me what awaited on the other side of hard work and an open mind. Or "a good head and good heart" as Nelson Mandela called the "formidable combination".
Many of the lodges across Africa are cognisant of the importance of a good schooling, of good teachers, and have dedicated their time to supporting local schools in need or starting their own education centres, to share the benefits afforded the lodges and the revenue they create through tourism.
Here are a few examples of this from the Relais & Châteaux properties in South Africa, Zambia, Botswana and Kenya.
---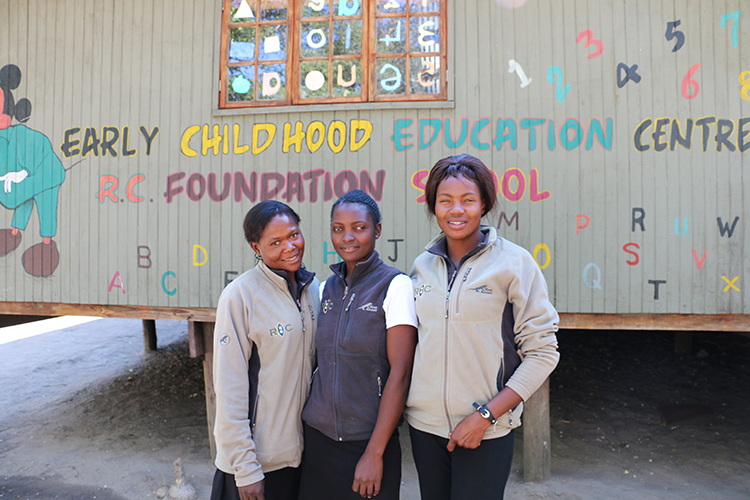 ---
 1. Royal Chundu, Zambia
"We are committed to uplifting the community we work with at Royal Chundu and a significant part of that community are the children. We are on a mission to empower this future generation, the children of our staff members and our neighbouring villages. Our tool? Education. And its ability to shape lives and transform the future for the better. Our Foundation School is exactly that – a framework, a foundation for these brighter futures.
"At our community school, we currently educate up to three grades of children, from four to six years and do so using the educational benefits of modern technology. Here our students learn the entire Zambian curriculum on tablets, giving them access to the digital universe otherwise unknown to them. During your stay with us we welcome you to meet with our pupils and teachers on a visit to the school to see the powerful work being done for yourself." – Read more
---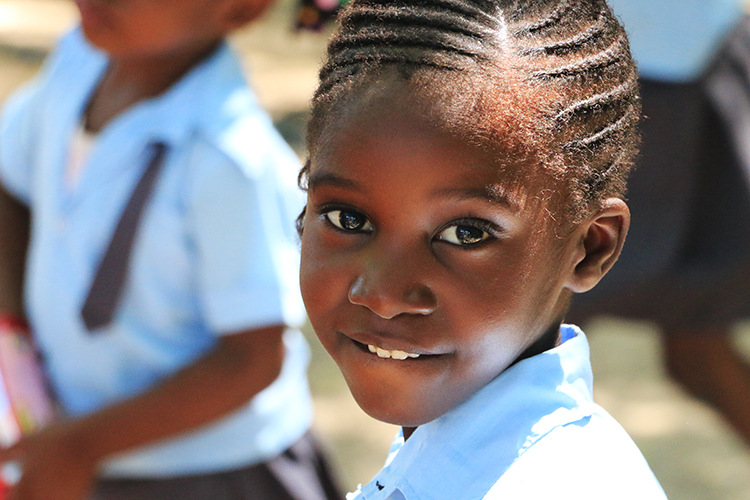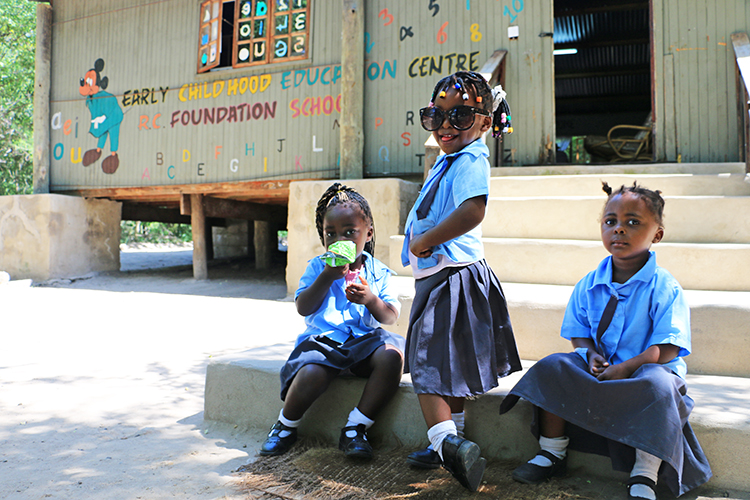 ---
2. Anjajavy le Lodge, Madagascar
Anjajavy le Lodge has many ongoing community projects on the peninsula. The hotel works to promote sustainable development in three remote villages in the vicinity of the hotel. Schools, clinics, water wells, sanitation facilities and solar stations are constructed, maintained and operated by the local NGO, Ecoles du Monde, which is funded from guest's donations directly to the hotel, as well as dynamic international campaigns. The hotel also dedicates time to educating local children about the protection of the environment and health. Guests are invited to visit the primary school started by Ecole du Monde. – Read more.
---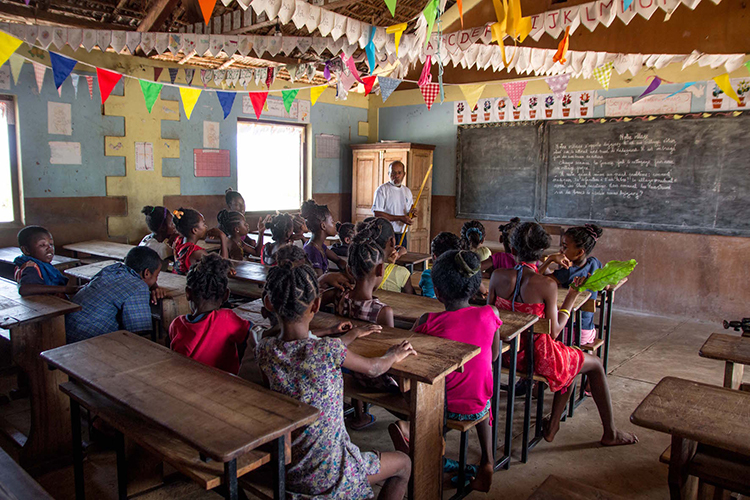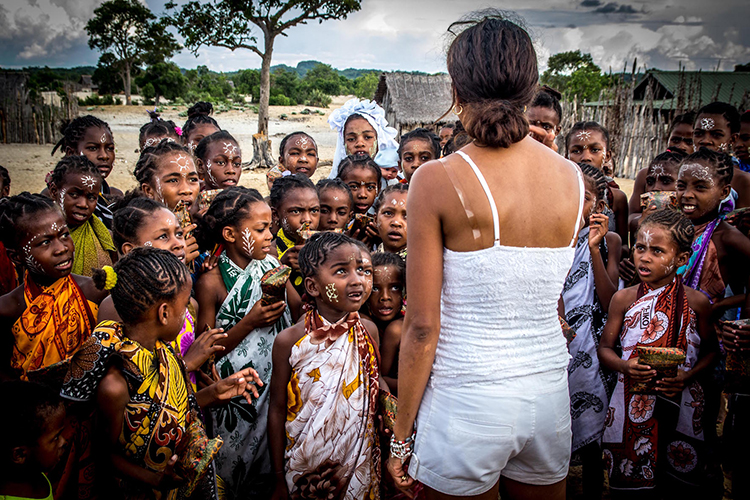 ---
3. Londolozi Private Game Reserve, South Africa
The Londolozi Digital Learning Centre in Mpumalanga was set up in 2007 to provide staff at Londolozi in the Sabi Sand with sustainable learning instruction and accredited training in English, tourism and digital literacy – something that would enrich not only the lodge and reserve but also the individual.
In 2007 Dave Varty – owner of Londolozi Private Game Reserve and Chairman of Goodwork Foundation – said to his team of Londolozi staff that he would bring them access to world class education.
Together with the Good Work Foundation (GWF) and course facilitator, Mo Groch, the Londolozi Digital Learning Centre was set up, with several internationally accredited courses and modules made available to the greater Londolozi community. This was followed by the establishing of the Madlala Digital Learning Centre and Hazyview Digital Learning Centre.
"This is 'digital-era' literacy education and career training that is delivered through a series of high definition multimedia programmes. It is structured, curriculum-based, and allows students to progress through the content systematically, with the majority of assessments being written and marked online" said Kate Groch, CEO of Good Work Foundation.
Read more: How the Londolozi Community is Disrupting Education and Empowering a New Learning Imagination
---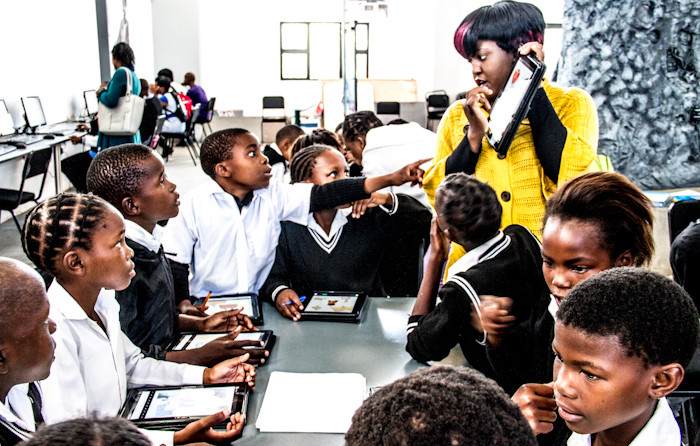 Above: Hazyview Open Learning Academy Facilitator, Mary-Jane, demonstrates "touch screen" and one student just can't wait to try.
---
4. The Great Plains Conservation, Botswana & Kenya
The Great Plains Conservation and Great Plains Foundation are invested in community education at all of their lodges – including Zarafa Camp in Botswana and Mara Plains and ol Donyo Lodge in Kenya.
"The focus of our education program has been on the villages of Seronga and Gudigwa that neighbour the reserves we operate in Botswana. These remote communities live alongside the wildlife that our guests come to experience so it seemed fitting that they too benefit from wildlife through a relationship with us.
"In Gudigwa we work with the local primary school and its wildlife club, running a conservation education programme, as well as with a craft group we established named 'ZaraZara'. In Seronga, the craft group is named Tipatizane and this large group of over 60 members has also participated in HIV and life skills training.
---
---
"During the first week of December school holidays, we take 20 children at a time into the bush for a minimum of four days where they experience game drives, walks, conservation lessons, cultural activities, craft sessions, conservation focused activities and of course the annual soccer match against the facilitators. The facilitators include our community liaisons, guides and camp managers." – Read more.
---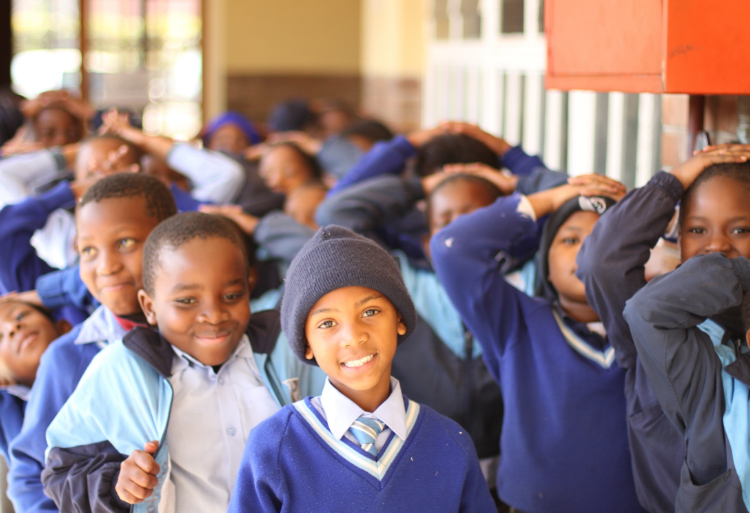 ---
5. Ellerman House, Cape Town
"For 4 years, The Click Foundation has been implementing an online self-paced literacy programme to primary school learners across South Africa. They have 13,000 learners, across 4 provinces, in 42 underprivileged schools gaining access to reading and computer skills from as early as 5 years old. Ellerman House has also created ArtAngels, an annual fundraising art auction, hosted on site. All proceeds are channelled through the Click Foundation, our family foundation established in 2010. The partners of the Click Foundation use the money raised each year fund more community pilot programmes." – Read more
---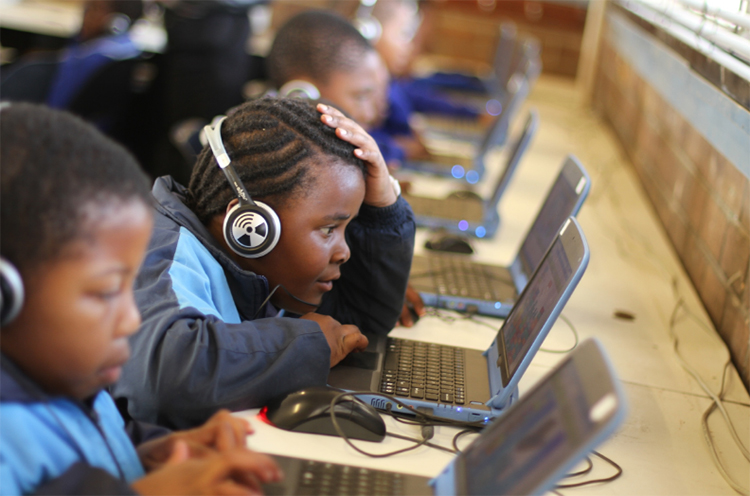 ---
6. Morukuru Family, South Africa
As part of its Goodwill Foundation, Morukuru Family in the Madikwe Game Reserve supports the local Molatedi School. Guests are invited to donate supplies to the school during their visit to the lodge and to go on a tour of the classrooms and property. Through guests' generosity, the lodge has managed to provide the school children with school books, computers and other donations. – Read more
"The Morukuru Family believes in giving back to Africa, and to her local communities through education, empowerment and encouragement. We are involved in various community projects, including assisting the Molatedi school library with book donations as well as soccer kits for the up and coming soccer stars. The Molatedi Primary School is very close to our hearts here at Morukuru, and we encourage our guests to take a tour of the school during their stay with us."
---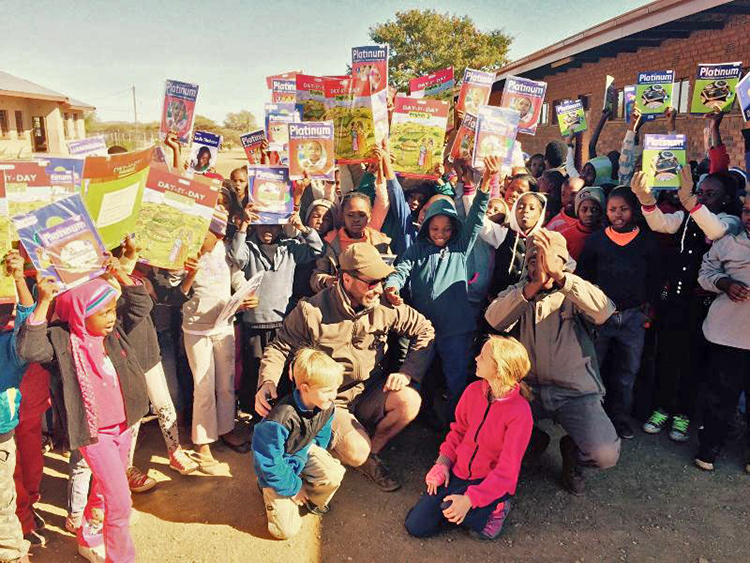 ---
7. The Hoedspruit Endangered Species Centre, South Africa
Education is central to the existence of the Hoedspruit Endangered Species Centre (HESC), Camp Jabulani's sister organisation. They work daily to create awareness – particularly with younger people – about the importance of wildlife, and the need to conserve it. The centre runs a number of educational activities and has partnered with like-minded organisations and campaigns.
HESC actively supports underprivileged schools in the area, through donations – including vehicles, computers, furniture, stationery and other needed items – and inviting schools – such as the local Paulos Ngobeni Primary School and Lumukisa Primary School – to visit for a day. – Read more.
---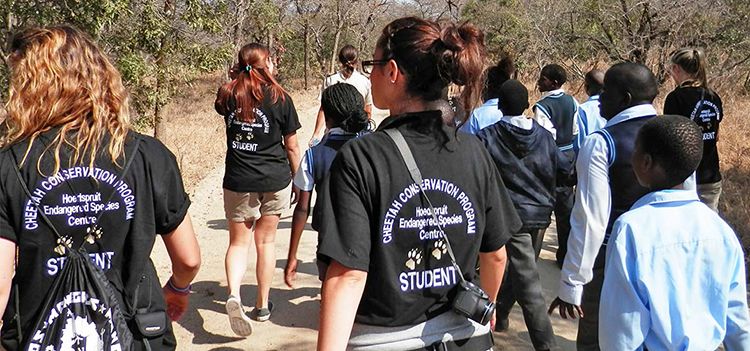 ---
8. Delaire Graff Estate, Cape Winelands
Laurence Graff, owner of Delaire Graff Estate, started a charitable initiative known as, For Africa's Children Every Time (FACET). One of the initiative's projects are the Graff Mobile Learning Centres – custom-designed vehicles that bring hope and opportunity to youngsters who live in and around South Africa's winelands. The vans are packed with educational resources, computers, books, games and DVDs, which give the children much-needed access to, and assistance with, education.
One van has been transformed into a mobile computer lab, housing 10 laptops, a modem and a printer. The second van has become a mobile library, with literature in both Afrikaans – the language that most of the children of the winelands speak – and English, plus toys and games for those who manage to read a series of books and complete a review of them, to mark their literacy progress. – Read more.
---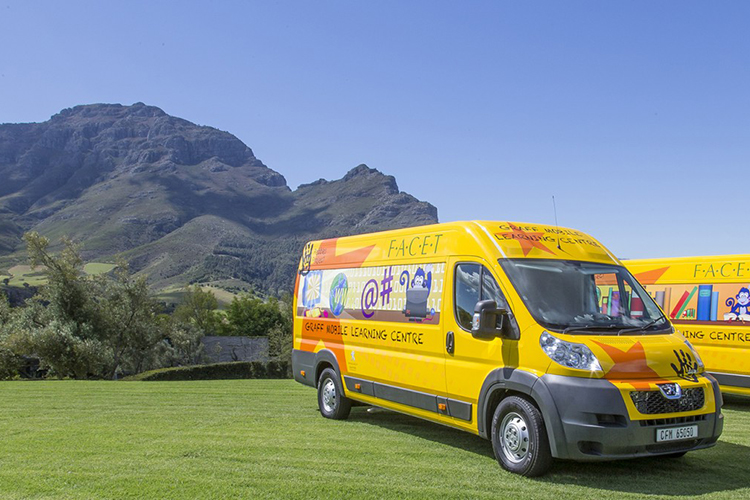 ---
9. The Cellars-Hohenort, Cape Town
Educating children in disadvantaged communities is about much more than the curriculum and discipline. Very often, it means, as a teacher, offering support, safety and sustenance… "Recent research shows that many children who do not have enough to eat wind up with diminished capacity to understand and learn," Carl Sagan has been quoted as saying. "Children don't have to be starving for this to happen. Even mild undernutrition – the kind most common among poor people in America – can do it."
To counteract this, The Cellars-Hohenort got involved with Feedie -the international foodie philanthropy app that transforms digital food photos into actual meals for impoverished school children in South Africa, served by The Lunchbox Fund. The hotel's Executive Chef, Peter Tempelhoff is a Global Feedie Ambassador. – Read more.
---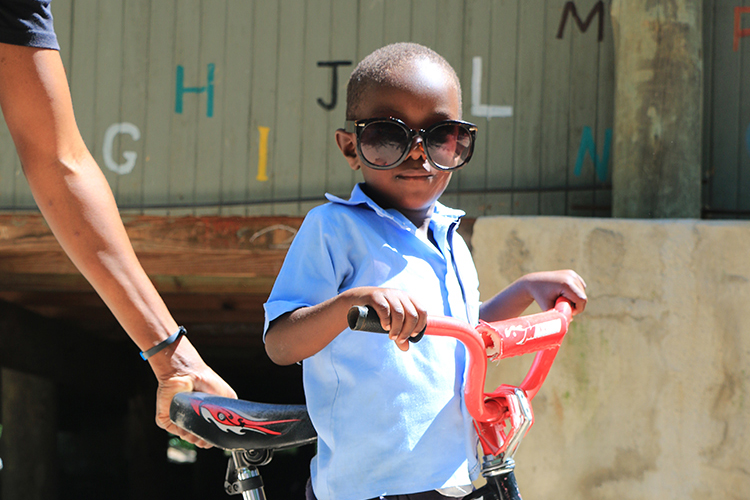 ---
10. Bushmans Kloof, Cederberg
"The lodge has been actively involved in the pilot project to include local farming communities in creating the Cederberg Biosphere Reserve and super-reserve, consisting of the Biedouw River Conservancy, the Wupperthal Conservancy and the Cederberg Wilderness Area. Bushmans Kloof is proud to support and contribute towards Elizabethfontein Primary School, in a bid to uplift and emphasise environmental education for local schoolchildren. We donate stationary to Elizabethfontein primary school every year and sponsor their youth camp every year. Every year we host the 13 year olds from Elizabethfontein School to an open day to experience the hospitality industry, and to learn about the importance of conservation." – Read more.
---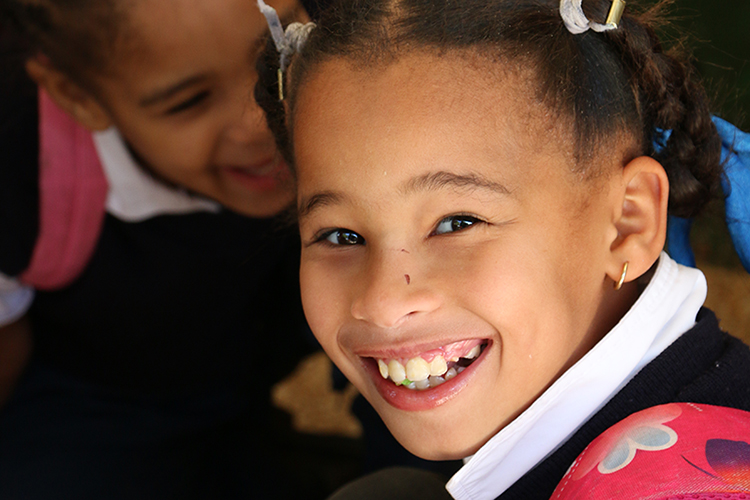 ---
Several of our hotels and lodges are members of Pack for a Purpose, an initiative that allows travellers to make a lasting impact in the community at your travel destination, by taking along certain supplies for schools or medical clinics in need. These include Zarafa Camp, ol Donyo Lodge, Mara Plains, Bushmans Kloof Wilderness Reserve & Wellness, and Hoedspruit Endangered Species Centre – which is connected with Camp Jabulani.
Read more about our Pack for a Purpose experience at Bushmans Kloof in, "What You Should Really Pack For Your Safari."
---